CNers have asked about a donation box for Cloudy Nights over the years, so here you go. Donation is not required by any means, so please enjoy your stay.


0
HoTech 2" Cross-Hair Laser Collimator
Discuss this article in our forums
Being somewhat new to astronomy and all the equipment, I must state that I have never collimated a telescope before purchasing this HoTech laser collimator. I recently bought myself a SkyWatcher 12" collapsible Dob and absolutely needed some sort of collimation tool. After researching the various and ever growing list of companies offering such tools, I settled on the Hotech 2" laser collimator. There is a great little video on YOUTUBE that shows the ease of use. Honestly, this video is what sold me on the device. Here is one link:
http://www.youtube.com/watch?v=nke88I7SxFI
(If you type in HoTech Laser Collimator many video's come up.)
THE DOWN AND DIRTY:
When I received my HoTech Laser Collimator in the mail, I immediately read the manual, read instructions on-line for collimating a large Dob and proceeded to check my alignment on the scope. The scope, according to the laser collimator was way off. I got the secondary aligned (I replaced the secondary screws with Bob's Knobs) and tilted the Dob away from me in order to align the main mirror. This is quite simple and never having collimated a scope before, the process only took me 10 minutes. Now, it only takes me five minutes even while in a dark location and alone.
THE DEVICE:
The quality of the piece is superb, but I would expect that at a price of $140.00. The laser it self is a cross-hair with a center dot. I checked this on the floor as well as a wall to see if the dot or crosshairs became blurry or distorted at various lengths and they did not. I could set it on a table and point it at a wall across the room and it was crisp and sharp.
The until has a rubber center bar that expands when you tighten it inside your focuser for a precise fit. This makes the collimator perfectly centered and quite snug. The face of the finder is hatched with marks a hole. When you're aligning your mirrors you simple move the dot and crosshairs until the dot vanishes inside the centering hole. The simplicity of this unit is what makes it a joy and not a chore to use.
PROS:
Simple to use.
Centered perfectly every time.
Bright laser dot and laser crosshair for precision alignment.
Nice hard case for storage.
You can collimate a large scope without a helper.
CONS:
Cost is $140.00 (this thing better last for years)
FINAL WORDS:
I would highly recommend this device for anyone with a reflector. There are instructions for Schmidt scopes, but I did not read them so I can not comment on that at this time.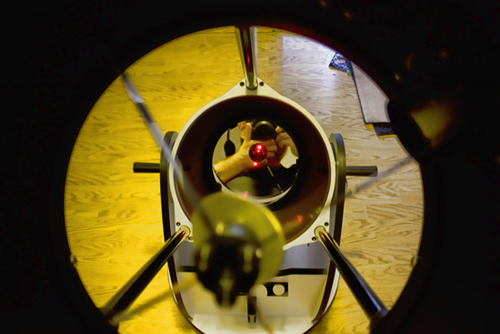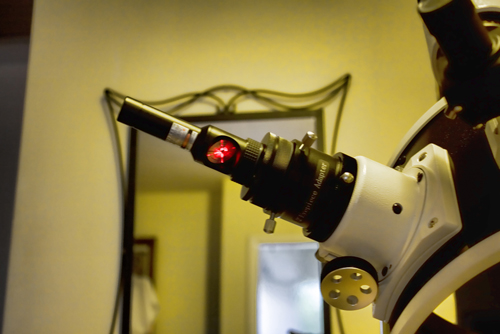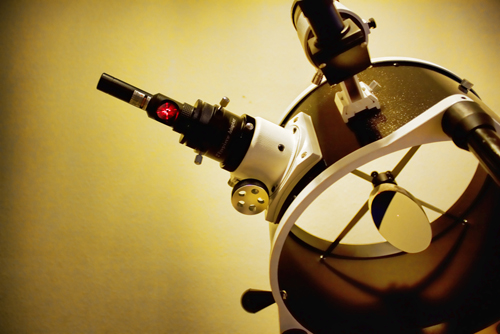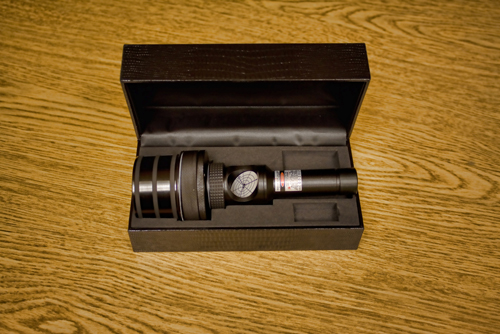 Article: HoTech 2" Cross-Hair Laser Collimator