CNers have asked about a donation box for Cloudy Nights over the years, so here you go. Donation is not required by any means, so please enjoy your stay.


0
Optec Libra Alt-Azimuth Dovetail Adjustment Plate - an Early Adopters Perspective
Discuss this article in our forums
Optec Libra Alt-Azimuth Dovetail Adjustment Plate - an Early Adopters Perspective
Since this is my first review for CN and is about a somewhat esoteric and not inexpensive piece of astro-gear, which will primarily be of interest to those pursuing AP and/or Assisted Visual, I thought a comprehensive history of my "astro walk" would first be in order; it'll make my biases a bit more clear, and hopefully provide some insight into 'whence cometh my observations'.
My first telescope was some kind of junky, straight-through 60mm refractor; purchased for me by my parents for my 10th birthday in May, 1969. Guess why THAT might have been the case! I was the ultimate "Science geek", and was LIVING the Apollo program. It came with this nasty, 10" metal "tripod" (and I use that term loosely) that more closely resembled 3 rabbit-ear antennae with rubber tips on the end of each 10" leg (!)
To say that scope was a massive disappointment would have been an understatement, but not for my lack of trying. To my parents credit, they even came out with me in the winter, when I was placing it on an inverted trash-can and kneeling in the Michigan snows during -10F weather to try and look at the Orion Nebula (I failed). I never saw anything other than the moon. Sigh. Little did I know then, that that massive disappointment would plant the seeds that would hugely influence my future philosophy towards "doing astronomy".
Step forward 35 years and I was fortunate to be able to move to a fairly rural, western suburban Boston town where we have a 20 house development sharing over 250 acres. The huge, and open backyard for some reason beckoned me to once again try and revisit astronomy and telescopes as an experience for my sons and me to share... Thus began a very rapid ascent (descent?) to a pretty comprehensive setup for visual, AP, and assisted visual...
Astro Walk - the Short Version
There's a very long story here, but the short version is this: Primarily guided (No, more truthfully, LED!) by the "influence" of the CN community, over the last 4 years I've moved from an initial and very trashy $200 90mm plasticky GoTo refractor (I won't name the brand), through, in succession: Meade ETX90, Orion XT10i, WO66SD, Vixen ED100Sf, TMB80SS, Meade SN8, Vixen R200SS with CF tube, and finally to a Celestron C11. On a separate path, my EQ mounts have gone from Vixen Sphinx SXW to Celestron CGE to a Mountain Instruments MI-250. EPs have gone from default Meade (then Orion) to Televue Panoptics/Naglers and finally to Televue Naglers/Ethos.
Throughout, I've gone from trying to do AP first with my Nikon D100, to an ST237A, finally ending up with an SBIG STV for guiding and QHY8 OSC CCD Camera. I have since 2007 a Mallincam Color Hyper plus astrovideo camera, and it totally revolutionized my viewing, recording, and outreach aspects of my hobby. Without it, I may have fallen OFF the astro band-wagon. I host "outreach events" in my backyard several times a year, where my Back Yard Observatory-built Wilder Skies Observatory can be shared with as many kids (and parents!) as possible from my boy's school. At these outreach events, I typically setup my XT10i on the Round Table Platform EQ platform, and simultaneously have video targets in the observatory.
Given my nature, the observatory was the best single investment I've ever made, or ever could/will make in this hobby. It is not possible to make a smarter choice - if you can - than to build an observatory. If you have any doubts, cast them aside. If I can have this kind of pleasure (and success) from my barely Orange-zone backyard (SQMs typically between 19.65 and 20.3, with best ever at 20.65), then many of you can as well.
As you can see, I didn't "mess around" with this hobby, if my entrance into it were analogous to a high performance automobile, it has been rather Bugatti Veyron-like; zero to 250mph in 4 years, so to speak!
My Biases and Requirements
Being "advanced middle age" and having two boys in school doesn't leave a LOT of free time. Sometimes learned the hard way, but more by nature, I am strongly biased towards buying the highest quality possible. Sometimes I simply have to learn the hard way (my first few scopes taught me THAT all too well!). Mostly, at this point, and certainly now with all things astro-gear related, that is now my default approach to just about everything. I just don't have the time for frustration, or time to try and do something cheaply - multiple times. We don't have that many clear nights, and I don't want to waste time fiddling around.
I was almost totally where I wanted to be versus my requirements: a single, permanently mounted setup in my observatory that had sufficient visual aperture, could be used for any scale imaging, and could be used for Mallincamming. Totally solidly mounted, permanently aligned, and "no fuss, no hassle". Finally, all within 3 minutes of leaving my back door to take advantage of whatever and whenever conditions. Simple requirements, right?
My setup - pre-Libra
The complete WSO Über-rig entails: Pier-mounted MI-250, with 15" Robin Casady Saddle holding an ADM Side By Side D setup. One one side: the C11 with HyperStar, with both 1.25" and 2" visual backs, and also an f6.3 reducer, 2" AT diagonal. I've got a FeatherTouch MicroFocuser, coupled to the FeatherTouch digital controller system. My STV eFinder guide scope is under-mounted at the front of the C11 side. Even though it's basically an f4.0 100mm focal length "micro" scope; it guides extremely well up to the f6.3 1764mm focal length of the C11, reporting Average X/Y errors of around 0.2 to 0.4 arc-seconds, giving me nice round stars up to 15 minutes on exposures at that quite long focal length. On the other side, an ADM DPU15 plate, with ADM 125mm Guide scope rings and my TMB80SS mounted therein, using a 2" WO diagonal.
This gives me (finally) great aperture for visual with the C11 at either f10.0 or f6.3. Fast enough for AP at f6.3 or faster/wider still with HyperStar. Flexible with various focal lengths. The TMB for simultaneous visual finding/framing, or for wide-field Mallincam or for QHY8 use. I can leave it all setup for practically immediate use. I never have to rebuild Gemini pointing models. Ahh, the easy life! Well, there's that one niggling bother...
I still had one final frustration: aligning (and keeping aligned!) the TMB80SS with the C11... Face it, dual 3-point adjustable guide scope rings are just a pain! They are simply not intuitive in adjustment, they are not truly solid enough to maintain alignment, and they're just generally speaking a total fiddly lose.

Heaven help you if you have to adjust it, at night, under the stars, while scarce viewing or imaging skies are "a ticking". It takes forever to get it even close! Over 2+ years using the SBS setup with a variety of equipment, I never once got - and kept - perfect alignment between the scopes when guide rings were involved. This really bothered me at a fundamental, and visceral, level. I mean, these are certainly not low quality rings. They are fundamentally very solid, on a solid plate on a solid mount. It shouldn't be this difficult, should it?
All along, I really enjoyed the Vixen adjustable alt/az tripod-head type 'thingus' that I originally used for the STV. Adjustments were dead intuitive, simple, and quick. But, it was simply not solid enough to resist movement and flexure (even with the light load of the STV and eFinder.
I didn't think there WAS a solution, other than shimming, and that is hardly adjustable for those times when I purposely want the scopes to be OUT of orthogonality! Adjusting shims in the visual/imaging real-time workflow is NOT an option!
This is the dawning of the age of Libra, age of Libra, age of Liiiiii-aaaaa-brrrr-aaaa...
Then, this summer, Astronomy Technology Today (By the way, am I alone in finding this magazine can incite heavy-breathing and a red-haze in my eyes? I doubt that very much!) had an article about the new Optec Libra Alt/Az Dovetail Adjustment Plate. "Now THAT'S what I'm talking about," I said to myself on reading the short article. Promising solidity, easy and rapid adjustment in an intuitive fashion, it seemed to be exactly what I was looking for. So I gave Optec a call, spoke to Jeff, and eventually - several months later - finally put in my order.
As you can tell from the rest of my setup, I now demand quality-made gear that is just "going to work", so it was with much anticipation that I opened the very well packaged box containing my new Libra. I carefully took it out of the box - man this thing is solidly made... Good thing I have lots of mount capacity!
Hey, I once dated a Libra, but she wasn't this small (or "solid" - thankfully)!
The overall length of the Libra is 12.25", with a dovetail width of 4". Overall height (when level) is 2.75" . Clamp width is 2.5", and the Clamp knobs are 3/4" stainless steel and knurled. The Alt/Az knurled knobs are 1.5" stainless steel.

Altitude adjustment range is 4 degrees (height delta of 0.75"), and Azimuth adjustment is 9 degrees (lateral movement of 1.15").

Weighing in at 3.5Kg, the Libra is specified as having a payload of 25 pounds, with the (nominal) top plate being 4" male Losmandy "D" style, and (nominal) bottom plate being 4" female Losmandy "D" style.
Full Frontal Libra, or "The Libra I knew, didn't look like this!"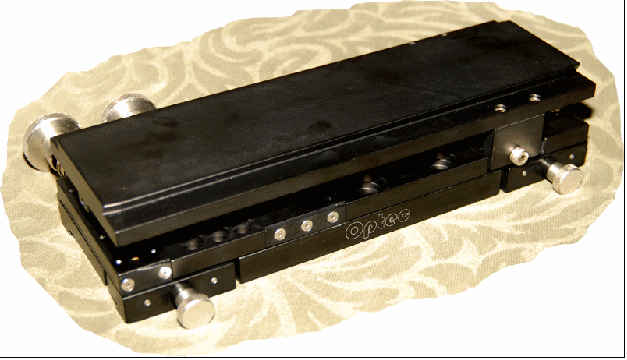 This frontal view is "right side up" (with reference to the Optec Logo) with the male Losmandy dovetail up, and female down. Note that this system is complete reversible; you can mount it the other way up, which was a good thing since my ADM SBS setup has a FEMALE saddle. In this picture you can see on the near side, the two dove-tail adjustment clamps, and on the far side, the two adjustment knobs for Altitude and Azimuth. Towards the right end, the small silver "knob" you see above and to the left of the dove-tail knob is actually the pivot point/hinge for the plate to rotate about in Altitude. You can also see hints of the multiple approximately 3/4" diameter drill-outs in between the two main plates. There are MANY of these drill-outs throughout the assembly, presumably to lower weight wherever possible.
A Profile in Libra

Here on the far side, you can see on the left, the other end of the Altitude "hinge" and a much better view of all the "drill-outs". On the right side, the Azimuth adjustment knob is on the left, and Altitude on the right. Again, this is "male up" (the opposite of my intended use case). The Altitude adjustment is "spring loaded" by the three springs just visible on the far left of this image. Basically that end goes down, as the right end goes up, when moving the Alt adjustment knob.
The way the Azimuth knob affects motion is as follows: when tightening (righty-tighty, left-loosey of course!) it is pushing against a "block" connected to the bottom plate to "push it" away. This block is spring loaded, again with large-ish springs (not visible here) such that when you loosen it, the top moves back. Note the small white edge of what is an approximately 4" diameter teflon "washer" just above the "O" of the Optec logo. That is what the top portion (about the upper 3/4 of vertical height in this picture) rides back/forth on. The azimuth movement is very smooth, easily as smooth and nice "feeling" as my experience with my Moonlite and FeatherTouch focusers.
Finally, in the center in between the plates you can see a hint of what is actually the fairly massive pivot point for the Azimuth range of movement. This is a combination of brass sleeve, teflon ring, and stainless steel center "bolt".
The ascension of Libra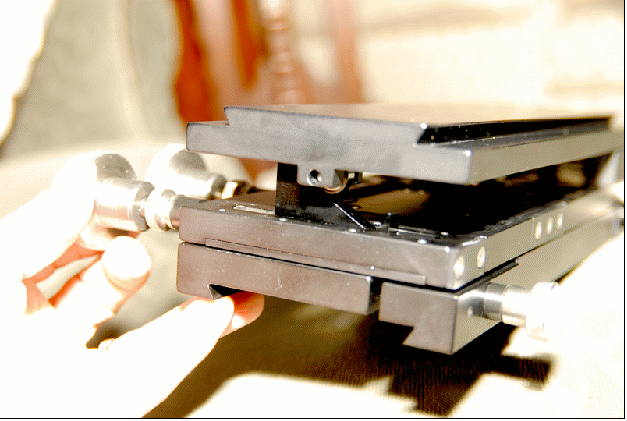 Turning the unit over, and looking at the end that will raise/lower in Altitude, you can see how the engineering is cleverly designed to make that movement - with NO simultaneous movement in Azimuth. Note the solid (black) triangular"wedge" that rides back and forth in a groove against a combination stainless steel, teflon, stainless steel wheel. The Wheel (vaguely copper colored in this unfortunately over-exposed photo) is fixed in its location, relative to the "top" plate, and the wedge is independently moved left/right in a channel (both top and bottom) such that the two plates move up/down away and towards one another while maintaining perfect horizontal alignment with wherever they are currently located. When the plate is tilted "upwards" it is compressing the aforementioned springs at the opposite end, ensuring constant 100% contact and solidity. Very solid and very clever! I can't emphasize enough the excellent and solid feel of these adjustments! Again, the feel is at the highest level of quality I've experienced to-date.
Below Libra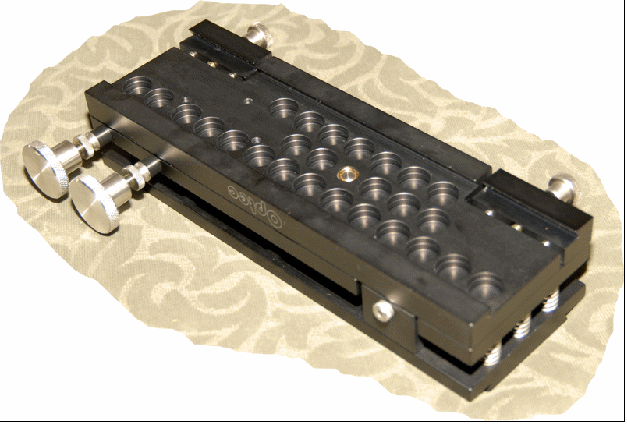 Finally, looking at the bottom, female side (which is actually the top for my use), you can see yet more of the significant number of drill-outs, the pivot sleeve/axis for azimuth and the two dovetail clamps. This is the kind of attention to detail that really impresses me. There are these drill-outs everywhere; the bottom side of the male-side plate has diagonal reinforcements, with even larger "cut out" areas. According to Jeff at Optec, the combination of all of these saves about 680 grams, or about a pound and a half!
Note that on the Alt and Az adjustment knobs, there are separate, knurled "lock nuts" that allow you to lock in whatever adjustment you have dialed in. Clever touch there. On the right end, you now also have a clearer view of the compression springs for the altitude adjustment.
In short, my initial visual inspection of, and "playing with" the Libra left an extremely positive impression and a "I can't wait to check it out" feeling that was hard to ignore. To be honest, it was difficult to take the time to take the photos, without just running out back and setting it up!
Specifics on connecting it all together
At the time of Libra ascending at WSO, I had 3 ADM Dup plates (2 - 15" and one 7", which I had acquired back in April 2008). I mounted two Universal Adapter Blocks (UABs) from ADM between my AT90mm rings (which only have METRIC spacing not 2" on center) and the ADM 15" Dup plate (which IS on 2" centers). "When will we ever truly have STANDARDS in this hobby?" I wondered at the time when I discovered I'd need the UABs. I was glad I had those little adapters on hand!
Then, it was time to mount the Libra onto my ADM Side By Side setup. I turned the Libra nominally "upside down" with the male dovetail downwards, slid it into the ADM SBS saddle and clamped it down. Nice fit. Feels solid. So far so good!
Ummm, Libra, we have a problem...
Now to mount the TMB80/rings/UAB/Dup-15 setup. What's this? I can't get the Dup-15 to slide in or fit into the female portion of the Libra? "Maybe I need to loosen the clamps?", Nope, they are now all the way open/loose... Argh... "What is going on here?"
Frustration, leading to consternation, and then, perhaps, mild despair, set in. Why won't an ADM Losmandy D plate fit into a Optec Losmandy D female dovetail? Check everything. Clamps maximally loosened. Yep. What is going on here?
Again, why can't we have STANDARDS in this hobby?
Real Standards!... "Maybe the plate is out of spec?", I thought hopefully. I'll try another plate! Same problem. Try the third ADM plate... same issue. Get out my caliper/micrometer. All the ADM plates measured the exact same in every dimension... So, either the Libra is out of specification with "Losmandy D", or the ADM plates are, or a combination of both of them are in such a way that it's just too tight to work.
Now I'm "not amused", to put it mildly.
Libra to Base - "We have a problem"
Go inside, and call Jeff at Optec. Describe the problem... he says, "do you have micrometer/calipers?" "Yep", says I, "I'll be right back, hafta get them and the ADM plate and the Libra from the observatory". Call Jeff back and we start measuring and describing and discussing. My ADM Losmandy D plates don't measure the same as his Losmandy D plates... What is up with THAT? So I went even further, and found that my Scott Casady Saddle doesn't measure the same as my ADM Saddles (the delta there is about 1.5mm).
Long story short. According to Jeff, there have been several, ahem, variations on the Losmandy "D" specification over time, enough variations that my ADM D males are (apparently) effectively about 1-2mm too wide to fit in the Optec D female clamp. Jeff said that their design center was to the spec's he got from Scott Losmandy, and they validated their initial design production run using Farpoint D plates; with no complaints from any of their initial users. Note that my Libra was from their second production run.
Apparently, I was the first ADM user to purchase a Libra. Normally being first is a "good thing", but in this circumstance I wasn't thinking that! Not yet, anyways.
I pointed out to Jeff that there are a lot of folks out there with ADM Losmandy D systems. He said they had tested with Farpoint and others (whose name I don't recall), with no issues reported to date from any customer. He was surprised, and not too pleased, to hear that this wasn't fitting. My measurements of my Libra matched their standards, so I didn't have an "out of spec" sample.
We started to think through various options and approaches: Do I send it back to be re-machined? What were the characteristics of the "known good" Farpoint plates? And so forth...
Libra Resolution
Here's how we' resolved the issue: Jeff originally offered to send me the Farpoint plate he has (at which point I promptly sold my two DUP-15s!); unfortunately the Farpoint hole spacing system doesn't work with the 2" on center of ADM (and what I need)... Jeff had offered to drill it for the ADM 2" on-center spacing, but then when they went to do that, it wouldn't work due to sizing, etc.
Then Jeff, doing further research over a weekend, discovered that he thought that there was a chance that my Libra's measurements perhaps weren't "quite right". So, he did a couple of things in parallel: firstly, he ordered a DUP 15 from Anthony's latest production "run". Second, he sent me a couple of pictures of his measuring the Libra they had, so that I could compare with mine...
What we discovered was: 1) My Libra was a bit smaller (slightly out of spec) from the one he had and which was supposed to be representative, and 2) the current ADM DUP-15's are slightly smaller than the ones I have (by about 1mm)... it was the combination of BOTH that caused my problem.
So, the ultimate resolution is this: Jeff sent me a second Libra, along with the known good/working ADM DUP-15, and I got to return the one that didn't work for me. OPTEC paid shipping, etc., including the return shipping on the extra Libra. All I paid for was their cost for the DUP -15 that was "known good" with Libra. We went this route solely because it would be the quickest way to "get me going". In parallel, I sold the two Dup-15's that I had that didn't work with this Libra.
As part of this, Jeff, at my suggestion, is also going to try and "drive a new D standard" with Losmandy, ADM, etc... whereby everyone uses not only consistent measurements, but also consistent measuring technology AND methodology (to eliminate variations significant enough to cause these types of problems) so that nobody else has to deal with this. How cool is that?
Reminds me of one of the aspects of our fine hobby I like so much; pretty much everyone is out to be as helpful as absolutely possible. Vendors, like Optec really do try and do "the right thing." And, finally, satisfaction CAN be had. Huge kudos to Optec for outstanding, interactive and constantly communicative and fair customer service and support. Even were this not a "boutique" item, it was way beyond what I had hoped for or expected.
Makes me wonder what one of their high-end temperature controlled focusing systems must be like... Hmmm... that would likely be another article!
Libra at Work - First Light
So, now that it was all set up - and fitting - how is it to use a Libra in the real world?
In a nutshell, it is a total pleasure. It took all of about 30 seconds to initially "dial in" a perfectly orthogonal alignment between my TMB80SS and my C11. I then just kept "raising the power" with EPs until I was alternating between C11 and TMB80SS using my 5mm IR EP. At 5mm in the TMB it is not at the 353X it is in the C11 at f6.3, being a rather lower 101X. This process was a complete doddle, with no frustrations whatsoever.
It makes adjusting in "real time" a total pleasure and completely intuitive. It passes my strict standard: "it just works."
It hasn't varied since then, but even if it ultimately does, it is so easy to align, that wouldn't be an issue.
If you hate fiddly rings, and want solidity and intuitive adjustment, Libra IS the way to go.
Pros
Clever design and solid execution

Capacity

Truly useful, solving a real problem

Quality, fit, finish and "feel" at the highest of levels
Cons
Price - at $495 it is not a "spur of the moment" acquisition

Weight - at 3.5Kg it is not light, but that's a function of its capacity

Somewhat "tight" Losmandy specification clearance - might be an issue for you, check with Optec first to see how the "new standard" is evolving.
Rating: 5 stars (assuming your D plate fits)
Article: Optec Libra Alt-Azimuth Dovetail Adjustment Plate - an Early Adopters Perspective