CNers have asked about a donation box for Cloudy Nights over the years, so here you go. Donation is not required by any means, so please enjoy your stay.


0
Orion Steadypix Deluxe Camera Mount
Discuss this article in our forums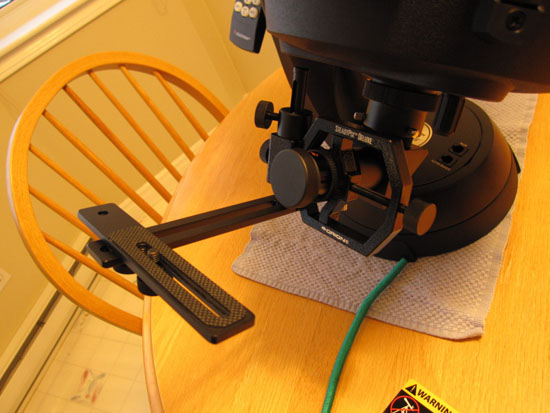 As an inexperienced astronomer (6 months experience) from the coldness of Eastern Canada I haven't really gotten to take many astrophotography pictures as of yet. So I decided to dip my toes in before getting a DSLR camera for this. I already have a point and shoot camera (I think most people do now) so why not use that with a telescope? Well holding it up to the eyepiece doesn't work, your hand is way to shaky. The solution? The Orion Steadypix Deluxe Camera mount.
First Impressions: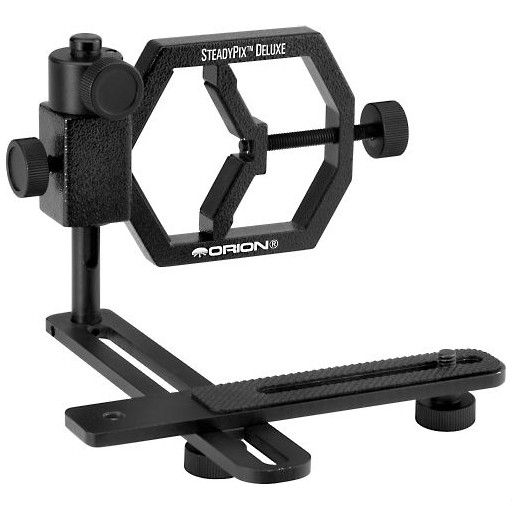 The one on the far right is for screwing the mount onto the eyepiece
The one facing you is a height adjustment knob
The one on the left is to spin the camera
The one underneath is an adjustment for back and forth to the eyepiece
And the one closest to you on the far right is for screwing the camera on.
Quite daunting…
Usage and Performance:
First off, I'd like to say that this thing is far less flimsy than it looks specially with all the knobs tightened. Anyway, after taking my scope out on the grass (Deck provided the much hated vibration). I turned on my red led light on my powertank to hook up the Steadypix deluxe. (My scope was tracking the moon by this time). Made sure everything was tight and mounted my Canon point and shoot camera. Turn it on, the screen showed black. So I loosened the knobs and aligned it up to the eyepiece, cool! There was the moon.
I turned the ISO to 400, resolution as high as it would go and turned on a 10second timer so it would give me enough time to step back. I started snapping pictures. I still haven't gotten the alignment right on the camera as it was showing some of the inside of the eyepiece, but I thought it was pretty good.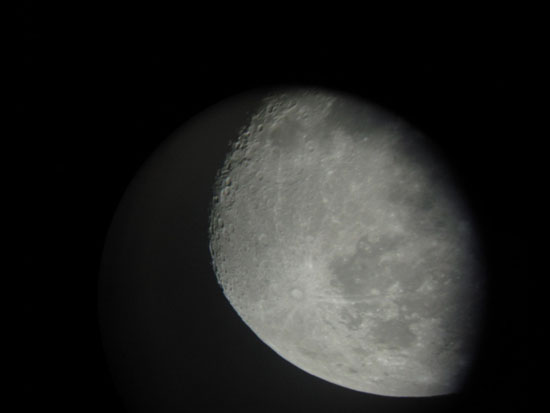 After taking a few pictures I packed everything up and took it all inside to see how the pictures looked on my computer, not to bad! As you can see they are a little grainy, I need to fool around with my camera a bit more, but it's good enough for me, for now. I must say that this is a good piece of equipment for the astrophotographer on a budget.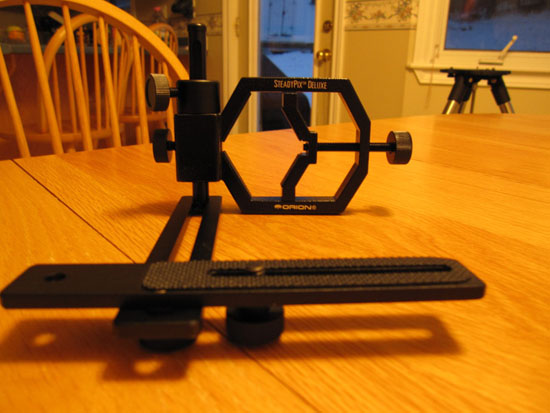 Conclusion and Rating:
Not having a chance to photograph planets with this (until Saturn comes up that is). My review is only on taking pictures of the moon, which it does a good enough job. Now the quality of the photos does depend on your camera as well, but the mount does what it is advertised to do. I do plan on updating this review once I get a chance to take a photo of a planet.
I recommend this product for anyone who wants to start taking photos but doesn't have the money for a DSLR, or just wants to start off slow and learn the ways of the Jedi. But you will want something more. I already do. The only problem I can see with his is using it in the dark, it will be very hard to setup and I advise against it. Also the weight of it, if you are using a diagonal or a piece that can fall apart WATCH IT CAREFULLY I almost had a catastrophe when I loaded it up with my Pentax 10.5mm Eyepiece. So it is heavy and damage can insue. (Should be a warning in the instructions, as this is aimed at the beginner.) So it isn't all upsides for this instrument.
Ratings:
Ease of Use: 41/50 – Quite easy but using it in the dark can be tough and instructions could be better.
Quality: 28/30 – Quality is great, but sometimes the knobs come slightly loose
Value: 19/20 – Great starting point for Astrophotography
Total: 88/100
8.5/10 – Not an Average
Article: Orion Steadypix Deluxe Camera Mount