CNers have asked about a donation box for Cloudy Nights over the years, so here you go. Donation is not required by any means, so please enjoy your stay.


0
Orion/Synta Type Finder Mounting Shoe with 0.785" (20mm) Hole Spacing
Discuss this article in our forums
This may sound a little crazy to review a part that is just a replacement but with the service I got from Scope Stuff I just could not resist. First off my name is Christian and I would like to share with you about a mounting shoe for my Hardin Optical 8" f6 Dobsonian scope that has had some minor tweaking since the purchase in 2002. The scope was working straight out of the box and what little I have added to it has kept it going for many, many a star party since. The usual rocker Teflon bearings, slider base made out of shower wall material, and even a wooden platform for viewing were all additions that I got from club members at very little or no cost. I purchased a few extra eyepieces (including 2" for easier viewing during pubic star parties), nebula filters, and of course a Rigel QuikFinder to round out my scopes performance.
All was well for years until I broke my finder scope shoe under normal usage. It was made out of a pot metal that I tried to repair with multiple epoxies, fillers and glue. Nothing seemed to work as more cracks and breaks occurred until I simply removed the entire bracket and just used the quickfinder to navigate my way around the celestial heavens. When another club member tried using my scope, he had difficulty without the 8 x 50 finder scope attached. Thus a new search for a shoe was a foot. (Sorry no pun intended)
I knew that Hardin was no longer making this particular scope but remembered that is was close as an Orion knockoff. I then found Scope Stuff and searched their site for my missing part. I could not imagine so many parts from one company and with the helpful photos I was able to locate my part easily. The best surprise was after I paid for it online the part was at my doorstep in less than three days. The mounting shoe seemed stronger than the original and went on perfectly in the existing holes. I was so impressed with the service and part that I wrote Jim Henson of Scope Stuff and thanked him for his response and used his company in a newsletter article for the Oklahoma City Astronomy Club. Since I was the town crier and editor of this humble publication I just had to share with others about my replacement part and satisfaction.
So if you ever need a small, hard to find replacement part for your scope, check out Jim at Scope Stuff and see if the replacement is not better than the original. My only problem with the entire ordeal was that I could not figure out why I waited so long to fix it when the price was great and the shipping was so quick. I hope others can learn from my lesson and are able to find the part if in need. Below is the picture and link that helped me choose the right part.
http://www.scopestuff.com/ss_rdpb.htm
or:
http://www.scopestuff.com/index.html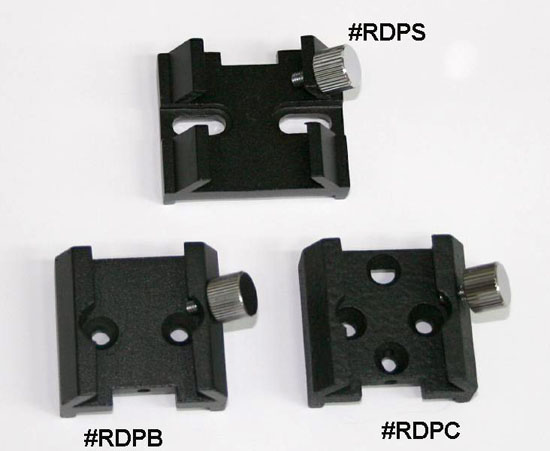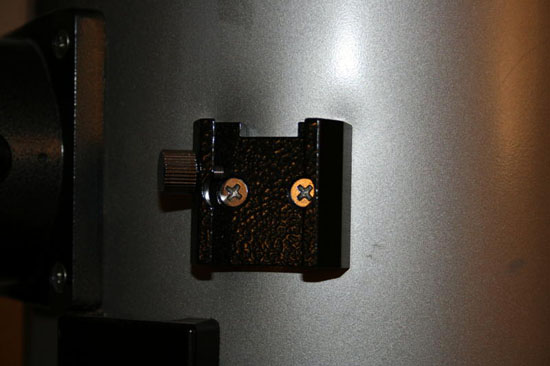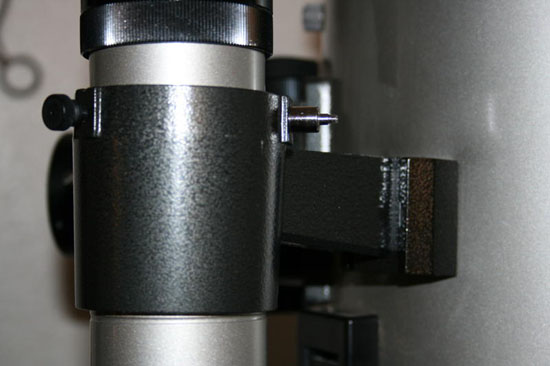 Article: Orion/Synta Type Finder Mounting Shoe with 0.785" (20mm) Hole Spacing