CNers have asked about a donation box for Cloudy Nights over the years, so here you go. Donation is not required by any means, so please enjoy your stay.


0
Oserving Tables by Lifetime Products
One of those items often forgotten by amateur astronomers when observing is the basic table. The need to have a table that fold down for transport, or to simply take out to the backyard is a key to a successful table. Folding card tables have been used and are a good object to have, but I want to introduce another option. I found this table made by Lifetime Products at my local Wal-Mart for $24.99. It is compact, folds down completely, stores flat in the trunk so you can lay items on top of it without threatening it.
The legs are made of a sturdy metal with a heavy-duty plastic top. I have never had a problem keeping the table level in the field (as long as there are no rocks or twigs under the leg). It holds up to 40lbs according to the back. I have one that I use to hold my Atlas's and one that holds my sketching and other materials that I want out.
In this image you can see how the legs fold down into the tabletop that holds them in place. You do have to be careful when you are putting the table flat that you don't push where the two metal poles fit into the underside of the plastic tabletop or you could pinch your figures..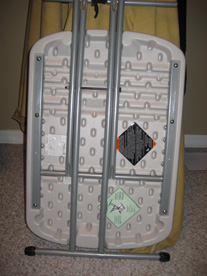 The table adjusts to three heights, 28, 26 or 24 inches in height and I find that I often use the 28-inch height in the field. To adjust the legs you simply pull them out of the tabletop and then squeeze the black handle grip and that pulls the bar in so you can lift it out.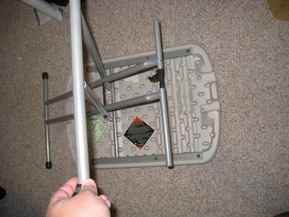 In the next photo you can see how I have take the legs and using that black handle simply squeezed that moved the leg into the position I want it for the appropriate height.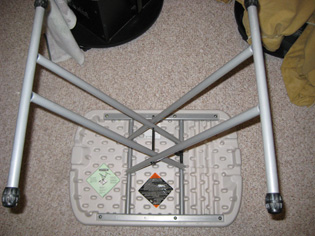 Finally, in this last photo you can see the table sitting up with the Sky Atlas 2000 on it so I hope it can provide a sense of size for you. I use my Sky Atlas 2000 on this table all the time without any problems.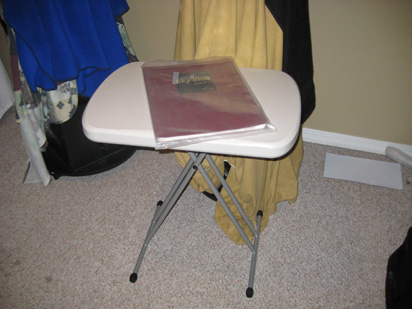 The product number on the back of the table is LPPRMB 8330, and the manufacture is Lifetime Products. I purchased two tables from Wal-Mart for $24.99. The second table I purchased in August and I do have to say that I have not seen them at my local Wal-mart since November 1st, 2009. I am hoping that they will still be carrying them. At www.buyliftetime.com under the specialty tables they do have tables that are similar to these but listed at $49.99.
Again, the only negative I have found with these tables is that when you go to put the legs back into the tables you can pinch your fingers if you use them to push down on the indent where the legs go. To avoid this simply go back or forward of that indent when you push down and they will go in with a little force. Overall I do recommend these tables or something similar for use from the backyard to your favorite dark site.
Article: Oserving Tables by Lifetime Products