CNers have asked about a donation box for Cloudy Nights over the years, so here you go. Donation is not required by any means, so please enjoy your stay.


0
Rayovac Sportsman 3-in-1 Head-Lite
Discuss this article in our forums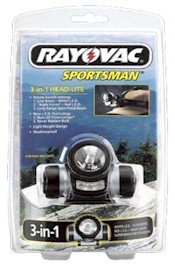 Not too often do we come across a very inexpensive piece of equipment that can make such a difference in the way we go about this wonderful hobby of ours. One of my least favorite aspects of the hobby is the drudgery of packing everything after an evening of stargazing. This is especially so during the months of January and February where it seems that any outdoor observing area is the coldest spot on earth. Anything to make this chore easier would be very much welcome.
So how do you hold that LED red flashlight when you are packing up before the others are finished gazing? I usually held mine in my mouth so I'd have two hands for the grunt work. This gets a bit awkward, especially if your LED light is metallic (yeah, I had an aluminum one, and last January, it wasn't very nice to my lips!).
Enter the Rayovac Sportsman, head-worn, 3-in-1 headlight. This $15 beauty was the answer to my prayers.
A few specs on it:
Rayovac, Sportsman 3-in-1 Head-Lite Model #HD33A1EN
1 x Bright white LED

2 x Bright red LEDs

1 x Krypton bulb in reflector casing, adjustable spot/flood

Rotary switch (off-red LED-white LED-white incandescent)

3 x AAA Batteries (not included)

Single strap elastic headband and over-the-top band

Tiltable [lights and battery holder] (downward only) Ð 6 position click-stop

Weight: 4.5 ounces
I've used this light for more than three years now, and to me it's a winner. It does everything it's "supposed" to do and more. After wearing it for a minute or so, I don't even realize it's on my head – it just becomes part of me. Wherever I look, there's just enough light to illuminate my view. But if I need to retrieve that inevitable small part dropped on the grass, I just rotate the beam selector, and I can really light up the ground.
I purchased mine at Wal-Mart (in the Camping section).
Article: Rayovac Sportsman 3-in-1 Head-Lite