CNers have asked about a donation box for Cloudy Nights over the years, so here you go. Donation is not required by any means, so please enjoy your stay.


0
Rigel Systems Skylite Flashlight
Discuss this article in our forums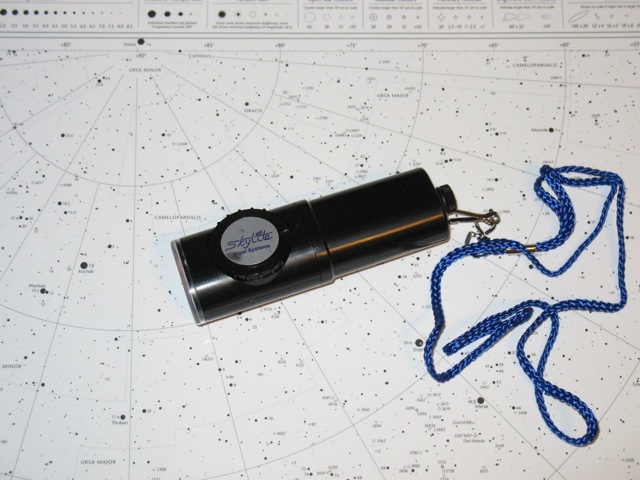 In my search for a usable red light flashlight for use at my telescope I've stumbled upon the Rigel Systems SkyLite dual color red/white flashlight. I've used a single led flashlight with a red lens attached to the front for a long time and have never been pleased with it's dim output and narrow beam, especially when trying to read my Sky Atlas star charts at the scope. Let's get down to the nitty gritty of the plusses and minuses of something that's so easy to think so little about but can make a big difference during the night at your telescope.
Let's start with the plusses:
You've got two flashlights in one! You've got both white and red light available so there is built-in versatility. Turning the on/off dial to the left activates the white LED's and turning to the right will bring up the red LED's.
Both LED's have variable light output intensity. The more you turn your dial away from the center on/off detent (which is marked by the way), the brighter your light output will become.
This light is just the right size for hand-holding and won't take up a lot of space in your eyepiece or accessory case. It also has a lanyard you can attach to keep it close at hand which is pretty handy.
Rigel Systems provides a 5 year warranty so you've got some piece of mind that if anything malfunctions, there is a warranty to back things up. Way to go Rigel Systems!
Most importantly, the diameter of the usable "light circle" is about 6-7 inches when the light is held about 10 inches over my star charts. Hooray, ther's no more narrow light beams to put up with while trying to read my charts since the wider circle of usable light makes it much easier to scan and see more area of my charts.
Now for a few minuses:
You've got two flashlights in one! Be careful you don't accidentally activate the white light when around a group of stargazers during the night. It's not fun to be conked upside the head with a 31 Nagler T6 when you've ruined someone's night vision. Remember turning the dial to the right turns on red!
Both LED's have variable light output intensity. The red light will become so bright to where it could affect your night vision so use the maximum brightness carefully and sparingly.
There seems to be a "jump" in the intensity of the light output with both colors towards the brighter end of the dial's adjustment. This may be a quirk of this particular light but I've got a 5 year warranty if I feel there is something that not right with this unit.
In summary, there are many flashlights out there that serve many different purposes. We all need a versatile source of red light during the night while enjoying our great hobby and I feel this light does a good job with the additional bonus of having white light for any other non-astronomy needs.
Thanks to Astronomics for being a pleasure to deal with in the purchase of this light. You guys rock!
Article: Rigel Systems Skylite Flashlight