CNers have asked about a donation box for Cloudy Nights over the years, so here you go. Donation is not required by any means, so please enjoy your stay.


1
TeleGizmo Telescope Cover
Discuss this article in our forums
Hidden beneath the silver is an eq-6 with two scopes on it.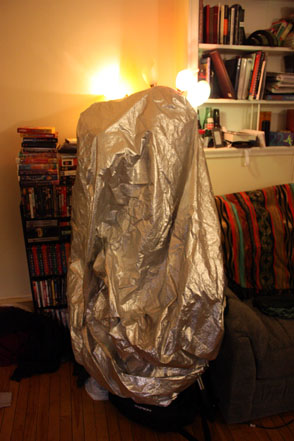 I originally bought this scope cover when i was hauling a 10" newtionian on a 1970's star-liner mount down the stairs from my room and out into my back yard each night when i came home for the weekends. Oddly enough, hauling hundreds of pounds of oddly shaped telescope parts up and down two flights of stairs 2-3 times each week makes you look for other solutions. One solution i cam up with was to build an observatory. My first idea was shot down pretty quickly, but my second idea was to simply buy a telescope cover! That idea worked out.
The telescope cover is essentially a telescope shaped tarp with a drawstring on the bottom. How it differes from a normal tarp, is that it also has a reflective coating on the outside. There may be more suble enginerring marvels at work here, but all i needed to see was the results. For a few days at a time i could now leave my telescope set up outside and not need to bring it in everynight. The material itself is waterproof and the reflective coating keeps the inside cool under the beating sun. I even left it out in a down poor just to see if it could handle it. I ran out in the middle of the storm and the inside was completely dry. I've checked in the middle of the night as well, and the inside is cozy and free of dew.
For $64 and free shipping i got something that would act as a temporary observatory and cost a good deal less. I bought one larger than i needed, which i would recommend to you as well, so that it would fit all sorts of telescopes. After i moved on from the 10" newt on the 30 year old mount the same scope cover protected a fork mounted Super C8, a GEM mounted C8 in tandem with a 4" mak, and 8" LXD-55 and my 10" dob.
If you have a need, Telegizmos also has a 365 Telescope cover that is built more ruggedly and intended for continuous use instead of just a few days at a time. If i could do it again i would spend the extra dough and get the 365 cover, becuse the standard one does feel a little flimsly. Even though nothing so far has gone wrong, i worry about the day i rip it on the slightly sharp exposed edge of my side-by-side saddle. However, at the same time i wouldn't leave my scope out continuously with the 365 cover. I can be reasonably sure that the cover will not protect your scope from sticks and flying debris.
Merc, N2TU, Old Speckled Hen and 1 other like this
Article: TeleGizmo Telescope Cover