CNers have asked about a donation box for Cloudy Nights over the years, so here you go. Donation is not required by any means, so please enjoy your stay.


0
The Very Cheapest Red Flashlight
Discuss this article in our forums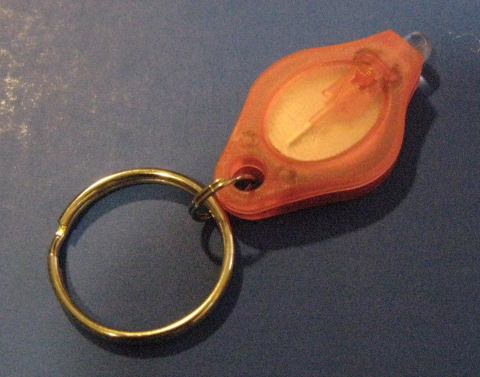 This may be a review of the cheapest product ever reviewed here.
I'm in Central Texas, have only about 1.5 years experience, and own three dobs in the 8"-13" range and one fast 78mm refractor. My first red flashlight was a little Desk Accessory I wrote for my Palm TX that turned the screen red and at maximum intensity. That wasn't very satisfactory, but it was free.
This keychain red LED flashlight costs 44 cents at dealextreme.com, shipped, except that one has to buy it in a pack of ten for the whopping price of $4.42 (shipped). It comes shipped direct from China, in less than two weeks. (If one is very conscientious, one can ask customer service after placing the order that they put the correct customs information on the customs form--they like to mark items as gift and lowball the value. Customs doesn't in my experience both with items this cheap even if the prices are correctly marked, and it makes me feel better if they are.)
The lights are bright enough to read my analog setting circles with comfort, which is the main use of them.
A really nice feature is the little loop designed for use as a keyring. I can wear the light as a (very loose) ring on one of my fingers, and I don't have to reach into a pocket to pull it out whenever I want it. Quite handy.
One can activate the light momentarily by squeezing--slightly too hard for my taste--and there is also a tiny slide switch for keeping it turned on.
If one goes to a dark site with smaller children, one can clip these onto one's own and the kids' belt loops, turn them on, and then the kids can see where one is, and one can see where the kids are. Useful!
The first thing I did with mine was to modify them in a very easy way. Each of them has two 3V CR2016 button cell batteries. That makes for a total of 6V, which is probably more than is healthy for an LED, plus we don't want it to be too bright. This is easily fixed: I took out one battery from each flashlight, and replaced it with a coin (a penny is perfect--I guess that raises the cost to 45 cents each). The resulting light is still bright enough for astronomy purposes. Moreover, as a bonus, I got nine CR2016's as spares, and for use in my red dot finders (also with the coin trick, because my RDFs use CR2032s which are also 3V but are a little thicker)--only nine, because one of the batteries was dead. Also, one or two of the lights had contacts that weren't quite making contact with the battery, and inserting a bit of aluminum foil helped.
Article: The Very Cheapest Red Flashlight