CNers have asked about a donation box for Cloudy Nights over the years, so here you go. Donation is not required by any means, so please enjoy your stay.


0
Zhumell Eyepiece Waist Case Accessory Holder
I am just starting out in Astronomy having purchased a Zhumell Z10 telescope just 3 months ago. It came with 2 eyepieces and I have since bought an additional eyepiece and barlow lens and needed something besides their boxes to store and transport them in. This case fits the bill just great!
The first thing I would like to comment on is the fit and adjustability. I have a 34 inch waist and I have found the case to fit comfortably with the strap adjusted to about 38 inches total, including the width of the case itself and the fixed length end of strap. The max length you could get it out to is about 50 inches which leads me to believe this case should fit comfortably on anyone with up to a 45 or 46 inch waist.
The case itself looks to be built well with strong stitching and nice craftsmanship. It comes filled with a large piece of foam with removable cylinders of foam for the eyepieces. The lid of the case is also foam padded for added protection. The bottom however is not and is just cardboard. The case is designed to hold three 2" and four 1.25" eyepieces. You can also convert the 2" holes to 1.25" holes by removing the core of foam from the 2" removable cutouts.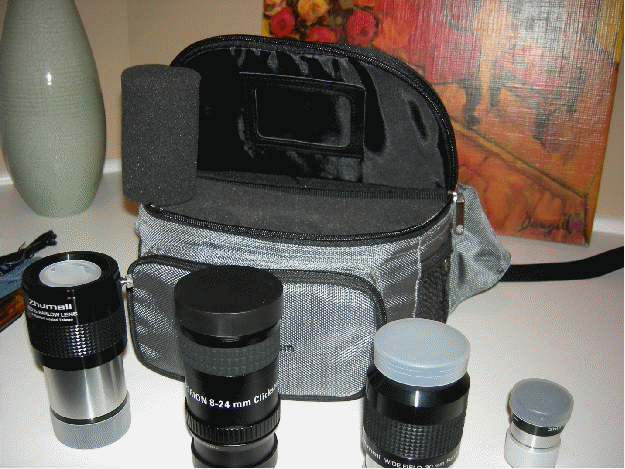 It holds everything I have so far with the exception of my laser collimator which is just too big to fit in the case. The Zhumell 2" barlow and Hyperion Zoom eyepiece fit without needing any foam below them. For my 2" 32mm and 1.25" 9mm eyepieces I had to cut off a small piece of 'spacer' foam from the removable cutouts so they wouldn't sink all the way to the bottom due to these eyepieces being much shorter than the height of the case. The front pouch is holding my moon filter, allen wrench, eyepiece duster, led flashlight and a couple of spare batteries.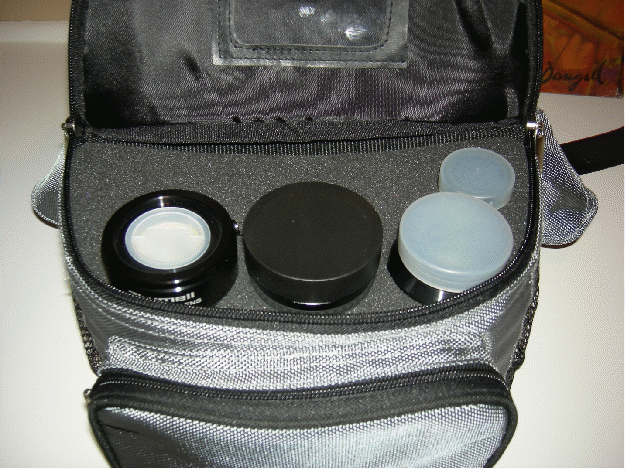 The only complaint I have with the case is that it can be uncomfortable when sitting down with it on. It requires me to adjust the strap much looser to make it comfortable. Other than that I am happy with my purchase and feel confident that my eyepieces and accessories are well protected.