CNers have asked about a donation box for Cloudy Nights over the years, so here you go. Donation is not required by any means, so please enjoy your stay.


0
2" Siebert Black Knight Binoviewer
Discuss this article in our forums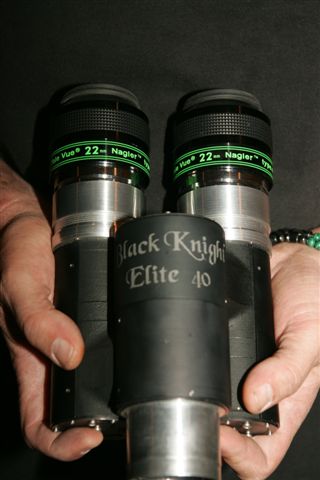 Imagine a Celestron 14" aperture SCT GoTo scope with XLT coatings, Fastar compatibility, all on Celestron's German Equatorial Mount. Now mix in Harry Siebert's 40mm 2" Black Knight Binoviewers, a set of Harry's 2" 34mm wide-view eyepieces, a .4 reducer/corrector, a "multimag" that when used with the reducer/corrector will go to 1.5-2x magnification, and when not used with the reducer/corrector will go to 2-2.5 x magnification, and finally add to all that two 22mm Naglers (honest!) for use in the binos, which I acquired from the fine folks at Anacortes.
What you wind up with, in my estimation, is the best portable visual astronomy observatory on Earth, not the least of which reason for being is that there are no 2" binos anywhere in the world that aren't being made by Harry Siebert, and as of this writing no set has been put into a 14" scope that I know of. Now, Meade has the 16" but I have no idea how portable it is, and in any event my Celestron 11" SCT provided equal or better views than the 12" Meade I looked through. My definition of portability is whether or not I can get it into the back of my truck along with everything I need for camping, and the CGE 1400 fits into my truck about the same as my Celestron NexStar 11 (because of the size of the fork-mount carrying case), and whether or not I can set it up myself, which I can the Celestron 14" easily.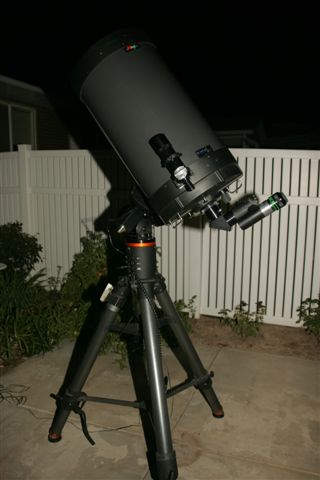 As a preface, I'll say that that setup, as described above, exceeded by several orders of magnitude my highest and most improbable expectations, providing insanely, ridiculously beautiful and jaw-dropping images of everything in the sky. All I can say is that you have to see it to believe it. Seven, maybe even 8 out of 10 objects, no matter how small or faint, were better through the 2" Black Knight Elite binos than with single-eye viewing, and that includes using a single 22mm Nagler. So, to put it into perspective, I'll briefly list my equipment, and will list the objects observed the last couple of nights and the equipment, however limited, I've looked through all in good to excellent seeing conditions over the past three or so years.
Equipment:
* Celestron NexStar 11 SCT, Starbright coatings, Fastar compatible, fork-mounted GoTo
* Celestron CGE 1400 SCT, Starbright XLT coatings, Fastar compatible, German Equatorial Mount GoTo
* 1.25" and 2" TeleVue Everbright star diagonals
* 1.25" Siebert Optics Black Night Binoviewers
* 2" Siebert Optics Black Knight Elite Binoviewers
* 2 34mm 2" Siebert wide-view EPs
* 2 22mm 2" Naglers
* 1 9 mm 1.25" Nagler
* 2 14 mm 1.25" Stellarvue wide-view EPs (exceptional little EPs)
* 2 24 mm 1.25" Siebert wide-views (exceptional, high-contrast EPs)
* 2 36 mm 1.25" Stellarvue wide-view EPs
* 2 18 mm 1.25" Celestron Ultima EPs
* Another 5 or 6 EPs, all very good, but not worth listing
* Assortment of Broadband, Oxygen III and H-Band UHC filters in both 1.25" and 2"
Although I'm still a beginner, I have looked through a 12" Meade SCT, 6" Dob, 12" Dob, 8" Newtonian, 20" Truss-Dob, none of which were as good as my NexStar 11, although the 12" Meade was almost indistinguishable, and a 28" Dob, which was not quite comparable to my CGE 1400 (strangely enough, but there was a full Moon).
Objects viewed last two nights (today is 9-15-04):
M2, M3, M5, M6, M7, M8, M17, M20, M21, M22, M23, M25, M16, M11, M27, M55, NGC 6822, NGC 6818, M10, M13, M30, M12, M92, M94, M101, M40, M51, M63, M94, M106, M39, NGC 6992, NGC 6990, NGC 7000, NGC 6826, M101, M15, M31, M31, M33, M52, M29, M56, M57, M82, M81, M34, M74, M76, NGC 7662, NGC 457, NGC 869/884, M103, NGC 6960/6992, M102, NGC 7293, NGC 253, M30, M14, M12, Uranus, Neptune, Pluto, NGC 7009, NGC 7662, M103, NGC 103, NGC 663, M42, M45, and an assortment of doubles and triples and others that I can't remember or didn't log
I've never said "Wow!" or "Oh, my God!" as many times as I did the last two nights, and I've seen every one of these objects many times. As mentioned, 7 or 8 out of 10 of the objects on this list were better through the 2" Black Knight Elite binos than with single-eye viewing with either the 34mm Sieberts or the 22mm Naglers. There were a few objects too low to the horizon to compare to views I've had through the NexStar 11 and 1.25" binos. Standout exceptions were a small handful of the very deep and/or very faint Nebulae, but just as an example, the Helix Nebula and Sculptor Galaxy were both better in the binos, and that's exceeding an incredible view of the Sculptor through one 34mm Siebert. Another exception: East and West Veils, NGC 6960/6992, which were better in Siebert's single 34 mm with the Oxygen III filter or with a 40 mm Plossl and filter. Even the view of the Little Dumbbell was fairly large, detailed and stunning through the binos.
Both Pinwheels were better through the Binos. Until these 2" binos, I was never much impressed with either of them, but now they're among my favorites.
The Whirlpool was flat-out POP with the 22mm Naglers and the .4 reducer, and was equal to any single-eye view I've ever had of it in terms of image quality, but was better simply because I was using both eyes.
I could clearly see a spiral arm of Andromeda through one 34mm Siebert and with the 34mms in the binos with the .4 reducer, but with the 22mm Naglers in the binos I could see two spiral arms. Although, of course, Andromeda is far too big to fit in that view, I've never seen detail like it with any configuration, including high-powered binoculars on a tripod.
The Dumbbell Nebula was too awesome and powerful a sight to even try to describe, with both Siebert's 34mms and the 22mm Naglers, both reduced, filtered and unfiltered, the Naglers being an experience that left me dizzy and confused and misty-eyed. Of course all the globulars were unbelievable, absolutely dizzyingly beautiful, M92, M15, M2, M3, M13, M5, etc., and the same with all the open clusters, M11, M52, etc., etc.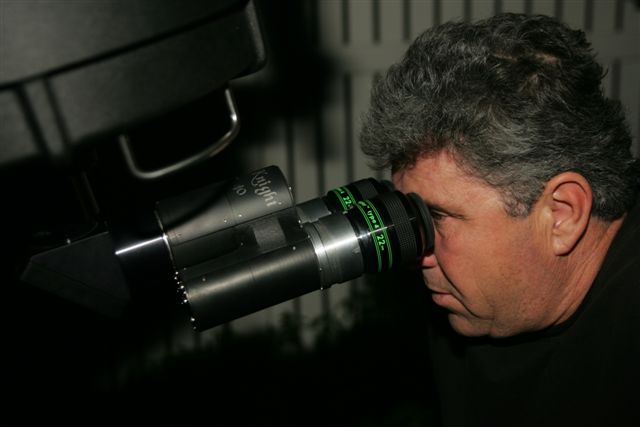 With the 34mm Sieberts and the .4 reducer, I was able to get very comfortably into the view the Double Cluster (NGC 869/884), and with a broadband filter the coloration was staggering, and also all Seven Sisters all out close to the edge, which of course was another knee-weakening view.
Both Neptune and Uranus looked like faintly blue planets and not dots (I could clearly see that they were spheres), and Pluto was...what can you say(?), clearly visible and identifiable.
The Orion Nebula - I can't even write about what that was like without getting emotional. I'll leave that one alone.
Although Siebert's 34mm 2" wide-views are hands-down the best EPs for the price of any available anywhere and provide amazing views, for most objects on the list the Nagler 22mms are on another level up, but you obviously pay that price, as much as three times as much (and there can be a weight issue for balance). Let me describe it, if I can. There is no demarcating line between space and the ambient environment. In other words, there is the ground and grass and whatnot that you can see surrounding a dark window into deep space, like some bizarre Dali painting of a space window floating in a field at night. I have looked through various Naglers with single-eye viewing, and of course it was amazing, but nothing prepared me for what I saw with Siebert's 2" binos and the 22mm Naglers, and this following a night where the 34mms were the only pair of EPs I had for the 2" binos, which were themselves, until the Naglers, the best views I've ever had of almost everything.
I have set up my fairly high-end equipment maybe 50 or 60 times, far more so with the NexStar 11, almost always in places of good to excellent skies, and I can say without the slightest hesitation that the Siebert Optics 2" Black Knight Elite BVs provide hands-down the best views I've ever had of almost everything (i.e., last night was the best night of viewing ever, which is why I'm writing this article), especially in the CGE 1400. Light transmission and edge-to-edge sharpness are, to my eyes, as good as they can possibly get. The combination of that FOV in two-eyed viewing under even high-powered magnification with razor sharp focus was, is and will be very difficult to exceed with any portable setup.
The binos increase the focal length of the scope by a few ticks, so, for example, the 22mm Naglers in the binos with 2 x magnification gets you to almost the limit of the scope, equal to maybe a 9mm Nagler straight through. In short, the 2" Black Knights with the 34mm Sieberts, the 22mm Naglers, the .4 reducer, the multimag and filters give the full range of powers needed to see everything, so change-outs are slick, easy and quick, and you know exactly what you want, even though it's sometimes hard to decide if the small or large view is better. Last night I viewed for 5.5 hours, and I had one eyepiece in for single-eye viewing for 15 minutes of it, but a few objects call for it and, alas, you're already equipped for it. Also, I'd be willing to wager that this combination of EPs, 2" Black Knight binos and filters would be optimal on any SCT or MCT of any size - I don't have the experience with other scope types to make the same assertion.
The 2" Black Knight Elites are amazingly light and very well built, hand-built you can clearly see, and fit and finish I'd give 8 out of 10. At around $1,000, they're far underpriced. Harry should be increasing that price. My suggestion is that you get in the queue to get a set of these binos. Even if you have to wait 6 months to get a set, do it. Nobody else is going to build true 2" binos, so you'll have to go to Siebert Optics to get them. Purists and naysayers will tell you that binos are only good for the large and bright stuff, but that is no longer the case. Even Siebert's 1.25" binos disproved that for me, and I understand the Denks, TeleVues, Baaders and BK Optics are all very good binos, but these 2" binos, especially with the combos of configurations already mentioned, are completely off the hook and change everything. It's unquestionably a new phase in amateur visual astronomy, and now I know that I have one of the best all-around portable setups anywhere in the world, which is exciting and very gratifying. In short, these are the views I've waited for all my life.
Dark dark skies to you.


Article: 2" Siebert Black Knight Binoviewer