CNers have asked about a donation box for Cloudy Nights over the years, so here you go. Donation is not required by any means, so please enjoy your stay.


1
Binoviewer Shootout in the Arizona Desert
Background
After an absence from amateur astronomy of almost 30 years, last fall I purchased a Celestron Nexstar11 GPS. Working all over the world has interfered with hobbies for most of my adult life. But, after seeing the announcements early last year for the Nexstar11, I felt that the technology had reached the point where I could actually catch up the time I missed. I could spend my time looking at objects, rather than hunting for them. I live in Arizona. Most of the nights are clear so I acquired JMI wheeley bars to make setup a breeze (at least at home). I joined the East Valley Astronomy Club, and started to go out to the star parties at our club's two dark sites.
At one of our star parties in early May, I went to visit with someone set up nearby. He had a 12" Meade LX200 set up with a B&W (Lumicon) binoviewer and a pair of 19mm Panoptics. He was observing M92 and invited me to take a look. The view was absolutely breathtaking with two eyes. I asked if I could borrow the binoviewer to try it in my telescope. The views were just as terrific in my NS11. I looked at several other Messier objects and Omega Centauri. I was absolutely mesmerized by the view with both eyes. I really didn't want to give them back.
I spent next the several days searching all over the Internet for anything I could read about binoviewers. I read everything that Todd Gross had to say and all of the reviews on Cloudy Nights. Then I started searching for a binoviewer to purchase.
Right about the same time, a new company, Denkmeier Optical became an Astromart sponsor. I read the specifications, and liked what I saw, unaware that they had just started advertising. I called and discovered that their official launch was occurring the following weekend at NEAF and that I was their first potential customer. I went back to the reviews and noticed a lack of actual head to head comparisons between different brands. Yes, I found some direct comparisons, but they were generally one expensive binoviewer versus one inexpensive binoviewer. I spoke again with Russ Lederman at Denkmeier. He offered a money back guarantee. I just couldn't resist and purchased one. Since I knew there were a few other people in the club with different brands of binoviewers, I was determined to do some comparisons to see how the unit I had purchased compared to the other brands while the money back guarantee was still in effect.
A reason to conduct an in-depth test
In my early use of the Denkmeier Deep Sky Binoviewer an incident occurred that made me think that different people would react differently to binoviewers. This plus the fact that I couldn't find a lot of comparison testing made me think that this testing would be enlightening and fun!
I had the telescope set up in my driveway with the Deep Sky Binoviewer and a neighbor stopped by to take a look. He bumped the telescope. The visual back turned a little and the binoviewer fell to the ground. No eyepiece damage, but one of the eyepiece holders had popped off. I carefully reinstalled it and took a look at the moon. Everything looked OK. I felt relieved. Then, I pointed the telescope at Vega, and saw two identical bright stars, one above the other. While I was looking the stars slowly merged together. Looked away and looked again. Same thing. Two apparent stars that my brain took about 3 seconds to correlate. Asked my neighbor to look and he continued to see two stars. Right then I knew that any comparison testing I was going to do would require more than just my eyes. My neighbor's brain did not react the same as mine to the mis-collimation of the binoviewer. I decided that my brain would not perform the same way on dimmer objects. As you'll see shortly, having viewers of all ages provided a few surprises.
Fortunately, Russ agreed to re-collimate the unit for me. I told him that he needed to create a way for the relatively heavy binoviewer to be gripped more securely so that this didn't happen with other customers. I got the unit back (I think he actually replaced it) and have been extremely careful ever since.
I began contacting people I knew to find out what brands of binoviewers were owned by club members. I found several including B&W Optik, Celestron, Denkmeier (mine), LOMO and Tele Vue units. I tried without success to find someone with the AP/Baader/Zeiss unit. Someone was on the waiting list so perhaps we'll be able to gather some impressions at a later date.
I found the owners of a few Nexstar 11GPS telescopes. They agreed to come to our dark site at Vekol Road and set up side by side.
After acquiring binoviewers and telescopes, I began to find matching pairs of eyepieces. I bought a few to match ones I had, and found several that we could borrow to make pairs. I knew that whatever the outcome of the testing, binoviewing was going to be a permanent part of my astronomy gear. The eyepiece collection for our testing included Celestron Ultimas (12.5mm, 18mm, 30mm, 35mm), Axioms (23mm), Nexstar Plossls (40mm), Tele Vue Panoptics (19mm), Radians (14mm and18mm), Hightop Plossls (24mm) and Photon Plossls (25mm).
I then sent an e-mail to our club's list server and invited anyone who wanted to participate in a side-by-side comparison test. The price of admission was a willingness to give me their opinions of the various binoviewers. I also offered that they could try any of the binoviewers in their own telescopes.
I realized that I was creating a relatively unique testing situation that might be of interest to many other people. I contacted Allister St. Claire about the desirability of a test like this as a Cloudy Nights review. He responded positively, and gave me some pointers for the review. We set up review documents and got ready to do our testing.
The Contenders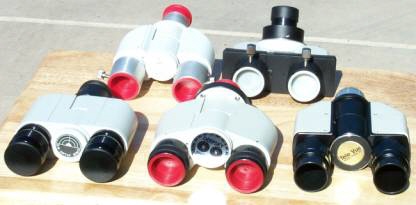 From Left To Right and Front to Back
| | | | | | |
| --- | --- | --- | --- | --- | --- |
| Brand | Price (new) | Weight (lbs) | Clear aperture | Inter-pupillary Adjustment | Style |
| BW-Optik Binocular Viewer (APM-US) | $470 | 1.35 | 22mm | 57-75.5mm | Straight through |
| Deep Sky Binoviewer (Denkmeier Optical) | $599 | 1.85 | 26mm | 49-76mm | Straight through |
| Bino Vue (Tele Vue Optics) | $1,030 | 1.45 | 26mm | 54-78mm | Straight through |
| AY-12 1.5X (LOMO) | $375 | 1.35 | 17mm | 55-74mm | Straight through |
| Stereo Binocular Viewer – Celestron (Baader) | $550 | 1.75 | 17mm | 56-76mm | 60 degree |
The above statistics differ slightly from published information that I found. Those difference are noted below.
Each of the binoviewers was weighed without caps and without eyepieces.
Inter-pupillary adjustment was measured with a digital caliper. First the eyepiece holder was measured for its outside diameter. The outside span of the binoviewer eyepiece holders was measured with the units at maximum and minimum spread. The eyepiece holder dimension was subtracted. Since the exact center of the eyepiece holder would be half the diameter, this results in an accurate inter-pupillary range measurement.
The evening's targets
I polled several of our review participants to create a list of targets for the evening. Our goal was to look at many different types of objects through the binoviewers. Our candidate list:
Jupiter
M13
M3
Epsilon Lyrae (Double Double)
Mizar/Alcor
M57 - The Ring Nebula
M27 - The Dumbbell Nebula
Albireo / Antares - to see some color
M65/M66 - to see 2 Messier objects in the Field of View
NGC5139 - Omega Centauri
Comet Ikeya-Zhang
Data we attempted to collect
Using Excel, I created work sheets for the reviewers to use during their tests. We asked them to rate the following characteristics:
- Merge Focus Left/Right Brightness Contrast Vignetting
We also left room for comments. The sheets were designed to record which object they were looking at, which binoviewer and which eyepieces they were using. Our effort was not an attempt to rate eyepieces. We asked each person to try a specific pair (their choice) with each of the different binoviewers and to look at the same object with a single eyepiece and diagonal.
Notes from the comparison testing
Our group comparison tests were all performed with Nexstar11GPS telescopes. Since the SCT has a wide range of focus, no barlows would be needed on any of the binoviewers. We were just comparing the binoviewers themselves. We have done some subsequent testing with refractor and reflector style telescopes which will be discussed in a follow up review. However, I'll include a few observations in this review. Because I own a Nexstar11, my initial goal was to find out how the units performed in my telescope.
Since most of the reviewers had only read about binoviewers, they had no idea of the comparative costs of the units. They were being asked to evaluate them purely from a performance standpoint, not as a price/performance ratio.
I should also point out that most of the information I've seen on the Internet suggests that the best use of binoviewers is for solar system objects and double stars. We were preparing to thoroughly test the idea of using binoviewers for deep sky observing.
June 8th, 2002 was the night for our evaluation. We had clear skies, humidity 12%, with pretty good seeing conditions. Unfortunately, the usual sunset winds never died down, so we had a night with a beautiful sky and all of the telescopes frequently vibrating in the surface winds. Mother nature always finds a way to hamper our viewing sessions! It was 99 degrees when we arrived (7:22 PM) and 80 degrees when I packed up at 4:00 AM.
We didn't get to view all of the objects we listed, and didn't get as many people as I was hoping for (we did get 9 who participated). Part of our inability to get through all of the objects was due to waiting for the winds to subside. The other reason was everyone kept spending a LONG time looking at each object. They were all fascinated with the views using both eyes. Unfortunately, the wind was definitely interfering with our seeing conditions, as they were often varying from minute to minute. It would have been easier if we just had mediocre seeing, but consistency. People would select one as the winner, go back to verify, and select another as the winner, just because of the inconsistency in the seeing. I had to ask that each of them wait for the wind to drop to get a good comparison.
Nonetheless, we did manage to draw some pretty specific conclusions.
LOMO - dim, brightness variance between eyes, homemade look to the equipment. A few of the reviewers weren't even interested in looking through them based on prior experience or information they had found on-line.
Celestron - excellent view, vignettes 23mm Axioms and 30mm Ultimas and very slight edge dimming on the 19mm Panoptics. Many people had problems merging the views. Can only use in the 60-degree position (no diagonal). Close to same focus as diagonal and eyepiece (good news for refractors). Due to the angle, it was difficult to look at objects up around zenith. One must sit on the ground and look up or raise the tripod significantly. Not comfortable. But, the views that it could manage were sharp and equally as bright as the other units. The previous weekend I had been out to Vekol with only the Celestron Binoviewer. Most people enjoyed the view, but overall the feelings expressed suggested that binoviewing wasn't that great and they would not spend their money on a binoviewer.
B&W Optik - majority declared it the winner on Jupiter. Better contrast, more detail visible. A little vignetting on the 30mm Ultimas (not bad - just a little dimmer at the edge, not dark, but noticeable). During our time with Jupiter it was very difficult to get good results due to the wind. We also discovered a little later that people were detecting a difference between the telescopes/diagonals. Later in the evening, we did most of our comparisons on a single telescope. By then, Jupiter had set and we could not go back and do any more comparisons to see if this conclusion held up when only a single telescope was used.
The Denkmeier and Tele Vue units were definitely the top of the bunch on deep sky objects. No vignetting on any eyepiece, most comfortable for everyone. People who hadn't been impressed with binoviewing the prior weekend are now seriously considering binoviewers. Lots of oohs, aahs and WOWs! People's biggest concern was they wouldn't get to look at very many objects in a single night. They could spend hours just staring at each object! Looking through these binoviewers was like starting over again in astronomy.
People commented that they liked the fit and finish of the B&W Optik, Celestron and Denkmeier units much better than the LOMO and Tele Vue units.
For merge and comfort, the preference was the B&W Optik, Denkmeier and Tele Vue units. With these units all of the people were successful in merging the views at medium and high power. Not any clear winner from the poll, just that these three were better than the other two.
The overwhelming majority picked the Denkmeier for contrast and brightness on deep sky objects. But, this was where we got lots of back and forth from the same people, "B&W wins, Denkmeier wins, Tele Vue wins". After waiting patiently for good seeing, my personal opinion was that they were very close. All 3 of the units provided superb views.
I've read a lot of information online about people having trouble merging the view in binoviewers as the power is raised. What we discovered was a surprise. Older eyes were incapable of merging the 30mm or 35mm Ultimas in any binoviewer. These people thought 23mm Axioms, 19mm Panoptics, 18mm and 12.5mm Ultimas were terrific. They immediately thought something was out of place when we used the lower power eyepieces. One person thought he was positioned OK with the views merged on the 30mms, but his brain couldn't collimate the view. He saw two of everything, with the right eye being lower. This issue must be related to the exit pupil size.
Only once did we get to try 18mm Radians. The wind was pretty strong, but the overall impression was that the view wasn't very good. Contrast was great, it's just that the objects didn't look so good. Don't know if it was the wind or not.
I spotted a reflection in the Denkmeier unit when the telescope was slewing near a bright star. Didn't get to do any further testing, but this is an issue for follow up.
The trial OCS (corrector) that Denkmeier had sent to try in the reflectors wouldn't quite come to focus in the 22" Starsplitter. So, we didn't get to look through it. We wanted to look at Omega Centauri. The scope was so close to the ground that the additional weight caused it to sink into the dirt. We had to point higher in the sky to keep it from sinking. The scope was not balanced for the weight of binoviewers.
So, no clear overall winner emerged from the testing. The Denkmeier was declared the winner on deep sky objects. The B&W was selected on Jupiter. But, very close calls. Everyone's impression was that they would be satisfied with any of the three units, B&W, Denkmeier or Tele Vue. The ones who liked low power views worried about the vignetting of the B&W on low powered eyepieces. The ones who primarily view planets, the moon and double stars thought any of the three would be OK. In its place, the Celestron kept up, but the angle frequently is uncomfortable on an SCT. It couldn't be used with the diagonal, as the eyepieces were angled towards the back of the scope and there wasn't enough headroom for anyone to get their eyes in the right position. And, it wasn't impressive enough to convince anyone that binoviewing was better than one-eyed viewing. This was due to having the eyepieces so close together to get the views merged. Many people thought they were looking cross-eyed.
The Follow Up Plan
I reviewed the results of the testing and formulated several questions for follow up. Also, I wanted to spend enough time with each unit to become familiar with it and discover any idiosyncrasies. I'm sure as people read this review, they will think of additional questions. Here's what I came up with to pursue at a more detailed level.
The Celestron unit provided extremely sharp views. It did, however, present an uncomfortable position for any objects near zenith. Would it perform better on a different type of telescope?
Why did more people have problems merging the views with the Celestron and LOMO units? They both used setscrews to hold the eyepieces, whereas the others had self-centering compression designs. Did this make a difference?
None of the units have diopter adjustments built in. All relied on slightly sliding the eyepieces in and out of the holders to account for people's differences between their eyes. If most binoculars have this adjustment, why don't the binoviewers?
Since we didn't get to do enough testing, how would Radian eyepieces perform in the binoviewers? I had noticed that they didn't seat all the way in some of the binoviewers.
What caused the reflection I saw in the Denkmeier binoviewer? Was it specific to that unit, or did all of the units exhibit the same effect?
Why did the B&W unit win when the target was Jupiter, but the Denkmeier and Tele Vue units were clearly superior on deep sky objects in everyone's minds? Was it the telescope difference? The prism size? The coatings?
Why were older people having trouble with the views when we went to 30mm + eyepieces?
What was the problem with the OCS on the Starsplitter? I knew it was a prototype unit, but I really wanted to see Omega Centauri through a 22" telescope with the binoviewers.
How would the binoviewers perform when viewing the moon?
What would happen if I attempted to use a focal reducer?
Why did some of the people select different units as the winner?
Following Up
While the Celestron unit seemed uncomfortable for many of our reviewers, it was apparent that the views were razor sharp. Comparing the units while looking at the full moon revealed a total lack of any color difference between the eyes, a characteristic that was present on every other binoviewer. It did not affect the quality of view with two eyes in the other units, but could be noticed by looking through each eyepiece with one eye. Also, it was not noticeable on anything but the full moon or during daylight.
The lack of any color difference can be attributed to the different design. By creating a design with the eyepiece holders sliding in and out, there is no difference in the length of the glass path between the two eyes. Without the extra glass and coatings on one side, the view in each eyepiece is identical. The downside is that even the most minor inter-pupillary adjustment requires refocusing. I also piggybacked a Pronto on top of my NS11 and mounted the Celestron binoviewer. While the 60 degree angle didn't seem great on the SCT, on the piggyback Pronto it was ideal. The angle provided for easy usage wherever I pointed the telescope.
A lot of research has led me to the conclusion that the superior performing units seem better to everyone because of attention to detail. The top rated units all provided for automatic centering of the eyepiece. Since eyepiece barrels do vary a little, clamping them with a setscrew frequently results in poor merges. I also noticed a need to rotate some of the lower cost eyepieces just to get them to merge and focus well.
I also noticed that the view in the Celestron, while upside down, was not reversed as is common with an eyepiece or binoviewer and diagonal. To map what you see to a star chart only requires turning the star chart upside down.
Binoculars usually have built-in diopter adjustments. But, who has ever seen 100+ power binoculars? A few vendors have tried to build this adjustment into their binoviewers, and the reports I've seen say those are the units with the most merge problems. It appears that adjusting the eyepieces in and out a little is the only satisfactory way to account for diopter differences between the eyes. I found some eyepieces from Germany that have this adjustment built-in. But, they cost about $1600 per pair and I believe they have been discontinued. Personally, I did not need to perform any adjustments to either eyepiece in any of the units. This is a good reason to visit your optometrist regularly!
I was very disappointed with my testing of Radians in the binoviewers. I really like the Radian eyepieces and expected them to perform very well. I could not get rid of a ring around each eyepiece. It made me uncomfortable looking through them. As noted earlier, they don't seat in all the binoviewers. This may be the cause. Or, the built in tele-negative lens is causing vignetting of the view when used with a binoviewer. If I can find a resolution, I'll post an update to the review at a later date.
I started deliberately looking for reflections when I had a bright star just outside the field of view. Usually, with a single eyepiece you detect a little brightening just before something enters the field of view. When I tested all of the units, I found the problem to be universal. The least ghosting effect came from the Celestron unit. It had a ghost that was about equal the size of the star. The other units displayed this effect to varying degrees, but the reflections were larger than the star. The B&W and LOMO units had a spike, which was very objectionable. Both the Tele Vue and the Denkmeier had an image that was like someone pushing a dimly lit quarter across the field of view. Not really a quarter, more like the edge of the quarter. The Tele Vue unit had this phenomenon from further outside of the field, and it was somewhat brighter than the Denkmeier unit. I'm not sure how often I'd be looking at a DSO that close to a bright star, but it is a noticeable effect when one is moving close to the field of view. Dimmer stars did not seem to cause the same effect. My testing was done with Vega and Arcturus, which are extremely bright.
Jupiter has just about disappeared from the evening sky. To validate our results, I could only test looking at the moon. I have not been able to detect the contrast difference that was noticeable during our group test. It may have been the wind, and it may have been the telescope difference we noted. On the lunar tests, the units perform very similarly.
Trying to answer the question of why the selections were not unanimous led me to some additional research and in doing so I discovered that the units do not have the same magnification. The primary mirror on the SCT has to move towards the secondary to account for the longer focal path through the binoviewers. This results in some magnification of the image. The units were not parfocal with each other nor with a single eyepiece/diagonal combination. The Tele Vue unit actually has the longest internal length, which means the primary is the furthest forward. This results in a slightly more magnified view.
I set up my telescope in daylight and viewed a yardstick from approximately 120 feet away to see the relative magnifications of the units. I did this with a few different power eyepieces to ensure that I was getting consistent results
| | |
| --- | --- |
| Equipment | Magnification |
| Single eyepiece/Diagonal | 100% |
| B&W Optik | 117.64% |
| Celestron | 114.49% |
| Denkmeier | 115.94% |
| Lomo | 117.64% |
| Tele Vue | 119.40% |
My conclusion was that younger eyes were sharp enough to detect a slight brightness difference due to the higher magnification, but older eyes, including mine, did not. However, the magnification can also be altered by eyepiece selection and really doesn't have a bearing on which unit is superior.
I never could resolve the issue of why older people had trouble looking through the binoviewers with low powered eyepieces. I guess I'll just have to wait until I'm older to find out! All I can recommend is that you try different eyepieces before you purchase them. The people who had the problem did NOT have the problem with the same eyepieces in single eye viewing.

I talked with Russ at Denkmeier about the OCS problem with the Starsplitter. We discovered that the unit would focus when the front plate of the binoviewer was removed. The other alternative for a big reflector would be shortening the poles or moving the primary mirror forward. I've suggested that they make the front plate much thinner, and future units will have this change. I don't think everyone wants to alter their telescope in order to use a binoviewer.
One other interesting note. All of the units except the Celestron failed to come to focus without a Barlow lens or the OCS when used in a refractor. The one exception was the 6" Meade refractor owned by the same person who owned the Tele Vue Bino Vue. He was using the TV unit straight through with no difficulty. I discovered that he had done extensive work on his telescope, and had actually cut 2" off the back of the tube (in front of the focuser), just to make the binoviewers focus. He said he could always add an extension tube to move out further! Again, I don't think most people would be willing to make this kind of modification.
Looking at the moon was fabulous in each of the units. I could actually see so well that I started looking for the flag planted on the moon by the Apollo astronauts! (No, I didn't really expect to find it - after all, I didn't have a 700X department store telescope!) I did encounter one problem. None of the units could capture the entire full moon on the Nexstar 11 with 35mm Ultimas. The Celestron and Denkmeier units came the closest (least magnification over stock), but I could not quite see the edge of the moon all the way around the circumference.
I put an F/6.3 focal reducer on to see if I could encompass the full moon that way. None of the units would focus. Then I tried using the Denkmeier refractor OCS with the NS11. It worked perfectly. Since the OCS moves the focus point closer to stock, it permitted the Denkmeier unit to focus. Even with 19mm Panoptics, the moon had a nice black ring around it. Clearly a win for the Denkmeier unit with their Optical Correction System.
Report card for each unit
B&W Optik Binocular Viewer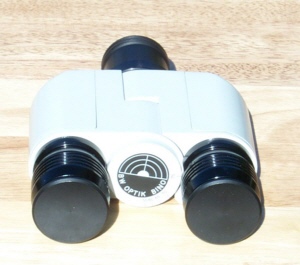 Pluses
Superb contrast and detail on solar system and deep sky.
Highly comfortable to merge and focus.
Best fit and finish of all the units reviewed.
Machined Delrin plugs in the eyepiece holders rather than the usual plastic caps.
Tied with LOMO as the lightest weight unit.
Minuses
22mm clear aperture results in vignetting of eyepieces over about 26mm.
Eyepiece holders have grooves running around the barrels. Very slick finish. Not easy to grip even in dry conditions. Would be difficult to loosen and tighten with gloves.
Requires a Barlow lens for use with a refractor or reflector telescope. Limits use to high power viewing in those telescopes. More suitable to viewing solar system objects and double stars than deep sky observing in an SCT.

Celestron Stereo Binocular Viewer
Pluses
Superb contrast and detail on solar system and deep sky.
Superb fit and finish.
Absolutely no color difference between eyes, even in daylight.
Upside down view matches star maps. Not reversed left to right.
Only unit to focus without an aid in a refractor.
Angle was perfect for a piggyback refractor on an SCT.
Least out of field reflection from a nearby bright star.
Razor sharp images.

Minuses
17mm clear aperture results in vignetting of eyepieces over about 22mm. Better suited for solar system and double star observations in an SCT.
Eyepiece holders use setscrews. Results in less success for people to get the views merged.
Sliding style requires re-focus any time inter-pupillary adjustment is altered.
Upside down view takes some adjustment for many viewers.
Angle frequently not comfortable on SCTs, and probably not usable on reflectors.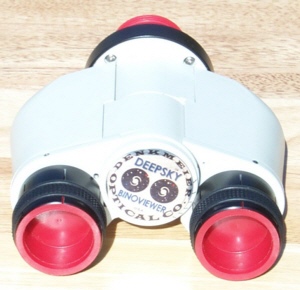 Pluses
Superb contrast and detail on solar system and deep sky.
Superb fit and finish.
26mm clear apertures result in no vignetting on any 1.25" eyepiece.
Highly comfortable to merge and focus.
Best eyepiece holder mechanism. Just slide the eyepieces in and go. No tightening. No slip even when unit is turned upside down. Easiest to adjust for diopter differences.
Generated the most positive reactions of any binoviewer tested.
Optional 1.2X OCS is a clear advance in using binoviewers for deep sky work with refractors and reflectors. Even useful on SCTs.
Minuses
Heaviest unit tested. Could result in balancing issues on some telescopes.
A few people commented that the logo was a little loud.

LOMO AY-12 Binoviewer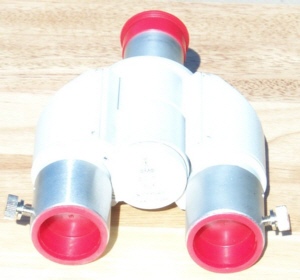 Pluses
Tied with B&W Optik as lightest unit tested.
Least expensive unit tested.
Minuses
Noticeably dimmer than other units. Converted microscope head that was originally designed for use with lots of light.
Color difference between eyes most noticeable of any unit.
17mm clear aperture results in vignetting of eyepieces over about 20mm.
Eyepiece holders use setscrews. Results in less success for people to get the views merged.
Poor fit and finish. Unit looked hand made.
Front barrel is too long for manufacturer supplied prism diagonals. Could not add a filter on 1.25" Everbright diagonal due to length.
Many people dissuaded from binoviewing concept by this unit.
Requires a Barlow lens for use with a refractor or reflector telescope. Limits use to high power viewing. More suitable to solar system objects and double stars than deep sky observing.

Tele Vue Bino Vue
Pluses
Superb contrast and detail on solar system and deep sky.
26mm clear apertures result in no vignetting on any 1.25" eyepiece.
Highly comfortable to merge and focus.
Good eyepiece holder mechanism. Ribbing on tighteners runs front to back on the eyepiece holders, making them easy to adjust.
Among the lightest units tested.
Slightly higher magnification makes users with sharp eyesight perceive it as the brightest unit.
Minuses
People expressed a preference for the rounded binoviewers. Many didn't like the squared off effect of the Bino Vue.
Requires a 2X magnifier to focus in refractors or reflectors. This restricts use to high power in these types of telescopes.
The more extensive use of plastic kept the unit lighter at the expense of perceived fit and finish.

The Denkmeier Optical Correction System (OCS)
I believe that this accessory represents a significant advance in the use of binoviewers. By permitting refractors and reflectors to focus with only a 1.2X magnification factor, observers are able to look at much wider fields at much lower power than is possible using the Barlow lenses common to the other types of binoviewers. Most reviews I have read point out that the best use of binoviewers is for solar system objects or double stars. With this advance, binoviewers can become tools for deep sky observing in all types of telescopes. From what I have read, Denkmeier is considering making the OCS available to owners of other brands of binoviewers. If this occurs, anyone who owns a binoviewer owes themself a chance to review the OCS with their binoviewer. If it does not occur, then I think that Denkmeier has a competitive advantage in the marketplace. The fact that I could use it with a focal reducer in the SCT, more than negating the magnification caused by the OCS and the binoviewer was another unanticipated benefit.
Conclusion
Properly designed binoviewers make for absolutely incredible viewing sessions. No one who has looked through a good one will ever forget the comfort and incredible views. It will move instantly to the top of the list of desired accessories. We spend our lives looking at things with two eyes. The human brain is geared to processing information from both eyes. Why we have accepted using a telescope with only one eye for so long is a mystery. For visual observing, I believe it is the only way. Our primary testing was conducted with Schmidt-Cassegrain telescopes. Will a binoviewer suffice in all situations? No. Because our physical anatomy limits them to 1.25" eyepieces we can still only achieve approximately a half degree view of the sky. The desire for wider field views will still lead many amateur astronomers to purchase low power, wide field 2" eyepieces for an SCT. In the range they can manage, binoviewers are absolutely superior to viewing with a single eye. While the light cone from the telescope has to be split, the brain more than makes up the difference when the light is viewed with both eyes. I looked at many objects, trying to determine whether I could see as much detail with a binoviewer as I could see with one eye. While my brain sometimes registered that the view was dimmer, careful study suggested that anything I could see with one eyepiece I could also see using a binoviewer. On brighter deep sky objects, my brain thought I was seeing a three dimensional view.
I was looking for significant differences between the units. I don't think I encountered any magic. Most of the units use excellent quality prisms and coatings. The success or failure of binoviewing isn't linked to a single issue. One has to examine the total package to determine whether a given binoviewer will perform well. It's the attention to detail that makes the difference. The units with the largest prisms are best for deep sky. The units with self centering eyepiece holders work better for more users than those that use setscrews. The binocular style (twist it to fit) versions seem to be much more comfortable for most users. But, as Celestron proved, there are other advantages to a sliding eyepiece design. The ability to work in all kinds of telescopes with a minimum magnification effect is crucial to one's success using binoviewers for deep sky observing.
I can strongly recommend three of the binoviewers for SCT use. They are the B&W Optik, Denkmeier Deep Sky Binoviewer and the Tele Vue Bino Vue. If you want to be able to use 30mm+ eyepieces, you need to stay with the Denkmeier and Tele Vue units, as the B&W Optik will cause vignetting.
If you own a refractor, there are some different considerations. The smaller apertures will not be as much of a problem because the focal lengths are much shorter. But, most of the units will require the use of a Barlow in order to get them to focus. OK for solar system objects, but perhaps a little restrictive for deep sky observing. The Denkmeier unit, with its 1.2X correction system definitely leads the pack. The Celestron unit does not require a Barlow to focus, permitting lower powered use. The B&W Optik and Tele Vue units will yield excellent performance for solar system objects, perhaps less satisfaction with deep sky viewing.
If you own a big reflector, I think the only option is the Denkmeier unit. With a 1.2X correction factor using the OCS, you will have much more satisfaction when observing deep sky objects. Again, the question of will it work in all cases. Probably not. For certain observing situations, some users will prefer single eye viewing to gather as much light as possible even if it is only to one eye. For brighter objects, the effects of looking with both eyes are addictive.
We observed differences in how people process input from both eyes. Some may prefer the single eye approach to astronomy. I suggest that you try it before you buy it. Get out to a star party and see if others have them. Just make sure you look through a good one. If you are not satisfied, try looking through another brand. Binoviewing is just too rewarding for it to not be a part of your viewing experience.
Now that I've been through all of this, I've decided that I want to continue to own the Denkmeier Deep Sky Binoviewer. I enjoy looking through all different kinds of telescopes. I don't know what telescopes I might use in the future. For flexibility in all situations, I feel that the Denkmeier unit wins the contest. The Denkmeier unit gives me the best deep sky observing across all three kinds of telescopes. It's a winner on the price/performance scale. And, everyone who looks through it immediately wants to purchase one.
Clear skies,
Jim Gutman (jim@jgg.net) July 5, 2002