CNers have asked about a donation box for Cloudy Nights over the years, so here you go. Donation is not required by any means, so please enjoy your stay.


0
Denkmeier Power x Switch Diagonal
Discuss this article in our forums
Denkmeier Power x Switch Diagonal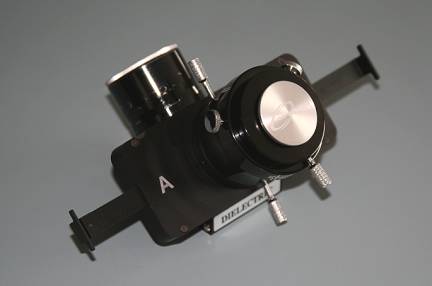 I really enjoy the review section on CN and when time permits. I discover some very useful products that otherwise I wouldn't find, and when I find something really good, I like to let others know about it.
I was going through the diagonal reviews and found that
no one
has done a review on the Denkmeier line of switch diagonals. I'm not sure why this is. This is one of the most useful products I've used for visual astronomy. Perhaps it's because Denkmeier is best known for their excellent line of binoviewers and not diagonals. When you think of diagonals, you think William Optics, not necessarily Denkmeier. In this case it turns out that you're thinking of both.
Last summer I was at the Northwoods Starfest and saw a C14 set up with this goofy looking diagonal on it. The diagonal had two metal arms protruding from the sides of a flat plate mounted under the eyepiece holder. Never having seen one before I asked the owner what it was. This was my first introduction to a Power x Switch diagonal.
The design is pretty ingenious. It is a regular 2" star diagonal (made by William Optics), but above the mirror housing is a flat, rectangular housing that holds a reducer and a Barlow lens. Both of these are connected to arms that protrude from each side. The arms are used to slide the lenses in or out of the optical train. In short with this one diagonal the viewer gets three magnifications per eyepiece. The idea is simple and works.
I was thinking the concept sounded 'interesting' until I heard the price, close to $400 bucks. That seemed a lot to spend on "just a diagonal".
I believe a diagonal is worth putting money into. Low end prism diagonals that come with most scopes may only transmit about 70% of the light to the viewer. It always makes me cringe when I see someone that has spent a fortune on really nice, high end eyepieces but using them with a cheap diagonal. I upgraded to a WO diagonal first then upgraded my eyepieces. The money on the diagonal was well spent. Still, spending close to $400 for "just a diagonal" seemed high. After all I could put that extra $200 dollars towards a nice Radian or Pan.
That's when the C14 owner explained the other half of the equation I was missing. He said, "I only own one eyepiece, a Pan 19mm. With the switch diagonal what more do I need?"
It made perfect sense. I had a battery of about eight or ten eyepieces in 2" and 1.25" formats ranging from 4mm up to 56mm for my 10" SCT and a barlow and reducer too boot. I would drag the eyepiece case with, yet find I was always using the same old favorites, a 42mm, a 15.5mm, and a 9mm. Everything else pretty much stayed in their bolt cases most of the time. I found it was usually too much of a pain to dig around in the dark for an eyepiece, try and remember where I left it, what pocket it was in, just for a "quick look" with it. I wanted to observe, not juggle equipment all night long. So I found myself just sticking to the "favorite three" and letting the others gather dust and dew. At one point I thought about going with a turret type diagonal but didn't really see enough of an improvement to warrant it. The added weight and complexity to the OTA just wasn't worth the extra expense.
When thinking about it little more, the switch diagonal concept didn't sound so expensive. If I could make three eyepieces for every
one
, like the C14 owner said, I could concentrate my funds on one or two really top quality eyepieces, reduce my current eyepiece inventory and actually
save
some money, and not have to hassle with putting barlows or reducers into the optical train.
When I got back from the star party I began researching. The switch diagonals are actually sold by Denkmeier Optical, mainly known for their excellent binoviewer line. I assume the Power x Switch concept was initially designed for attachment to their binoviewers but a logical extension of the concept would be to build one into a diagonal for single eyepiece usage or with a binoviewer. The 2" diagonals are manufactured by William Optics and are available with enhanced silver or dielectric coatings. The addition of the Power x Switch modification would only add a couple hundred bucks to the price of the standard WO diagonal. I believe Denkmeier also offers a service to upgrade some user owned diagonals as well.
I also made some inquiries about the product at our astronomy club and found a member that was selling a dielectric R1 model and planning to upgrade to the R2, (which has
two
Power X Switches for
six
magnifications for
one
eyepiece!). The R1 model is normally for refractors and comes with an additional lens to compensate for the shorter focal travel but will work with a SCT as well. At the time I had both types of scopes for I bought the R1. The owner was also selling a Denkmeier STD bino to upgrade to a Denk II. On a whim I bought both the diagonal and the bino.
Something I would recommend before purchasing a switch diagonal or binoviewer would be to contact Denkmeier or visit their website. With focal travel differences between telescopes just "cobbling together" used equipment may not work. Sometimes special lenses are required and Denkmeier offers a variety of support packages. Their customer service and support is one of the best in the industry.
From the very first night I fell in love with the switch diagonal and binoviewer combination. The function if the Power x Switch is very simple. With both arms pulled out there is nothing in the optical train and the eyepiece or binoviewer works at face value. Pressing in the left arm slides in a reducer and the right arm inserts a barlow. It's pretty simple and elegant. There are plenty of reviews on the binoviewers so I will continue to concentrate on the switch diagonal.
The fit, finish and machining of the Power x Switch diagonal is excellent. The 2" eyepiece holder portion is a very secure compression ring variety and the unit comes with a 1.25" reducer to run either format of eyepieces. The clear aperture on the diagonal is a generous 37mm and has always worked well with any 1.25" or 2" eyepieces I've used. An interesting Denkmeier trademark includes metal lens covers instead of the usual flimsy plastic caps.
Another interesting feature is that the eyepiece barrel part is removable to allow a Denkmeier binoviewer to connect
directly
and
securely
to the diagonal via a dovetail. Using a binoviewer on a 1.25" diagonal always makes me nervous. I feel better using a 2" compression ring diagonal, but being able to securely attach the binoviewers directly to the switch diagonal via the secure dovetail really rocks, (besides shortening the optical train some). The binoviewer is locked in place, yet can easily rotate to accommodate a comfortable viewing position.
The Power x Switch diagonal is simple to use but the best advantage is that it greatly
simplifies a night of observing
. I no longer have a battery of eyepieces to keep track of or hunt down when I want to have a "quick look" at a different magnification. I just keep viewing, push a switch arm and refocus, simple as that. Setup time is reduced, my eyepiece inventory is reduced, moving around in the dark is reduced, the risk of fumbling and dropping eyepieces is reduced. In short, the Power X Switch makes observing a whole lot more enjoyable.
If there was any functionality issue it being careful not to snag cables or clothing on the extended arms. In the dark you get used to using your equipment layout and a new protrusion takes some getting used to. Initially though I found myself bumping into the arms, getting dew cables caught, but like anything else I got used to it.
Sliding the lenses in and out with the arms has a smooth, positive feel. The arms aren't loose or sloppy and stay in place at different diagonal angles. I've noticed though that occasionally pulling one arm out will pull the other arm in or sometimes in the dark I don't push an arm to its complete travel, but this is "operator error". When this happens it's pretty clear because the view is vignetted with the lens frame in the way and just takes a second to move one arm or the other to its full travel.
Although I am no optical expert I have never noticed any degradation while using the switch's barlow or reducer lenses in the optical path. The common wisdom is that the less glass in the optical train the better. But is it better to barlow a 19mm or purchase an 8mm eyepiece? The "less glass the better", right? I don't know if this is true given the quality of today's glass and coatings. If you take a look at your typical high end eyepieces that offer excellent optical quality they often have six or seven lenses, what's one more lens of the Power x Switch in the optical train? I think it would be a small cost (if any in terms of optical performance) and well worth it vs the expense of buying extra eyepieces.
The weight and size of the diagonal may be an issue for some. The extra housing for the switch lenses adds maybe a couple ounces of extra weight to the optical train. The arms sticking out of the sides of the diagonal make is a little more bulky to box and transport. Also depending on your equipment setup, these arms could possibly contact parts such as focus knobs or set screws on the telescope. Initially I had an issue with the front screw that holds the eyepiece barrel coming in contact with my Meade microfocuser. I just got a shorter screw. Later this was solved by adding an extension into the optical train (a Virtual View) and it became a non-issue.
If you're using
any model
binoviewer, then the switch diagonal can pay off in spades. Getting matched eyepiece sets for a binoviewer becomes expensive. For the price of one matched set of 19mm Pans you can upgrade to a nice dielectric Power x Switch diagonal and triple your current eyepiece inventory.
Currently my eyepiece inventory consists of a few specialty lenses I use for astrophotography and a pair of Denkmeier D14's and D21's. That roughly gives me the equivalent of a matched set of 7mm, 11mm, 14mm, 21mm, 28mm and 42mm eyepieces, which is a wider range than I originally had before the switch diagonal, and all of it is top quality glass.
One of the more creative uses I have had for my switch diagonal is to use it on an Orion 127mm Mak-Cas. Scopestuff offers an adapter to a standard SCT thread. Although the opening isn't 2" on the scope it does allow 2" attachments. I've found that the switch diagonal and binoviewer works beautifully with the little scope making an excellent "grab and go". Often I head out with this little rig having everything necessary for an evening of viewing in one shot.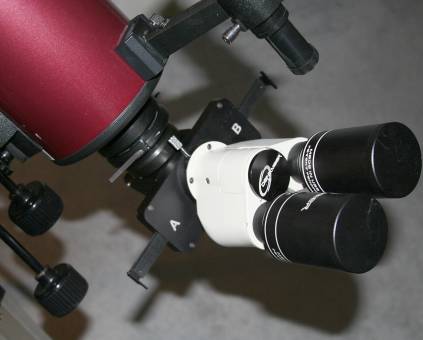 The combination of the switch diagonal and binoviewer on such a small scope is also excellent for bird and wildlife watching. My wife is into birding and on a tripod this little "spotter scope" combination offers wide field views to locate a target and the ability to quickly magnify if for identification or viewing.
The Denkmeier Power x Switch diagonal is really is one of the best made and most versatile pieces of equipment I have owned.