CNers have asked about a donation box for Cloudy Nights over the years, so here you go. Donation is not required by any means, so please enjoy your stay.


0
Orion Medium Accessory Case vs. Pelican 1400 Case
Dec 22 2009 07:17 AM | Ed in Illinois in
Cases
Discuss this article in our forums
My current scope, the Orion SkyQuest XT12 IntelliScope, is the 3rd telescope I've owned. Living 40-something miles outside of Chicago has always presented challenges with stargazing so I've always held to the notion that the bigger the tube and the more filters you have will generally yield a good night under the stars! My first scope was a Sears catalog special... but I saw Saturn hanging in the eyepiece when I was 14 and that did it for me! 25 years later I'm lugging around a 12" Dob. ;-) Before this metal-tube 12" Dob I had an 8" Orion paper-tube Dob.
When it comes to carrying eyepieces, I've been know to toss a few in my cargo pockets and head out. (GASP!) But when it comes to driving somewhere or making a long trek a hundred yards, I use a case. I currently own 2 Pelican 1400's and one Orion Medium Deluxe Accessory case. Both are good at what they do, which is holding eyepieces and filters. Which is better?
The Pelican latches are very secure and solid and I don't feel like they'll inadvertently pop open if bumped as I do with the Orion. I usually carry the Orion with one hand but with my index finger on the lid. The Pelican can survive getting run over by a car and is waterproof. Although I've actually tested the waterproof and "floats if you dunk it" claims with success, the more realistic features I like are that it's padlockable with a cablelock (so I can latch it to something!) and it's ultra versatile; I can repurpose this case for my photography items or use it as a dry box when boating/camping/canoeing or use it to securely store valuables. Both aren't particularly friendly to 2" EPs when loaded vertically, they like to be laid down which takes up valuable space.
Tale of the Tape:
Pelican 1400 specs





| | |
| --- | --- |
| Part Number: | 1400 |
| Colors: | Six choices |
| Internal Dimensions: | 11.81" x 8.87" x 5.18" |
| MSRP: | $69.99 |
| Waterproof: | Yes |
| Carrystrap: | Not offered |
| Replacement Foam: | Yes, additional cost |
| Lockable: | Yes with a cable-lock or padlock |



Orion Medium Deluxe specs





| | |
| --- | --- |
| Part Number: | 05984 |
| Colors: | One choice |
| Internal Dimensions: | 12.2" x 8.3" x 5.5" |
| MSRP: | $37.95 |
| Waterproof: | No |
| Carrystrap: | Included |
| Replacement Foam: | Not available for this model |
| Lockable: | Yes; integral to latch; keys provided |
Conclusion:
Although the benefits of the Orion over the Pelican are 1) lower price point, 2) pluck foam is both round and square die-cut (which give you more options for eyepiece layout), 3) has a carrystrap and 4) is 14 cu.in. larger, I think the true value is in the Pelican's strength and versatility. I've used both for years and would highly recommend the Pelican to anyone.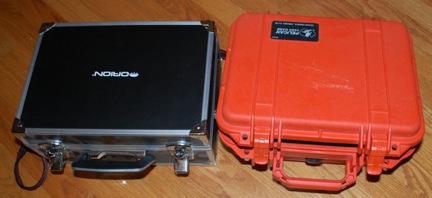 Article: Orion Medium Accessory Case vs. Pelican 1400 Case