CNers have asked about a donation box for Cloudy Nights over the years, so here you go. Donation is not required by any means, so please enjoy your stay.


0
Orion Padded Case
Dec 21 2009 07:19 AM | jtex in
Cases
Discuss this article in our forums
After purchasing a new telescope, the Orion Skyquest XT8 Classic, the question came up on how best to transport the OTA safely in our car. My wife and I were due to leave on a trip and needed to make a decision. First thought was to put it back in the box it came in, secure it in the foam brace and hit the road. But after thinking about it, it seemed impractical as we would be staying at a lodge in an upstairs room which required many steps up a narrow passage, which could be risky for a tube in box. That would be ok for short drives to an observation site and then back home, but it seemed to us that a long trip required something more substantial. Therefore, we found the padded case for our particular scope on the Orion site and ordered it as soon as it came in stock, which was on September 24, 2009. They shipped the next day, a Friday, and the box was delivered to our porch by UPS on the following Thursday, October 1st. Not bad on shipping time.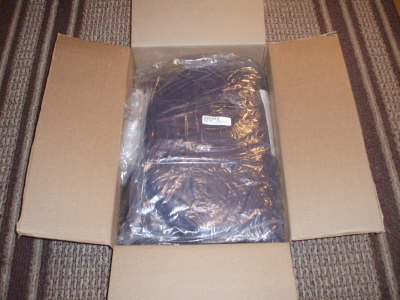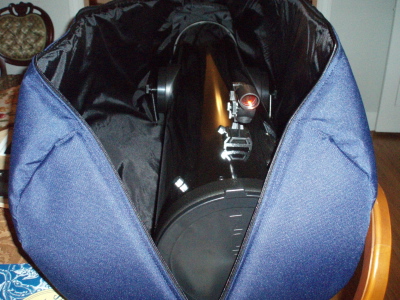 On the morning we left, I simply disconnected the OTA and carefully slipped it into the zippered case and then set it in the back of our SUV with the focuser end nestled into the base. All went well during our 7-8 hour drive to the mountains of West Texas.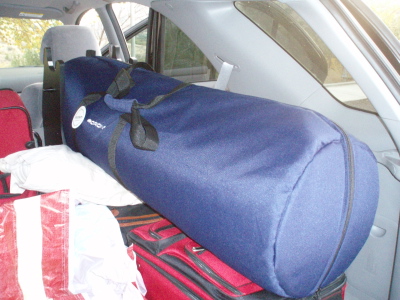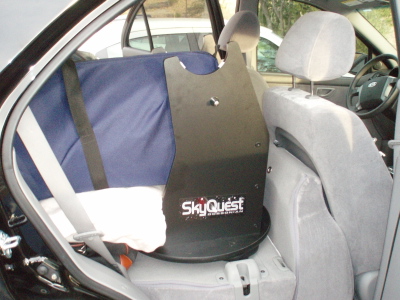 The case was easy to carry with its straps from auto to room and room to auto. It fit nice on the backseat for our rides to the observation site. Because some areas could be tricky to navigate with any type of luggage, but more so with a telescope, care had to be taken at all times. But one night, I carelessly bumped the focuser end of the case on a stair riser going up to our room after a viewing session. I realized I might have to collimate before going out again. However, upon checking, I saw that alignment was as fine as fine could be, just as it was on the day we left. I owe that to the padded case as it obviously kept the tube secure, although we'll never know that for sure.
This trip required using the case a total of 16 times, with OTA zipped in-zipped out and safe and sound throughout. The material has a good, strong feel to it and the tube fits perfectly within. All in all, a great accessory that will be used many times on future trips in search of the dark skies we covet.
The price: $76.95 with shipping and handling at $9.95 for a grand total of $86.90.
A wise investment for a product that will probably last for many Moons.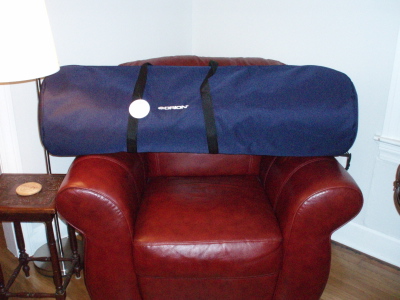 Article: Orion Padded Case