CNers have asked about a donation box for Cloudy Nights over the years, so here you go. Donation is not required by any means, so please enjoy your stay.


0
Clement Focuser
Discuss this article in our forums
Clement Focuser

Earlier in 2003 I saw an ad for this promising new focuser. Can it possibly deliver on all fronts?
The short answer is "Yes".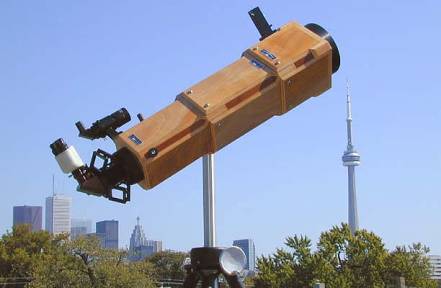 To do justice to the intriguing appearance of this innovative focuser and convey its complex shape I had to take many photographs before I got three snapshots worth including here. The focuser is simplicity itself. The user does not need to tighten or loosen anything, yet the focuser holds heavy binoviewers effortlessly. What attracted me when I studied the Clement Focuser website was the fact that there were no locks. The focuser has no need for locks or tension adjusters.
ABOUT THIS OBSERVER
I live in Toronto and my "Dark Site" is an island in Georgian Bay (on Northern Lake Huron). In recent years it has been mostly "Grey Site", since our skies often have humidity and particulate, making them less transparent and less dark. It is not always so, I recall a long stretch of wonderful observing weather in the Summer of 2000 when I bought my first scope, the Nexstar 5". The go-to was my teacher, which I did not need for too long. My next scope was TV 102 APO, followed by Tak FS60-C, Tak Sky 90, and Portaball 12.5" with Zambuto, which proved fantastic on planets as well as on DSO. I also became interested in wide views of the galaxy, in rich field observing; I was amazed how much more detail a 6" achromatic refractor f/5 showed, compared to a 4" APO.
The inevitable Chromatic Aberration, false color, was there, of course, but it did not detract much from the beauty of the star fields and all the DSOs. That's why I produced my 8" achromat f/6; I wanted to be able to travel with it to the truly dark skies of this continent, for example South East Arizona. I soon learned that I preferred using both eyes, and started with TeleVue and Denk binoviewers. When Harry Siebert perfected his 2" Binoviewer, I bought the excellent Elite 45. It makes the most logical marriage with Travel Star scopes, allowing the widest views in the 2" eyepieces. I use the 20mm Naglers type 5, and Burgess SW 26mm and 32mm. I find all of them very comfortable. For high power I use the Siebert 2" bino with 5mm and 11mm Naglers in his adapters (step-downs).
DISCLAIMER
I have no ties of any kind to the designer and manufacturer, Don Clement, whom I have not met in person. All my focusers were purchased at regular prices from Don. I feel admiration for any innovator who dares to push the envelope of current thinking and conventions. Here, the "flexure" is employed instead of friction hinges. This allows much greater precision of movement. (Flexure could be researched further by those mechanically inclined, I found it quite fascinating.)

DESCRIPTION

Total focus travel: 3 inches
Focuser thickness: 1 inch
Fully opened focuser is 4 inches long
Available in 2 inch and 3 inch versions, (special sizes can be ordered).
Mounted by three #10 Cap head screws, the diameter of the mounting circle is 4.041 inches.
Made of black anodized aluminum, bellows are made of a special substance.
The feel is that of precision and beauty, neither particularly heavy nor light.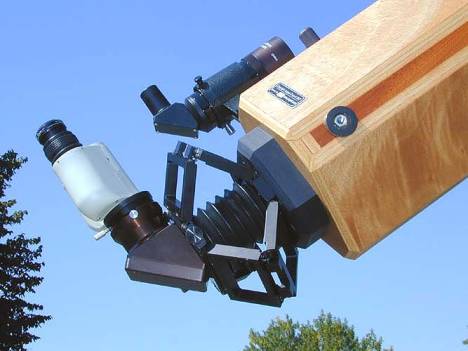 The second photograph shows the focuser from the right. The black spacer is not part of the focuser. (I have installed it to lengthen my OTA, which was initially made for another focuser.)
ADVANTAGES:
*very low profile of just 1 inch
* no need for dual rate focusing. This single knob works well for both coarse and fine focus.
* immune to temperature variations, no grease lubrication to stiffen in cold or attract grit
*SS sealed precision instrument bearings that support the only sliding or rolling parts are factory permanently oil lubricated. Delrin AF leadscrews are self-lubricated.
* Robo-Focus can be easily added at any time by the user to get autofocus and temperature compensation over 3" of travel (future plan is for an inexpensive add-on PWM controlled 2 button motofocus)
* 3 Delrin tipped 1/4-28 nylon screws hold with 3/4" diameter knurled knobs securely hold 2" diagonals, adapters, eyepieces and accessories
*Backlash and wear compensated leadscrew, focusing is linear over 3" travel
*built in elliptically tipped adjustment screws in base for squaring the focuser
*all ferrous metal is SS or black oxide coated SS
* the bellows also act as very efficient baffling, and there is no tube to flock
* no tube to project into the light cone
* no image shift when focusing
DISADVANTAGES:
* The only minor disadvantage may be the projection of the three rectangular arms. The diameter of the arms in a closed position is 9.5 inches (fully opened is 8.80 inches). This had no effect on my operations, I never bumped into them.
* Slightly increased effort in turning the focusing knob is required when the extreme focusing positions are approached. The last parts of focus travel (when fully opened or fully closed) are somewhat harder to turn than the central positions. But this, also, is inherent in the design, and cannot be helped. It never bothered me; in fact I learned to enjoy it as a slight reminder that the end of focus travel is being approached. (I have to stress that this was noticed only during terrestrial use on very close objects or when playing with the focuser.)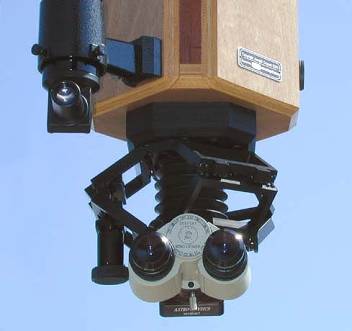 OBSERVING EXPERIENCE IN THE FIELD

Even at Zenith position, straight up, the focuser holds the 5+ pounds of gear effortlessly. For these photos I have removed the Guiding Handles from my scope, normally installed on the right side in order to show the focuser without further visual complications. Since I like to guide the scope with my right hand, it was logical to place the focusing knob on the left. Of course, the focuser can be installed in any desired position that feels "right".

Focusing throughout all my tests was a pleasure. In the past, I have been using the excellent Takahashi and TeleVue focusers, which have been described as "buttery smooth". Clement focuser belongs to the same category. It has the added advantage of no-lock-no-adjustments. Don Clement "slowed down" the speed of travel and the result on his newest versions is a very desirable one: no need for dual speed. The Clement design allows perfect certainty where the best focus is. Even scopes with much shorter focal lengths would be excellently served by this focuser. All my testing was done in the last two years on my 8" f/6 achromatic refractor.
CONCLUSION:

Clement Focuser is a high-end instrument available at a reasonable price. Don Clement is a good person to deal with. He answered my e-mails instantly and followed up with a phone call when necessary. I am happy that I can highly recommend him and his Focuser. I understand a $ 50.- update is available for the earlier versions of the focuser. Users of binoviewers may be particularly happy with his design; the three nylon bolts holding the 2" Star Diagonals have such a perfectly secure grip that never in my observing did the heavy binoviewer set up rotated downward. (This happened to me with other focusers.) I understand that SCT version and Robo-focus are also available.

Clear Skies!
Joseph Drapell 2003 (updated October 2005)





Article: Clement Focuser