CNers have asked about a donation box for Cloudy Nights over the years, so here you go. Donation is not required by any means, so please enjoy your stay.


0
GSO Crayford 10:1 Dual Speed Focuser
Discuss this article in our forums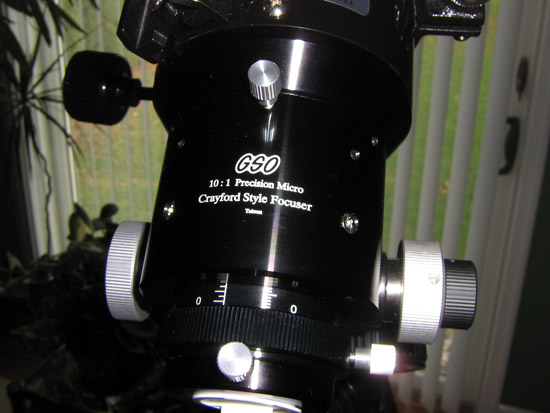 I understand that Feathertouch & Moonlite are fantastic focusers, but if your budget is anything like mine, then maybe a GSO focuser might be the thing for you.
I bought a GSO Crayford 10:1 Duel Speed Focuser recently as an upgrade to the stock Rack & Pinion Focuser that came with my Refractor. Believe me, it was money well spent, and a bargain at that. Well Constructed, it's CNC machined from aluminum, and with a black anodized finish. The drawtube glides on 4 bearings making for very smooth focusing, with no backlash or image shift. And the 10:1 micro knob makes focusing more precise at higher magnifications.
Probably the hardest part to installing a new focuser, is getting the old one off. After a few minutes of twisting and pulling, my old R&P Focuser finally came off, and the new GSO installed in 1-2-3 screws. It literally took less than 5 minutes.
The GSO is rotatable by 360 degrees, and this is probably its weakest link, because it has a tendancy to bind in spots as it's rotated. This is no big deal to me, because I don't use or need this feature. I adjust my eyepiece by rotating the diagonal, and the position of the focuser knobs makes no difference to me.
I really like my new GSO Focuser. It does the job, and does it well. I certainly would recommend it to anyone wishing to upgrade, and maybe have some money left over to buy another accessory.
Article: GSO Crayford 10:1 Dual Speed Focuser