CNers have asked about a donation box for Cloudy Nights over the years, so here you go. Donation is not required by any means, so please enjoy your stay.


0
GSO Crayford Focuser for Reflectors - Dual Speed "Low Profile" with 10:1 Microfocuser
Discuss this article in our forums
My Comments: My name is Anthony Rogers and I live in the Mojave Desert in Southern California. I have been into amateur astronomy since 2003 plus I have been registered on Cloudy Nights since 09/24/07 as stargazertony. Over the years I have owned 10 telescopes but my collection is now down to four telescopes which consists of two newtonians, one Maksutov, and one SCT. I have just purchased and installed a new GSO (Guan Sheng Optical) dual speed low profile crayford focuser with a 10:1 ratio on my 12.5" Discovery PDHQ dobsonian telescope. The focuser arrived to me well packed and I was pleased to see it really has a nice feel and finish, better than I had expected. The focuser and the 1.25" adapter both utilize compression rings which will save my eyepieces from set screw marks on the barrels even though I'm really not fussy about that.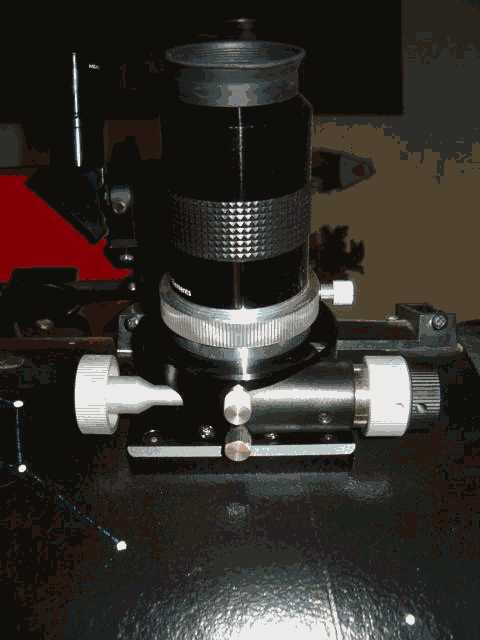 Installation was easy and pretty straight forward. I only had to drill 2 mounting holes in the telescope tube because it did not exactly match the mounting screw pattern of my previous focuser and that's it. I bolted it on, re-collimated my scope and was finished in 45 minutes. My heaviest eyepiece setup is 2 lbs. and this focuser lifts it with no problems at all which seems to be the concern of some folks but that sure seems unfounded by me. With the micro focus I have been able to squeeze out the finest details from Jupiter and other objects with ease. My main dislikes of this focuser is the lightweight setscrews that come with it. They seem like they may break fairly easy and I plan to replace them with stronger setscrews. The course focus seems just a little tight but not unreasonable yet the fine focus is silky smooth and a joy to use.
Pros: Smooth fine focus, Compression Rings, Fit and Finish
Cons: Coarse focus just a little stiff.
Recommended: Yes
Article: GSO Crayford Focuser for Reflectors - Dual Speed "Low Profile" with 10:1 Microfocuser