CNers have asked about a donation box for Cloudy Nights over the years, so here you go. Donation is not required by any means, so please enjoy your stay.


0
Moonlite Focuser - Work of Art or Functional Instrument?
Discuss this article in our forums
By way of introduction I am an amateur astronomer from Van Buren, Arkansas whose interest in astronomy started with a basic astronomy class in the mid-70's while stationed at Camp Pendleton, CA. Although this class provided me with an everlasting interest, it has only been these last five years that I had the time and opportunity to purchase and use observing equipment.
Two years ago (or more) I ordered a Moonlite Crayford Focuser for use with an 8" Meade LX10 SCT (Model CS, 2" low-profile flange w/1"draw tune, red anodized). I had read about them but never saw one prior to purchasing. It was a pretty steep investment for me at the time - $345; almost as much as the whole scope had cost ($550). I anxiously awaited the focuser's arrival and opened the box immediately on arrival. My initial impression of the focuser was one of awe as I turned it over and examined it from every angle. The workmanship, buttery smooth operation of the knurled focusing knobs and pure beauty of the hefty red anodized aluminum spoke of quality that one rarely finds in this day. The first clear night I had the scope out and was not surprised when it operated as good as it looked. Gone were the annoying aspects of trying to achieve focus while yo-yoing through mirror slop of the SCT's normal focusing mechanism. The 8 to 1 fine focusing knob on the Moonlite brings in that final focus effortlessly and is very useful when changing observers and a new set of eyes that need a little focus adjustment. Where the Moonlite focuser really shines is focusing an image through a ccd camera. The old method of using the SCT's focusing mechanism was extremely frustrating as one "chased the Bullseye" due to mirror slop. Not so with the Moonlite focuser. The movement of the mechanism is crisp and precise and cystal clear focus is achieved with minimal effort.
I now have my Moonlite focuser afixed to a Celestron 8" SCT ('89 Ultima C8 deforked and on a GEM). If there is any draw back at all to this piece of equipment, it weighs in at about two pounds, so balance is a consideration.
Moonlite now offers their CS model with a special flange suitable for use with a focal reducer for 8" and 9 1/4" SCTs, which was not available when I purchased mine. They have also added a nifty focus lock mechanism on the left focus knob - I may have to order another one! When this one is retired I am going to put it in a lighted display case, because not only is it an exceptional piece of equipment , it is also a work of art.
Photos:
My focuser; one with an 1 1/4" diagonal attached with adapter and the other with 2" diagonal w/o adapter.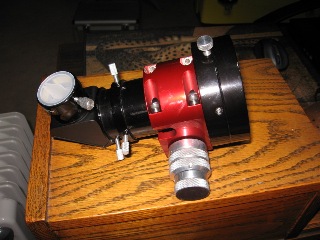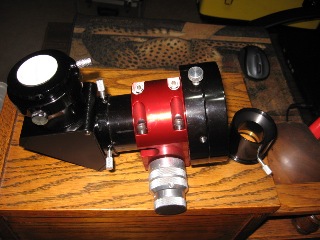 Article: Moonlite Focuser - Work of Art or Functional Instrument?