CNers have asked about a donation box for Cloudy Nights over the years, so here you go. Donation is not required by any means, so please enjoy your stay.


0
Wyoroc focuser Review
Discuss this article in our forums
I will readily admit to being a novice stargazer.I purchased a Celestron 8" SCT back in the 80's but I didn't really get serious about observing until a couple of years ago. I have developed some amount of "aperture fever"and I am pursuing the project of building a 12" Reflector to upgrade my view of the deep space objects that are my primary interest.

A friend introduced to me to Donand Carolyn at WYOROC in Willard, Utah.Ithought it was an interesting name for a telescope outfit and a surprising location. But when I arrived on the premises at their backyard factory and observed the work they do firsthand, I was impressed.I had no trouble at all asking the folks at WYOROC to design and construct the components to make my dreams come true. It turned out that Don Jackson, the proprietor at WYOROC,had done some commercial telescope work a few years ago and is looking to get back into the telescope business after doing a lot ofwork for the government. So my timing was good.

The shop in Willard looks like something from the old "Back to the Future" movies.Jackson reminds a person of Einstein and Carolyn is the essence of customer service. Their shop is complete with it's own CNC machines and components are routinely milled from billets of quality material.This is all as true as I tell it and it is right here in my own backyard of Northern Utah. It takes one"backin time" to the period when MADE IN USA commanded the respect of the most discriminating customers and it makes one proud to be an American.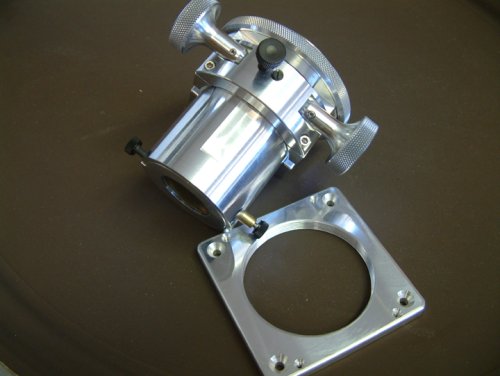 The first component that WYOROC has completed for me is a 2" Crayford focuser of which I would like to give a brief review for CLOUDYNIGHTS viewers.On inspection, I was immediately impressed with the quality of the WYOROC design. It is solid, absolutely good-looking, silky smooth and honestly priced. I understand that the current selling price on line is $125.00 plus shipping and handling. If you are looking for a lightweight focuser, this might not be your deal…this one is solid and it has some mass. But WYOROC is really good at making custom adapters and I suspect this design will work well for a broad spectrum of applications, including lightweight refractors. I am looking forward to putting one on my trusty SCT. I understand that this will be an option for me in the near future. I absolutely love my 8" Celestron, it is a real workhorse, but I think this type of a focuser will be an improvement.
The premium WYOROC focuser housing, drawtube, shaft, knobs, adapter plate, jam rings, etc are precision crafted.I especially like the way the bearings are concealed within the body of the focuser. The brass jam rings function nicely without scratching my eyepieces and the drawtube adjustment is a simple set screw arrangement. Yet the tension seems to hold well without continual adjustments when weight is applied.

My wife is amazed (that might not be the right word) to observe me lying in bed with my focuser and just turning the knobs on the drawtube.In my opinion, thisis one "eye-piece holder"that is fair to look upon no matter how experienced or critical the eye.Like my wife...it's real beauty. It is a work of art! But I suspect that this focuser is destined to make a name for itself and become the gold standard of the industry.

The inside of the barrel is painted black. Anodizing and/or painting of the housing, drawtube and knobs were available to me, but I preferred the natural aluminum look for the telescope that WYOROC is now building for me. Steve Dodds of Nova Optical Systems in Herriman, Utah ground and coated a gorgeous f 5.51, 12.5" mirror for me. I needed durable high performance quality components for the dirt roads of the Intermountain West and this stuff is just the ticket. I hope to be out under the stars soaking up photons with my new "mobile" observatory set up this summer.

It is clear to me that Don and Carolyn at WYOROC produce and market premium quality components. This focuser, as you can see, is truly a premium construction thatwill undoubtedly meet the needs of discriminating amateur astronomers. The telescope they are building for me is a dream come true.It is a very unique looking split-ring equatorial Newtonian reflector that I refer to as..."Jacksonian" in honor of the inventors' last name. Although Don is way to modest to accept a title like that, and I am obviously enthusiastic about my project, it doesn't change the fact that WYOROC focusers, components and telescopes are being recognized and purchased by savvy astronomers from all over the world. If you want a truly great focuser for your optical system at a great price, WYOROC is the real deal.
Clear Skies...Steve Maddox, North Ogden, Utah
Article: Wyoroc focuser Review