CNers have asked about a donation box for Cloudy Nights over the years, so here you go. Donation is not required by any means, so please enjoy your stay.


0
MX-991/U Army Flashlight
Mar 01 2007 05:13 AM | katekebo in
Lights
Discuss this article in our forums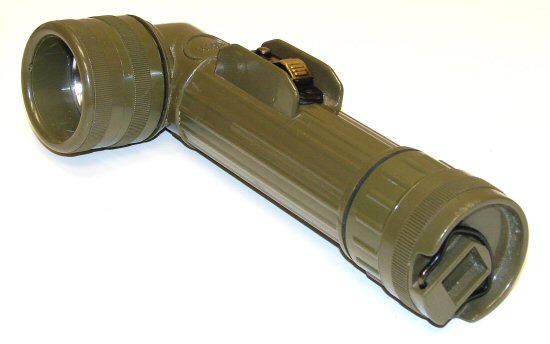 MX-991/U Army Flashlight
I have used several flashlights to read start charts and provide general illumination during star gazing sessions. Finally, I have settled on the MX-991/U as the best.

The MX-991/U is the current standard issue flashlight in the US Army. It has been produced, virtually unchanged, for several decades, and is an improved version of the MX-99/U introduced during the Vietnam War, which in turn is a direct descendant of the M-122D flashlight introduced in late 1944.

It has a distinctive right-angle ABS plastic body, uses two D-cells and a standard PR6 (0.3A, 0.74W) bulb. It comes with two color filters - red and dark blue - and a spare bulb in a screw-on compartment at the bottom. It is waterproof (although not truly submersible), and very rugged. It has a steel clip to hang it from a belt or a pocket for hands-free operation. It can be purchased at almost every military surplus outlet, numerous Internet retailers, and some outdoor and sports equipment shops.

I have found it to be the best choice for many reasons:

1) It's inexpensive - it's price ranges from 11 to 13 dollars, depending on the outlet, and it is readily available. There are cheaper no-name clones, but I can't attest to their quality and performance. I'd rather recommend to stick to the original military-issue Fulton-made flashlight - it can be easily identified by clear markings on both sides of the light's body.

2) It can be used with the red filter to avoid distrubing your night vision, and without the filter to provide good illumination for equipment assembly. I prefer the "warm" red and white light of the conventional bulb over the "deep" dark red and harsh, bright white LEDs. I find it easier to see details and read small letters on star charts with the MX-991/U red filter than any red LED flashlight. The red LEDs produce monocromatic light, which distorts colors and makes reading fine print difficult (at least for me).

3) It is virtually indestructible. It can be dropped on a concrete floor without any harm, it can fall in snow, mud or a puddle of water without any consequences, and it lasts for many, many years. Samples from the Vietnam War era show up regularly on eBay in good working conditions. Unfortunately most "astronomy" flashlights sold by speciallized retailers are rather fragile. High quality, rugged LED flashlights are very expensive.

4) It makes an excellent emergency flashlight to keep in your car, boat or at home. While it is not a high performance flashlight like some of the modern LED lights (which cost many times more), it is an overall decent performer - and as long as you keep the batteries fresh, it will work each and every time you'll need it - it won't corrode in wet environment (in a boat, for example), or break into pieces if you step on it while changing a tire.

5) Although some people may find it's size and weight less convinient than a modern compact flashligh, I actually see it as an advantage - it's easy to grab and handle, even with gloves in cold weather, it's easy to find when needed, and hard to misplace among all the other accessories.

The only disadvantage is the relatively high power consumption of the conventional light bulb when compared against a LED light. However, with two D-cell batteries, it will work through several star gazing sessions (unlike smaller flashlights that use AA batteries).

Net, excellent value with proven relability, durability and performance record (time-tested by US Army over more than 60 years).