CNers have asked about a donation box for Cloudy Nights over the years, so here you go. Donation is not required by any means, so please enjoy your stay.


1
Cover Your Astro Portable Observatory
Discuss this article in our forums
I'm located about 41miles north of Houston in the small town of Splendora, TX. Light pollution is an issue even this far away from the big city. I recall as a small boy living only 12 miles outside of Houston heading onto my grandfathers field with a small Jason 60mm refractor. At that time you could look up and see the Milky Way as a cloudy mass of stars. This was where I had my first views of the moon, Jupiter, and Saturn that just totally blew me away.
It wasn't until my very late 20's before I purchased my first real telescope, a beautiful orange Celestron 8" in preparation of the 'once in a life time' Halley's Comet flyby, oh what a disappointment that turned out to be. As the years flew by I've owned several telescopes with my largest being the red Coulter 13.1".
At present I have a Bushnell 4.25" 78-2010 similar to the Astroscan, a nice vintage Coulter CT-100 4.5", a NexStar 80GT 80mm refractor, a Meade 6" SC, and a Meade 12" Lightbridge. I also own two binoculars, an Orion Giant 11x80 and a Pentax 7x50 PCFV. I suppose my telescope bias would be towards the classy Schmidt-Cassegrains but I do love the wonderful light grasp of a big fast Dobsonian.
I'd like to discuss my experience in assembling a Portable Observatory which I purchased plans for from "CoverYourAstro.com" in Grapevine, TX. As I was searching the web for portables I came across this one claiming it could be built for under $200.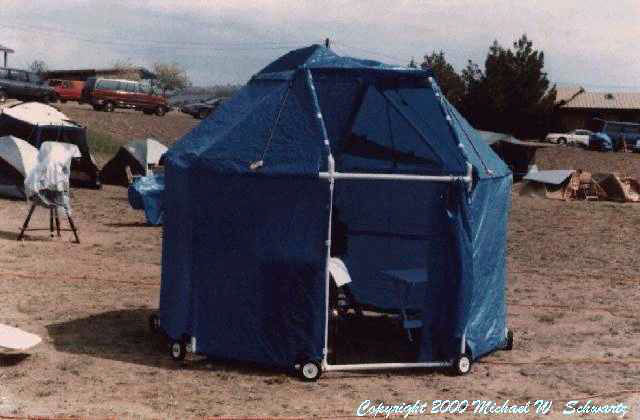 My main purpose for wanting a portable was for blocking stray light from neighboring houses. A second purpose was for blocking wind while viewing from my deck on cold winter nights. Lastly there's a lot of humidity in my area and this portable makes for a great dew break as the evening quickly cools down. Plus it also offers protection for the scope after viewing is done for the evening.
After ordering plans I began building my own portable observatory with one major difference; my cover had to be of the more traditional white observatory color and not blue as pictured above. I found my white tarps at www.coversuperstore.com "Tarp & Cover SuperStore". The PVC items and hardware (bolts & nuts) I found at "HomeDepot" and the wheels at "Northern Tools".
I won't get into the depth of dimensions and the fabrication of components as detailed in the plans but will show you the putting together of this portable observatory. I've chosen the upper deck of my backyard for this review. All components except the cover clips fit snuggly into one military duffle bag although the plans suggest using two bags. In the picture below I've already removed the white tarp cover and eight stanchions from the duffel bag.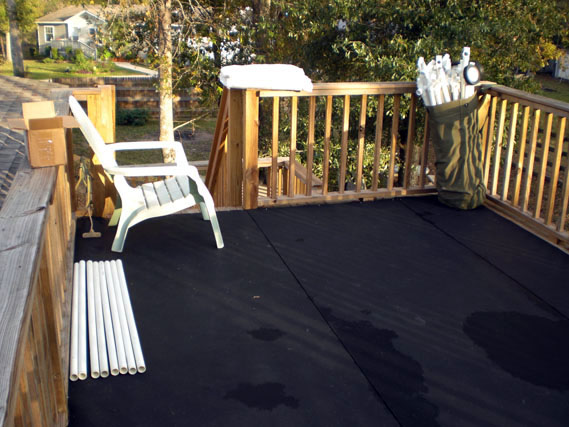 I first begin by laying out the various components on the deck prior to assembling them.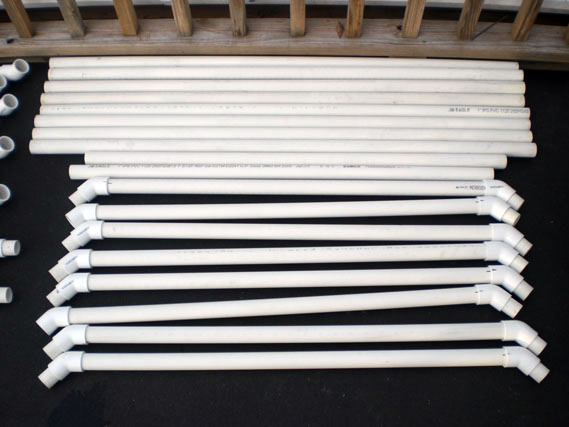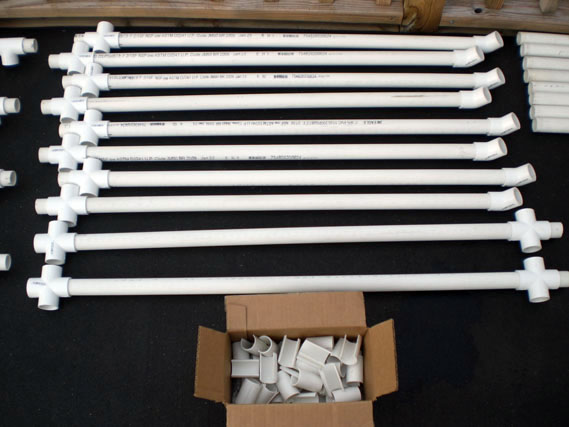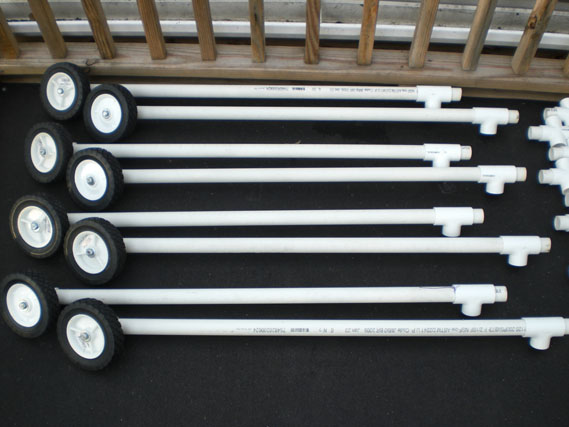 You start by connecting the roller units into a circular ring assembly.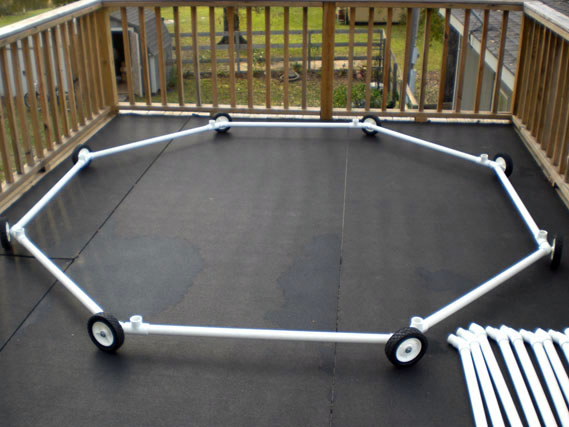 Next you attach eight Stanchions to the roller ring assembly.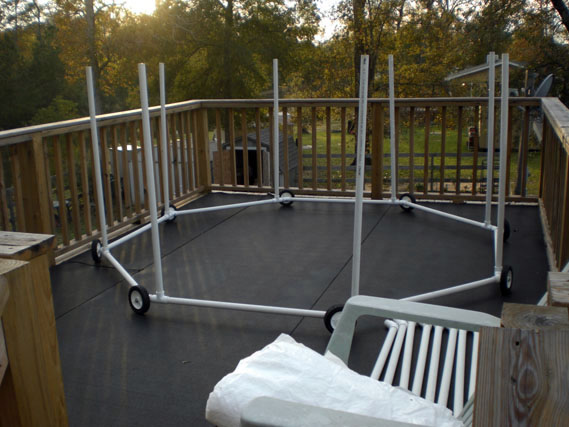 Then the Stanchions are topped with the Dome Ring units.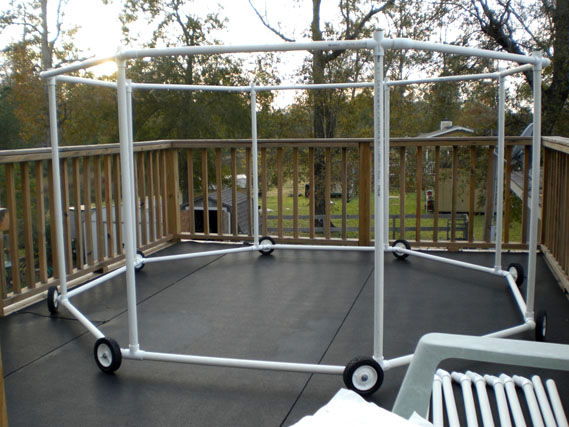 You attach the remaining Dome Assembly units to finalize the observatory frame.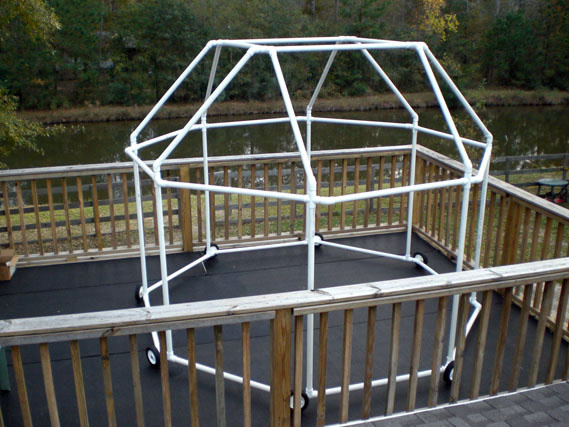 Lastly the cover is attached to the portable observatory frame with previously made clips.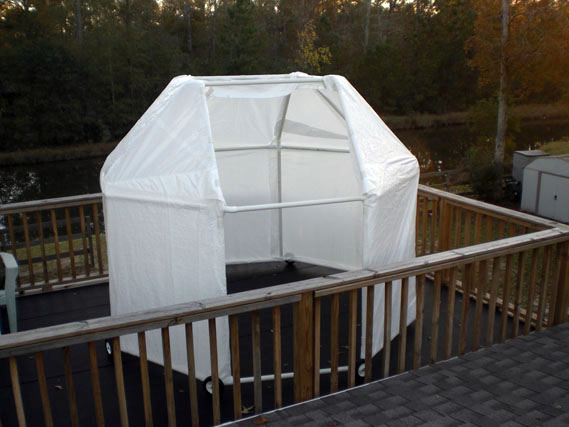 The 'Portable Observatory Cookbook' plans go on to tell you how to make an optional sliding door and top cap for protecting your equipment from dew after an evening of viewing. The dome spins very easily with one hand on its eight wheels. It also provides a nice opening for viewing the night sky with you and your telescope inside.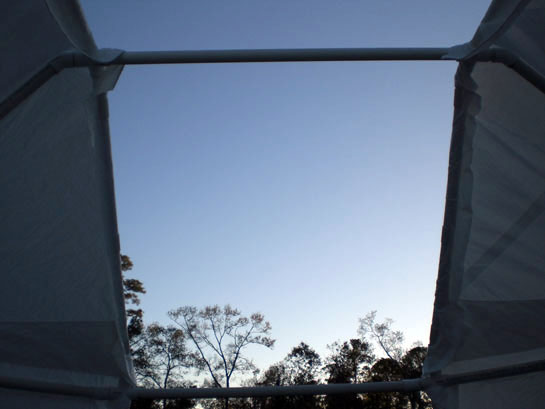 You could easily stake the observatory structure down during times of non-observing if left assembled for several days to protect it from heavy winds. Below is a picture of my portable dome with 12" Light Bridge inside. As you can see there is plenty of room for several people and the scope inside.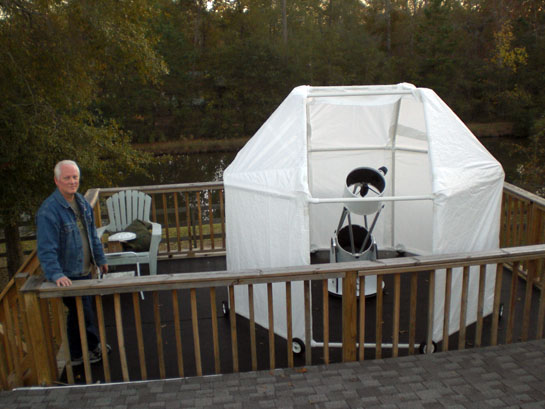 The Pros:
This observatory is easily assembled and broken down, it provides a nice wind break and blocks stray light, it protects you for dew and with the optionally made top cover can help to seal off the elements like rain. And best of all its portable; you can take this baby anywhere with you.
The Cons:
There's very little secure about it, you'd have to remain close by to keep a visual on your equipment. It's not designed as a permanent structure so you wouldn't keep it assembled for more than a few days at a time. During heavily windy conditions it would need to be staked down much like a tent so it wouldn't blow away.
In conclusion I feel for its value, the "CoverYourAstro" portable observatory makes for a very comfortable observation setting and protects your equipment from the elements very nicely.
eyekazoo, okiestarman56, Astrojensen and 7 others like this
Article: Cover Your Astro Portable Observatory