CNers have asked about a donation box for Cloudy Nights over the years, so here you go. Donation is not required by any means, so please enjoy your stay.


0
Stellarvue 1.25" 90 Degree Dielectric Mirror Star Diagonal
Discuss this article in our forums
My Comments: My name is Anthony Rogers and I live in the Mojave Desert in Southern California. I have been into amateur astronomy since 2003 plus I have been registered on Cloudy Nights since 09/24/07 as stargazertony. Over the years I have owned 10 telescopes but my collection is now down to four telescopes which consists of two Newtonians, one Maksutov, and one SCT.
I purchased the Stellarvue 1.25" Dielectric Diagonal to replace the stock prism diagonal that came with my 102mm Orion Apex Maksutov and for use in my Meade LX3 8" SCT. This diagonal has the enhanced 99% reflective dielectric coating which is designed to take more cleaning abuse than other softer mirror coatings. The diagonal contains a compression ring which holds the eyepieces firmly and will not mark up the barrels. The insert tube has a safety groove and filter thread which is convienient. My Stellarvue diagonal has an all aluminum construction and has a good weight to it plus the fit and finish are superb. I am really impressed with the build and quality of this accessory.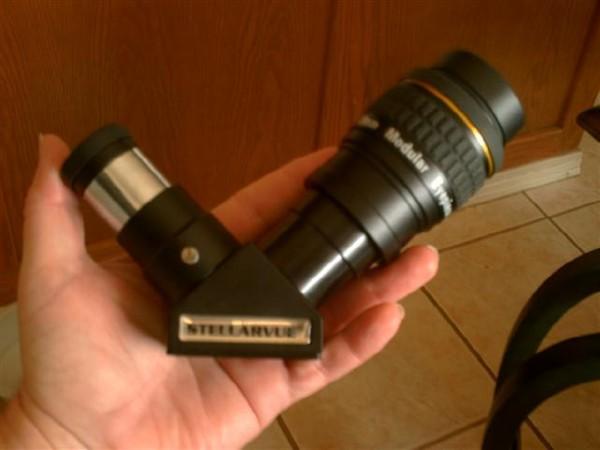 Stellarvue states that every diagonal is inspected and adjusted when it is shipped out and mine came perfectly aligned. As for optical performance you will not see a huge difference but it is noticeable and any added reflectivity counts in my opinion.
Pros: Dielectric 99% coating, Oversized 1/10th wave mirror, Factory tested when shipped.
Cons: None in my opinion.
Recommended: Yes, I highly recommend this product!
Article: Stellarvue 1.25" 90 Degree Dielectric Mirror Star Diagonal