CNers have asked about a donation box for Cloudy Nights over the years, so here you go. Donation is not required by any means, so please enjoy your stay.


0
BT100 Binoculars for Birding
Discuss this article in our forums
BIRD WATCHING with BT100s
Introduction
You've read all about using BT100 binoculars for astronomy, but they do have other applications, so here is an alternative view of them!
My wife Catherine and I are keen birdwatchers and came across Cloudy Nights a few months ago, while searching the internet for information on large binoculars. We do have a spotting scope, but haven't used it much because we don't like using only one eye. We are interested in astronomical matters, but do not claim to be regular sky at night watchers.
Thanks to CN we discovered the Chinese BT100 binoculars (sold by Oberwerk in the USA). On the simple principle that they started life as observation binoculars, so must be good in daylight, we searched for UK importers and had the good fortune to buy an ex-demonstration pair from Cyber Services Limited, of Aviemore in Scotland, at reduced cost. They market them under the brand "Strathspey', after that part of Scotland.
So we have accepted the challenge of using BT100s on our bird-watching expeditions and overcoming the problems of doing so. This report shares our early experiences of using them at a variety of Scottish nature reserves, during October 2005. We hope also to give back a little to CN in return for helping us find our "giant bins'.
The reviews of 100mm Oberwerks by Ron Davidson and Bill Faatz have helped greatly in writing this and I recommend reading them too. I have tried not to repeat the things they cover and hope you find interest in some of the different requirements of bird watching and astronomy.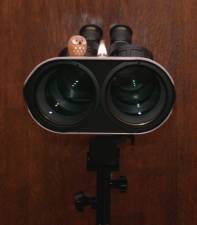 1. Here's lookin' at ya!
First Impressions
Our BT100s were supplied with two pairs of eyepieces, 23.9mm/25x and 15mm/40x, a finder-scope, a cloth dust cover and tripod, but no desktop tripod. The bins and scope are finished in a tasteful champagne coloured metallic paint, with their "Strathspey' branding proudly and crisply adorning their flanks. All other metalwork is black.
They were delivered in a sturdy carrying case, which accommodates everything including the tripod mount, though not the legs. This case is huge – larger than any item of luggage we have ever owned. It has wheels and a telescopic handle by which to pull it, but it is not suitable for use on anything other than very smooth surfaces. At 50 pounds fully loaded it is also cumbersome and not suitable for carrying by hand more than a very short distance, indeed it is difficult to get in and out of the car. A superior alternative was essential, if we were to successfully take our new bins on bird watching trips.
Nothing about this product is lightweight! With the heavier 25x EPs fitted the bins weigh 28 pounds, ready to mount, while the finder-scope adds a further pound. The bare tripod weighs 11 pounds and the head an additional 6 pounds. We are only able to make it practical to go bird watching with this lot because there are two of us to carry it all!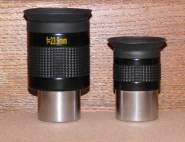 2. Eyepieces
How to Carry Them?
While BT100s are very bulky, the main problem is their weight. After much deliberation we settled on a sturdy haversack as the most practical alternative to their case that we could think of. We bought a "Blacks' brand "Tundra' model, of 65 litres capacity.
The next problem is the substantial foot by which they are mounted on their tripod, from which the person carrying them has to be protected. Our solution is a homemade "cradle' made from bits of old packaging foam glued together, which has the added benefit of reducing their tendency to roll around when in the car. The white stuff in the photos is actually very stiff and, by chance, proved very suitable for the main structure. We pull an old cotton pillowcase over the bins and cradle, to help prevent the cradle from catching when loading into the haversack. The eyepieces are stowed in a small box (Tupperware, until we find something more suitable!) in one side-pocket of the haversack, the finder-scope in the other.
The final package is much more compact than the case supplied and also significantly lighter in overall weight at 34lb, although it has to be admitted that we carry the tripod mount separately. Much more to the point, it is now practical to carry them more than just a few yards. You can guess who carries the bins, and who carries the tripod!
We have also bought a second smaller haversack, to carry the tripod head, our other bins, bird-book, etc., to complete our newly expanded arsenal of equipment.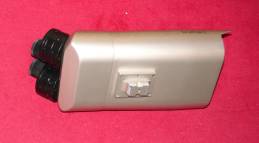 3. You don't want this foot banging against you!
Actually Carrying Them!
I am not accustomed to using a heavy haversack and, quite frankly, would not want to carry these more than the kilometre we walked recently, without a break. Call me a wimp if you like! I find it difficult to get comfortable and use the waist strap pulled tight around my hips, which means, not being very tall, that I can't tighten the shoulder straps properly. I am sure someone familiar with rigging a haversack properly could improve upon this, however for getting around most UK nature reserves it is OK for the time being.
We found we didn't use the finder-scope. As the mounting bracket snags on our haversack when loading and unloading, we will take it off for future trips - should save a couple of ounces!
Focusing
As Bill comments, the EP housings are stiff to rotate, however ours have a knurled metal finish, which is easy to grip. Focussing is done by twisting each housing individually, the pitch being very fine, requiring a total of 5.5 revolutions from fully in to fully out. Infinity is at about 2 turns out and closest focus is around 30 yards. Viewing birds this close at 25x is quite something!
The quality of the image when observing stars at night is influenced by getting the distance between the EPs just right. Unfortunately during daytime viewing there are not such convenient things readily available and with two of us using them we adjust them every time we swap places. Getting inter-pupil distance right is not as obvious as with our smaller bins, or perhaps it is not so critical after all.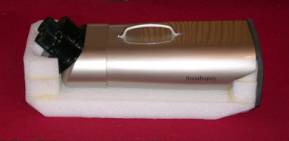 4. The "cradle' provides padding around the foot, also at both ends.
Eyepieces
The EPs vary greatly in size, the 23.9mm looking most impressive to our untrained eyes. They are 45mm in diameter, 50mm tall when fitted, with 26mm dia. top lens and weigh 7.5 ounces each. They look as if they should provide breath-taking views! The 15mm EPs are much smaller and not so imposing, corresponding data being: 35mm dia, 29mm, 17mm and 3 ounces. Both have soft fold-down rubber eyecups of a modest and rather old-fashioned style. The 15mm appear to have a black plastic insert, with integral aperture, inside the mounting tube, whereas the 23.9mm is painted, although there is a bright metal ring just below the lowest element – it doesn't look as black within as it could.
In use, our main criticism with both pairs of EPs is their poor eye relief. We both wear eyeglasses and the 25x have barely enough, so more would be welcome and make extended viewing more comfortable. The 40x EPs have even shorter ER and are hard to use, so we haven't made much use of them to date. In the poor light we experienced it was difficult to get them to focus, which was disappointing, although the better light of summer days may make them more usable.
We both own Leica Trinovids as our "normal' bins and the BT100s' EPs are not as user friendly, something I suspect we will have to put up with. We frequently swapped between them all, so the contrast was noticeable. Focussing of the BT100s is very slow, so they need to be used in conjunction with normal sized bins, especially to catch fast moving birds. The field of view at 25x is excellent, so they can be used for casual scanning and just browsing around into the far distance. Having found something of interest it is easy for the other one to take a look too, rather than trying in vain to tell them where to look while each uses their own bins.
Swapping EPs around is not as easy as I expected. We remove them for transport, as they are vulnerable, so a day's bird watching can involve fitting and removing them several times. They neither go in nor come out very readily, routinely getting stuck part way and requiring more effort than I like to apply to move them on. Hopefully I will get better with increased familiarity.
Being newcomers to astronomical optics, we have no alternative EPs to try, which is a serious handicap. Needing 2 of everything we are also inhibited from buying extras at present, as we would like some confidence that we are making a good decision before paying out. I wouldn't want alternative EPs to be any larger in outside diameter than the 23.9mms, as I can only just comfortably get my nose between them.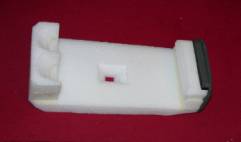 5. Empty cradle, showing hole for foot.
Tripod
The tripod is supplied in two parts, the upper mount (pan-and-tilt-head) separating from the wooden legs. The legs are provided with a tethered leather strap to hold them together when folded, also an integral adjustable webbing carrying strap. They have built-in spreaders, so setting them up is simple and quick. When extending the wooden legs, which have just one extension each, there is a small knob to tread on near each foot and a simple thumb screw to clamp them. It seems perfectly suitable for our application, bearing in mind that the bins are used horizontally, at chest height.
Viewing is achieved by looking down into the EPs, so the tripod does not need to elevate much for standing. It is actually too tall for sitting down, so a modification I have in mind (irreversible, so I won't rush at it!) is to shorten both upper and lower limbs. This will have the added benefit of reducing weight and should need little more than a hacksaw and screw-driver to achieve. While this may compromise astronomical viewing, our bird watching could benefit.
Mount
The tripod mount provides for smooth and easy panning, in fact I can do it with my hands in my pockets, using my nose between the EPs! The screw for fine vertical adjustment soon became second nature, with the bins loaded so that it is close to the chest (i.e. the other way round to astronomical use). Having got set up I cannot imagine viewing being any simpler, although we joke that a chainsaw would be a useful accessory, for chopping down trees that block the view!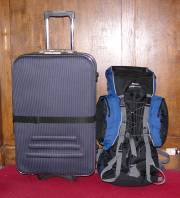 6. Original case and loaded haversack.
Performance
Although we live 40 miles north of London in England, we have family in St Andrews in Scotland (450 miles away), the home of golf, who we visit regularly. Getting our haversack sorted out coincided with a planned 2 weeks visit there, when we were able to use our BT100s on several occasions, for several hours per day, as our first prolonged use of them "in the field'.
There is a lovely nature reserve nearby, with a heated hide and views over a tidal estuary, with a wide variety of mainly water birds. If the warden is present there is even the prospect of tea and biscuits. You won't be surprised to learn it is one of our favourite bird watching locations! We found the 23.9mm/25x EPs, with their 4mm aperture (same as our Trinovids), to be the easiest to use and settled on them for most of our viewing.
The viewing conditions during our visit varied greatly from reasonable sunlight, with a partly clouded sky, to total cloud cover. Bearing in mind that it was late October and we were at 57 degrees North (similar to Sundance, Manitoba), the daylight hours were getting few and light was not very strong. Also dusk started mid-afternoon so we were able to investigate low light performance. While images seemed no brighter than through the Trinovids we were certainly able to continue viewing for a while through the BT100s, after giving up with the smaller bins.
However, the last of our visits to the estuary was on a damp dreary afternoon and, having turned the heating on (the Scots are not daft and nor are we!), we settled down. Before long the horizon disappeared in heavy mist and the rain got progressively heavier, until everything we could see looked the same dismal grey. These are not the conditions one would choose for bird watching, being much better suited to surfing Cloudy Days! But they are ideal for testing the performance of binoculars. After a while, with the rain beating against the windows, we could no longer see out with our Trinovids. Yet the BT100s continued to show us birds, despite very poor light indeed. Colours may have been almost washed out, if you will excuse the pun, but some of the waders and ducks we could see have striking colours and plumage, which were still clearly distinguishable. Very impressive!
While it may be a long time before we encounter such miserable viewing conditions again, this experience alone was enough to convince us that the purchase of our new bins is justified and well worth the effort of carrying with us to suitable venues.
What sunlight we enjoyed was never very strong, in which conditions the apparent brightness of the image was similar in both Trinovids and BT100s. The benefit of the BT100s was that we were able to watch birds close by in much more detail than before and discern plumage features much more easily. We could also comfortably look out to a much greater distance before a bird's details became indistinct, as you would expect. Another advantage is that the tripod provides a steady image that yet further enhances their performance over hand-held bins.
The one disappointment, especially when viewing over water, was colour fringing on the far bank. The object being viewed was OK, so this was more of a distraction than a real problem. We wonder if better EPs might reduce or eliminate this.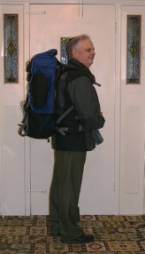 7. Portly porter, ready for the off!
Comments
A modern spotting scope is relatively light and portable, so the owner can easily move on from place to place, with a minimum of effort. BT100s do not lend themselves to such high mobility! Fortunately we like to settle down for a while and survey the scene at our leisure, rather than dart about, so the greater time and effort involved in setting up is not a problem to us, though it will obviously put off some bird watchers, especially "twitchers'.
Something I have noticed is the wide variety of binoculars with approximately 4mm apertures (8x32, 10x40, etc), whereas spotting scopes commonly have around 2.5mm aperture (30x75, 32x77, etc). I was intrigued to investigate if there was something the manufacturers knew about optics that was not obvious to me, but I can now report I reckon they are trying to fool us! In all but very poor light our 25x100 bins appeared to give similar levels of illumination to our 10x42 and 12x50 Trinovids. As 40x100s, image illumination was reduced and, in the light conditions at the time, less useful to us.
I have seen suggestions on CN that BT100s may be able to handle much higher magnifications of around 60x or even more for astronomical viewing, but I cannot imagine the conditions in which such a short FL will be useful for daytime watching. I suspect there are better 24mm/25x EPs available and will certainly try to find them, also that alternatives to the 15mm/40x originals will be worthwhile. I also envisage that a larger aperture would provide yet further improved low-light performance, but experience to date indicates that FLs less than 15mm would be too much for daytime use.
Focal length is quite critical during daylight viewing, to provide an aperture suitable for the ambient level of light. When selecting EPs I reckon the key is to choose apertures having increments of half the square root of 2, (i.e. .707). This yields 5.4mm, 4mm (as it seems to be the standard!) and 2.8mm, which correspond to FLs of around 32mm, 24mm and 17mm, hence magnifications of 19x, 25x and 35x. The next increments are 2mm and 1.4mm, which correspond to FLs of 12mm and 9mm, hence 50x and 66x. Such a range of EPs would set up the BT100 owner for every likely viewing prospect, day and night.
What Next?
Future plans include buying improved EPs, as already mentioned. In very bright sunlight I can imagine more magnification might be useful, but we will have to wait until next summer comes around with longer clear days and a high sun, to investigate further. I can foresee us buying new 24mm and 17mm, but am doubtful that we will buy others, unless our occasional astronomy becomes more much frequent.
Both Ron and Bill comment that the EPs supplied could be better. I agree entirely, even though the viewing conditions I seek to improve on are so different. What we would like now is a pair that really make us say WOW! They must be out there - any ideas? All we ask is 20mm ER and around 65 degrees AFOV, preferably from a range that includes other models for future expansion.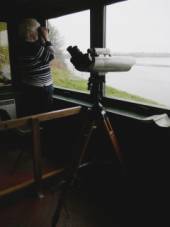 8. "Hiding' in Scotland, overlooking estuary.
Finally
Having used both eyes ever since I started bird watching with a pair of pocket-sized binoculars, many years ago, I am delighted that now we are able to continue our hobby with a major step-up in magnification and viewing range. BT100s may seem an unlikely choice for bird watching, but we are convinced we have made a good choice. The cheaper and more conventional style of giant binoculars are less convincing, while other more directly comparable models, such as the Kowa High Lander and Miyauchi, are up to five times as expensive over here in the UK - in other words there is no affordable alternative to a decent spotting scope at present, that provides for binocular viewing.
Are we pleased with our purchase? Yes, we are delighted! Our target price was around that of a top quality bird spotting scope, which we have achieved. We have been able to view birds in comfort at far greater distances than with our normal bins and still make positive identifications, also see colours and plumage detail much better than we imagined. What is especially remarkable is their performance in truly appalling weather and light conditions, which is way beyond all our expectations.
As Ron says in his review, "100mm BT's are definitely worth the money".
More
BT100 binoculars are made by the Kunming Optical Instruments Company Limited of China, more details of which can be found (in English) on their website:
http://www.binocularschina.com/
UPDATE
Introduction

Since writing the above Review my wife and I have completed our evaluation of the EP market and made our choice of replacements. We wanted better ER than the originals and also improved performance, so purchased a pair each of Siebert Optics 24mm and 17mm Ultras. This update of our Review expands on why we wanted to change and what we have achieved.

Selection

After exhaustive and exhausting analysis of the market, the choice of new EPs eventually proved rather simple, helped greatly by Don Pensack's "Eye Piece Buyers Guide". We concluded that our principal requirement was for an exit pupil of 4mm, which corresponds to a FL of around 24mm. As it happens there are few EPs available of this size with sufficient eye relief to enable eyeglasses to be used in comfort and with similar AFOV to the original EPs. We identified and considered 5 models: Antares W70, Meade 4000 SWA, Meade 5000 SWA, Siebert Optics Ultra and TeleVue Panoptic. Of these the Antares is less expensive than the Siebert, while all the others cost more.

We were unable to find a dealer where we could readily compare any combination of these, so resorted to buying blind. It was the only way to make progress. We selected Sieberts, a major consideration being price, also their simplicity of optical construction and the belief that any improved performance of the much more expensive alternatives would be slight. As mentioned in our Review, we planned to purchase EPs with exit pupils that fall into a planned progression based on half the square root of 2 (i.e. 0.707), so chose 17mm Ultras, as alternatives to the 15mm supplied by Kunming.

Despite paying for shipping from the USA, plus UK import duties, our purchase represents a substantial saving over the other options. For UK readers, the total cost of all four, including bolt cases, was UKP404, in January 2006. We paid less for our 4 EPs than for a pair of the most expensive alternatives from our shortlist.

The following photo shows our Sieberts flanked by the original EPs, from the left: 23.9, 24 with original tall eyecup, 17 and 15. As can be seen, the 24s are smaller in diameter than the 23.9s, which may be of interest to readers blessed with a generous nose.



A. EPs: New and Old

Comparison
The following is a brief description of the performance of each lens, remarks being based on our main use of our BT100s for daytime bird watching.
23.9mm Kunming (23.9): Good field of view (67 degrees AFOV claimed) and illumination of the image, with remarkable performance in very poor light. Poor ER (12mm claimed) spoils viewing with eyeglasses otherwise I think we would be reasonably happy with these. They do suffer from distracting colour aberration when viewing over water in some conditions, also I could only just get the inter pupil distance with them right, because of their large outside diameter. CN Forums gave us the expectation that there are better EPs out there, which spurred us on to buy replacements.
15mm Kunming (15): Very short ER (claimed 8mm), which, frankly, makes them unusable as far as we are concerned. Even without eyeglasses I cannot comfortably see the full FOV. Their performance in overcast winter daylight was so poor that they were difficult to focus and we soon stopped using them. At night they are more usable and do provide a decent star image, but they are disappointing and replacements were essential if we are to enjoy the sort of magnification we expect from such large objectives.
24mm Siebert (24): Ample ER at 20mm and virtually identical FOV (65 degrees claimed) to the 23.9s. They are 40mm in diameter, 40mm tall when fitted, with 25mm dia. top lens and weigh 3 ounces each. We are unlikely to routinely use them in the extremely poor light conditions in which the 23.9s shone, but colours are brighter, whites are whiter, and illumination in twilight is very promising. The standard eyecups are very stiff to roll over, for use with eyeglasses, but Harry Siebert very kindly sent us alternative shorter ones that we don't need to roll down, which are much more suitable for our use. Some colour aberration is present when viewing over water, but much reduced compared with the 23.9s and I can adjust them for a more comfortable inter pupil distance. These EPs satisfy our ambition for easier use through decent ER, plus they provide a noticeable improvement in performance.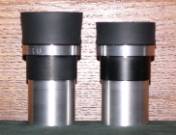 B. 24mm Ultras with Long & Short Eyecups
17mm Siebert (17): Whereas the 15s are so disappointing, we find these truly remarkable. They are not only easy to use, with their 20mm ER, but provide stunning views. Their eyecups are different to the 24s, which we prefer as they fold very easily, in fact they are really neat! At a claimed 70+ degrees AFOV they provide a wonderful image. Similar in diameter and height (when installed) to the 24s, they have a 21mm dia. top lens and weigh just 2.5 ounces each. They really have shown us what these binoculars are capable of, which far exceeds our expectations, giving us a quantum leap in performance compared with the original EPs. Our bird watching is transformed, and we have found that WOW we had hoped for. We use them routinely for daylight viewing, so good is their illumination of the image.
Comment: The one shortcoming of our Sieberts is that they are not parfocal, there being approximately 2 turns of the focusers difference between them, so swapping EPs can require a bit of serious twiddling for a few moments. Unfortunately the 17s will focus down to roughly 30 yards, whereas the 24s only manage around 50 yards. Given a choice, we would prefer that to be the other way around!
The following photo shows our 23.9, 24, 17 and 15 EPs, from the business end.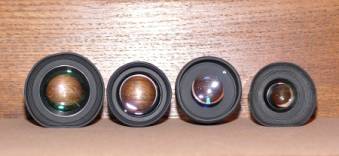 C. EPs: End On
Collimation!
Having received our new EPs, the 24s were wonderful to look through, however prolonged viewing through our 17s suggested they didn't focus quite as crisply as we would like. Bear in mind we found we couldn't use the original 15s. We established that we had less than perfect synchronisation of the images, thus started the brave adventure into checking optical alignment and making adjustments to the prisms, in an effort to improve things. We were ultimately successful, but this developed into a project in its own right, which may become the subject of a later article.
Summary
Harry Siebert places great emphasis on the flatness of the image his EPs provide. For daytime viewing this is not a critical requirement, nor is it for the modest amount of night sky viewing that we do. However the effort Harry has expended creating high quality imaging certainly shines through. The 17s especially provide a quite incredible improvement in performance over the original Kunming EPs, which we have now consigned to the back of the cupboard. Such improvement, however, can only be achieved with good quality objective lenses and other optics courtesy of Kunming, so it is disappointing that they themselves do not provide better levels of performance from their own EPs.
As described in our Review, we have purchased EPs that fall into a planned progression of exit pupil, 4mm, 2.8mm (actually 4.02 and 2.85) and are now considering more. A pair of 13mm Ultras will provide an approximately 2mm exit pupil and extend our range of magnifications to 25x, 35x and 46x. The next increment in this series would require an exit pupil of 1.4mm, the closest suitable Siebert having a FL of 9mm, which will yield a magnification of 66x and reach the upper limit suggested elsewhere in CN for this model of binocular. It may, for daylight use, be a step too far. Siebert Optics has possibly the only range of EPs that makes this approach to EP selection feasible, taking into account our other requirements.

Finally
We are not in a position to compare our Siebert Ultras with any other brand or model of EPs, except our Kunmings, so we don't know if alternatives could provide yet better performance. However as an economical upgrade of the standard BT100s they have provided us with a truly impressive improvement. We now feel that we possess, at a very affordable total cost, a binocular that substantially enhances our ability to go bird watching, with both eyes wide open in wonder and delight!
I commented in our original report that I thought the industry was fooling us by offering high-powered spotting scopes with exit pupils of around 2.5mm. That was ÔBefore Siebert'! We have found that our 17mm Ultras, with their 2.8mm exit pupil, have far superior performance to the original 15s. So when using a more suitable EP, the illumination and performance of exit pupils of around this size is most acceptable! We begin to wonder how much smaller we can go and still get good results.
Referring to other comments in the original Report, our Sieberts have proved to be easier to fit and remove than the original EPs, which is a further bonus. I have also worked out how to properly adjust our haversack, which is now a much better fit and more comfortable to use.
Pine Colorado and BinoGuy like this
Article: BT100 Binoculars for Birding