CNers have asked about a donation box for Cloudy Nights over the years, so here you go. Donation is not required by any means, so please enjoy your stay.


0
Celestron SkyMaster 25x100 Binoculars
Discuss this article in our forums
I am an armature observer from Ames, Iowa, USA. My city is a University town therefore; we don't have much of the light pollution problem. I had the interest in astronomy but didn't get chance to pursue the same. After coming to USA for PhD, I thought why not rejuvenate my childhood dream again. I read lots of review and learnt about the scopes. Unanimously everyone suggested going for a binocular to learn the sky initially. Binoculars have large field of view as compared to telescopes which helps to scan a larger chunk of the sky at the same time. The next question was the type of binocular for the astronomy. In the market you may find large variety of binocular. I narrowed down myself to the large astronomical binoculars because they act somewhere in between a binocular and a telescope. I got Celestron skymaster 25x100 because they were the best among the cheap large binoculars according to the reviews.
Celestron shipped me the product in a Nylon bag with a decent cushioned support. Though I was expecting sturdier bag like Zhumell 25x100 case but unfortunately it came out in a Nylon bag. Overall binocular looks good and has a decent finishing. Multicoated lens are really wonderful. On looking at them you could hardly see your image on the lens. Only major drawback with these binocular is the support for the tripod head. The base which goes on the tripod is of poor quality and they don't get fixed properly. Whenever I go out for observation I have had difficulty in fixing the binocular properly on the tripod. 100mm Aperture size of the front lens is good enough to view planets and nebula. These binoculars are really heavy and need a tripod support.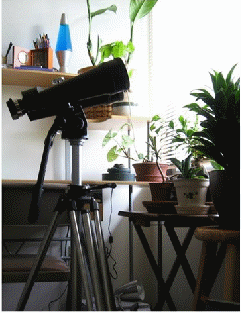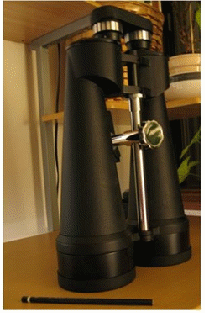 Celestron Skymaster beside my study table on Bogen Manfrotto tripod
Moon:
Moon looks absolutely stunning with these big binoculars. You may actually make out clearly all the mountains and valleys with these giant binoculars. I am also planning to buy moon filter (if available for these binoculars). 100mm aperture is too big for moon so, on full moon day moon looks dazzling and bright.
Jupiter:
Jupiter looks like a blob of glowing ball. I couldn't make out any surface feature of the planet because of the brightness of the planet. Jovian satellites look perfect and can be distinguished very easily with these binoculars.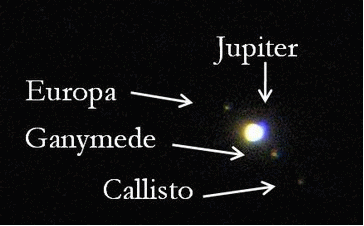 Jupiter and its 3 moons taken from Canon power-shot and skymaster binoculars
Saturn:
Saturn looks very much similar to Jupiter but with rings of course. Rings are not very clearly distinguishable. After few minutes of un-interrupted observation one could make out the rings faintly. Titan looks very much similar to Jupiter moon.
Venus:
It looks too bright and it is difficult to see the various phases of the planet.
Orion Nebula:
It looks absolutely stunning. So far I have only looked at this nebula. I couldn't spot any other nebulae. Orion nebula looks like a fuzzy blob of gas.
Andromeda:
It looks slightly grey colored smoky gas cloud.
Star Cluster:
I have looked at plenty of star clusters and they look absolutely magnificent. I could make out the center of the star cluster and the agglomeration of thousands of starts at a tiny place. Pleiades looks very bright and bluish. These binoculars are just right to fit the whole star cluster.
These binoculars are small beasts in themselves. They are portable and yet not too light to compromise with the breathtaking moments. Amongst all I think Moon looks absolutely stunning with these binoculars. I can look at Moon for hours with these binoculars. Research work load doesn't allow me to go for frequent observation sessions but whenever I get time I don't forget to utilize them fully.
Article: Celestron SkyMaster 25x100 Binoculars