CNers have asked about a donation box for Cloudy Nights over the years, so here you go. Donation is not required by any means, so please enjoy your stay.


0
One Year Review: Apogee 25 x 100mm Binoculars
Discuss this article in our forums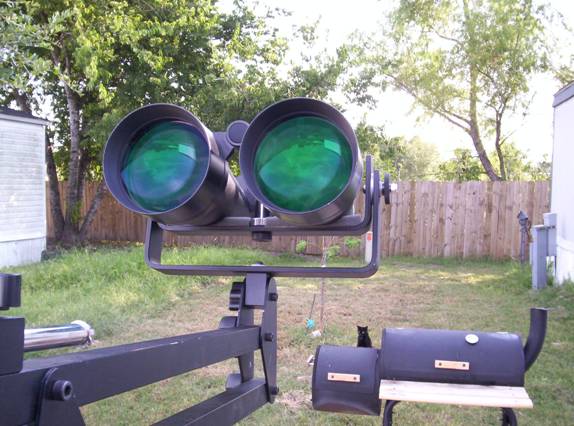 Well it's almost a year, and I have viewed both sides of the Milky Way now using the Apogee's mammoth 25 X 100's. This pair of binoculars can be used for terrestrial but I have only used them for astronomy.
I am part of a group in
Austin
called the Austin Dam Astronomers. They even have a web site where we can plan our weekly gatherings
http://groups.yahoo.com/group/Austindamastronomers /
we congregate at the
Mansfield
dam's public park to educate the public on astronomy. This is where I have done most of the observations with these binoculars.
First rule for this beast is, "If you buy them, you must mount them." I have tried several ways to mount them but I always resort to cheating somewhat. I used the Orion Paragon-Plus binocular mount and tripod (Part number 5347). I replaced the 4 Lb. Weight with a 16 Lb. Manufactured in a local machine shop. Also I replace the bracket that secures the binocular with a cradle mount. I had to notch part of the cradle mount to secure it to the Orion mount. This was to prevent unwanted movement (Seen right above my hand).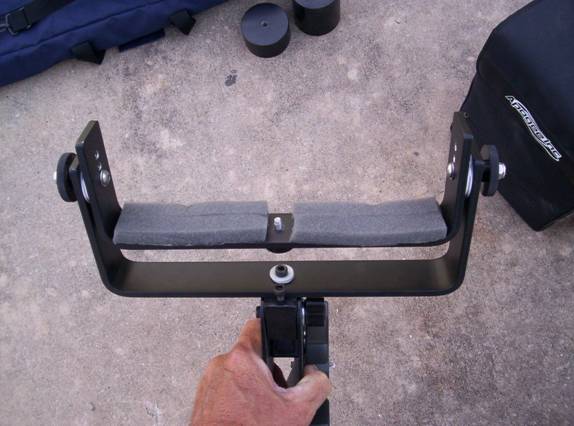 Properly balanced it can be guided by a child, and have done so many times. It brakes apart in no time at all for transport. The mount is surprisingly stable with this weight. The only penalty is the tripod will not raise the head, but it seems needless to have this feature while using the binoculars anyway.
The 3.5° field of view is better than most 25 X 100's. This pair supposes to have a 13mm eye relief, but I believe it is closer to 11mm. Eyeglass wearers may have somewhat of a problem, but several who have used this pair had not complained. This pair chased down comets better than the Orion 80ED and 100ED. I don't know what the exit pupil is, but if your eye is not centered in the eyepieces, you get some color on bright objects (A small yellow highlight on the moon's rim). When the eye is centered you would be pressed to find any problems, and the images appear to be from a much more expensive pair.
Most scopes have their strong points and weak ones also. The major weak spot on these is the eyepieces. Its not that they are bad, it's the fact the objective optics are very good and interchangeable eyepieces would greatly extent the ability of the binoculars. Well, I can wish, can't I?
The strong points are many. In observing, this pair view objects that telescopes are unable to duplicate. The Double Cluster, M13 is very surprising, M31 shown a dust lane aside was M32 and M110. One night M51 viewed better in these than an 11" SCT. M42 generated a lot of response from those who view it, NGC 2244 looked nice. Weak but M57 can be viewed, M27 real nice. M7 and M44 better seen through these than any scope I have seen through. Tr24 is unreal; M8 shows some structure, and M17 shoes the neck of the swine, M36, 37, 38 and so on. A lot of double stars are accessible, and looks impressive also.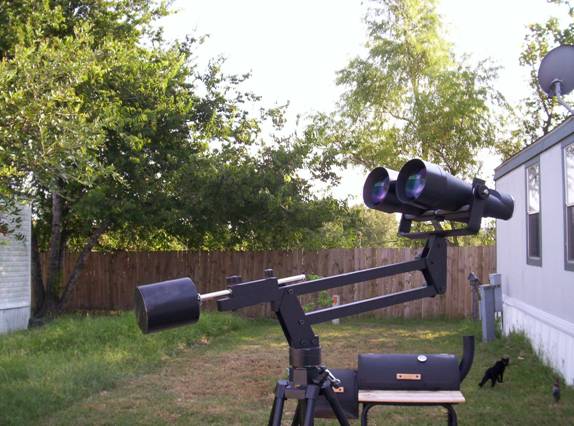 Planets are limited to Jupiter and Saturn. Of course Jupiter shows off its four moons with the NEB/SEB clearly seen. Saturn shows off its rings (can't split them) some surface features are also seen.
The Moon, Full moons are great, and just after a new moon the earthshine shows off all of the dark side features.
To give you an idea of how sharp and powerful these things are. We set up at the Dam, and seven miles across the lake you see a restaurant called "The Oasis"; you can distinguish people eating on the outside area. At five miles we watch someone across the lake set up a barbeque.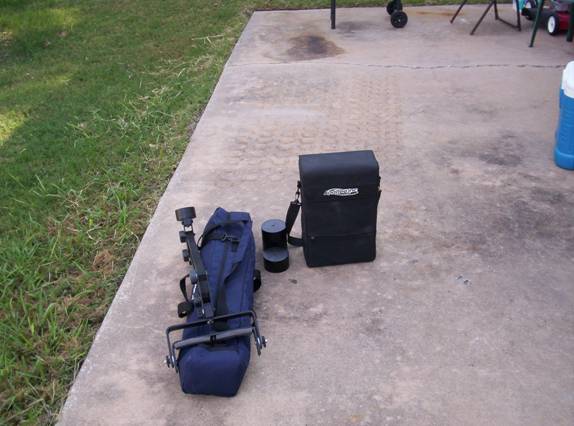 This is such a good pair, and for the money, more than likely for the price, the best bargain you can run across. These binoculars are not just a tool for the large telescope, but a companion that complements with wide views and enough aperture to reach many DSO's.
Article: One Year Review: Apogee 25 x 100mm Binoculars