CNers have asked about a donation box for Cloudy Nights over the years, so here you go. Donation is not required by any means, so please enjoy your stay.


0
Pro-Optic 25x100 Binoculars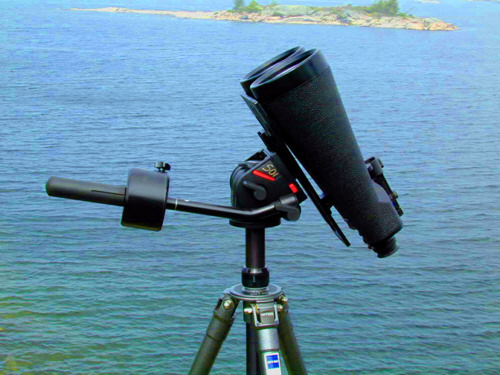 Mounted on a fluid head, these "Ultra Giant" binos needs a counterweight when pointed toward zenith. They also need a second arm (not shown) to move effortlessly from target to target, and to take advantage of the smooth movements of the excellent mount.
History
Even a casual view of Milky Way through a pair of 10x50 binoculars shows something special. Upgrading to 70mm binoculars (the 26x70 Russian made Kronos, truthfully and flawlessly reviewed on Cloudy Nights by Mike McIsaac) confirmed this for me, and I started saving my pennies for the next jump in aperture. Though I have bought some expensive equipment, such as a 12.5 inch Portaball with a Zambuto mirror and 90mm Coronado SolarMax, I certainly was not about to spend big money on low power binoculars. Why not do this on a budget? After considering my options and dreaming about binoscopes, the 20x100 Nikons, and the 25x150 Fujinons, I bought these lowly binoculars for one purpose: to view the Sagittarius region of our galaxy (including M11 and M26 in nearby Scutum).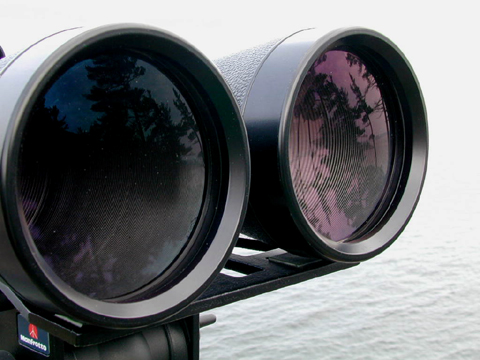 Specifications of the Pro-Optic 25x100:
Weight: 8.5 lbs
Exit pupil: 4mm
Field of view: 2.5 degrees
Size: 13.4 x 9 x 5 inches
BAK-4 prisms
Fully multicoated and baffled
$899.95 (original sale price from Adorama)
These binoculars are very well made. Like traditional, older-style binoculars they have a leather-like granulated texture covering their surface, and a central focus with dioptric adjustment for the right eye. Due to their size and weight, they also have a bottom support plate for mounting.
This plate feels somewhat flimsy, yet in actual use works well. I handle these binoculars with extra care, like the large fragile objects they are. A Red Dot finder, mounted on the right side with doublesided foam tape, works very well. The inside of the OTAs is ribbed, painted matte black, and effectively baffled. The dark green-purple multicoatings (similar to my TAK Sky90) have been evenly applied; the objectives are almost invisible. I got my pair second-hand on Astromart. They came with a beautiful solid square leather case with red lining, all packed in a square black box with gold lettering.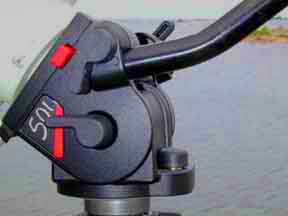 The Mount: Bogen (Manfrotto) Fluid Head # 501:
This solid and rather heavy head has adjustable friction knobs in altitude and in azimuth and is more than capable of handling the load shown here. The handle can be bolted to either side of the head, which gave me the idea of buying an extra arm and mounting it on the opposite side. The ¾-inch shaft just supports a counterweight. It is not perfect; the arm goes the wrong way and obscures one of the adjustment knobs sometime, and it requires nimble fingers to get to. But it works, and when balanced it reminds me of the delicate alt-az movements of my Portaball and my Giro II. The arm's aluminum tube could be stronger, and the pin of the counterweight makes small scratches on the black anodizing, yet the system works beautifully. The quick release plate allows easy removal of the Pro-Optics.
25x100 Performance:
Can we expect anything of a super-fast (f3.5) achromatic optical train except spurious color and curvature of the field? Is this a viable instrument? Personally, I love this light, small Ultra Giant for Deep Sky Objects. It's been designed for such targets, and it works admirably within the limitations described. The 25x magnification does not allow for much lunar work and certainly no planetary work.
What about daytime terrestrial use? For most situations, the Pro-Optics are almost too bright. Low light situations reveal terrific detail in dark shadows, but high contrast situations (white fence against a dark background) introduce false purple color on one side and lime green on the other. The curvature of the field means that only the central 60% of the view is tack sharp. The eye relief is fine for me, since I do not need glasses. If I wore glasses, I am not sure that I could see the entire generous 2.5 degree field of view. In spite of these limitations, I have a soft spot for this instrument and feel there is a definite place for it.
Observing Report and Comparison with 26x70 Kronos:
Warm summer night, humidity 65%, island in Georgian Bay, with about 5.5 magnitude sky.
M4 and M22 appear much much larger and much better defined in the Pro-Optics than in my 26x70 Kronos binoculars. The jump in visibility of these globular clusters when I went from 50mm of aperture to 70mm seems small compared to the jump I see from 70mm to 100mm. (Magnification is virtually the same –26x and 25x– so the comparison is fair.)
M8 shows very well-defined nebulosity along with the star cluster. I like this unfiltered view.
M11 Rather than wild ducks, I see unusual right angles and unusual squares in this cluster. When viewed in the Pro-Optic, the densely-packed stars show excellent contrast.
M17 is highly visible. In my poor sky it looks like the space shuttle.
M18 I always register a large S-curve when first looking at this remarkable cluster.
M24 has the unmistakable oval shape of the famous Star Cloud, with dark nebulosities.
M26 small but significant; I never want to skip this cluster in Scutum.
On a cold winter night, observing from a well insulated flat roof downtown in a poor (mag. 2-3) sky showed as follows. From this dowtown location, M42 and M43 are the best celestial sights, together with M45 and M44. All four stars of the trapezium are perfectly resolved and separated. M42 and M45 are always a test for me -- a test of whether I can ever resist these familiar targets. (I never can, especially now that the Pro-Optics 100mm of aperture renders the 70mm obsolete.)
Disadvantages:
False color
Curvature of the field
Viewing objects near Zenith is comparable to doing esoteric Yoga exercises. (Your neck will thank you one day, but…)
Advantages
Perfect collimation. Pleasing views.

Very low weight and small size, not to mention the very low price.

Easy to carry even with the mount and the tripod. The nearest competitor is almost 3 times heavier.

Huge improvement when compared to 70mm binoculars.
Better performance costs 3-5x more.
Conclusions
4-inch light gathering power and 25x magnification in a small, light-weight, low-priced package is irresistible. I put up with the field curvature and false color because these faults do not interfere much with my observing program, and because targets look stunning. Very well made, very good value overall.
Edited by: Jeff Verona
Article: Pro-Optic 25x100 Binoculars