CNers have asked about a donation box for Cloudy Nights over the years, so here you go. Donation is not required by any means, so please enjoy your stay.


0
Oberwerk 11 x 70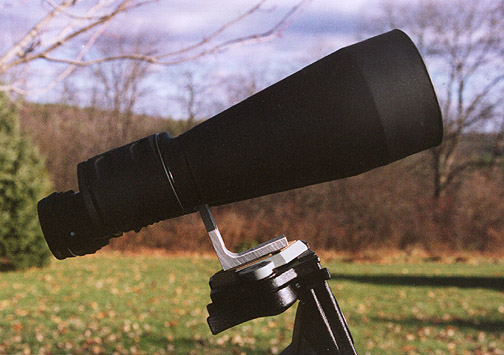 Side view of the Oberwerk 11x70mm Binoculars
A few months ago a pair of 9x63mm binoculars that I had for a number of years were broken. I debated getting them repaired as it would cost more to repair them than they were worth. Then a friend of mine showed me a pair of 8x56mm Oberwerk binoculars he had recently purchased. I was surprised after trying them out as they were lightweight and seemed very good optically, with surprisingly good sharpness, light transmission, and contrast. Plus they were relatively inexpensive. I asked if Oberwerk made larger binoculars in the 70mm range and he said they did. So I decided to check into the 70mm pair to replace my broken 9x63mm pair.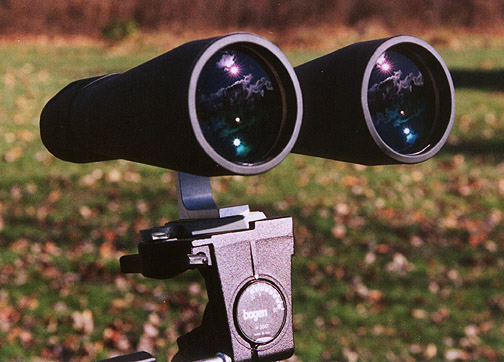 Front view of the Oberwerk 11x70mm Binoculars
It turns out that they make two 70mm binoculars, one with magnification choice of 11x and a higher power one of 15x. Both models come with BAK4 prisms, and the optic coatings are Broadband Multi-coated. The field of view of the 11x model is 4.5°, while for the 15x model is 4.3° Exit pupil diameter of the 11x model 6.3 mm while the 15x model 4.6 mm, and the exit pupil distance for the 11x is 23mm while for the 15x is 16mm. Minimum focus distance for both models is 20m and the weight is 3.1 lbs.
I decided to go with the 11x70mm pair rather than the 15x70mm pair as knew there would be times when I would hand hold them and it would be easier to use the lower power pair. For most of my astronomical viewing I use these binoculars on a heavy duty tripod. The retail price is $179.95, but you can often find them for $149.95. This includes dust caps, neck strap, and a soft carrying case. A hard carrying case would be better for protecting the binoculars.
Oberwerk binoculars have rugged rubber-armored metal bodies, all-glass lenses, right ocular diopter adjustment, and brass 1/4-20 tripod adapter threading. The Oberwork literature indicates that due to the new low-reflection broadband multicoating, which has a subtle green color, with faint green and purple reflections, light loss due to reflection and scattering is minimized, providing the highest level of light transmission possible. They suggest also that the view is very close to Fujinon FMT-SX series quality, for a fraction of the price. I didn't have a pair of Fujinon's to test against the Oberwork's, but was impressed by their performance.
When I first tried the binoculars the center focus had a smooth and precise feel to it. The relatively long eye relief made them easy to use, and would be very useful for observers who wear glasses. In addition the rubber eyecups fold down. Detail in the center of the field of view was sharp and contrasty, and was sharp out to between 80% - 85% of the field of view. Considering their size they are relatively easy to hand hold while using them during the day, but for astronomical observing at night a tripod helps to get the most out of them. I would recommend also a heavy-duty "L" adapter for use with a tripod.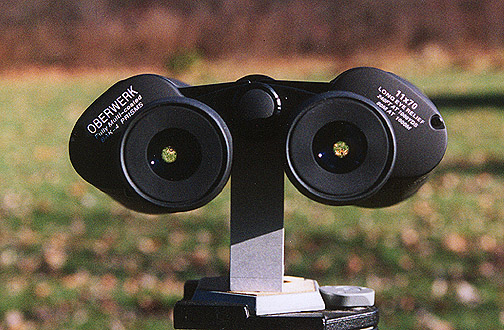 Rear view of the Oberwerk 11x70mm Binoculars. Note that there is no light cutoff from the prisms.
On the first night I tried them out in I was very impressed by their performance. I used them a heavy duty tripod to steady the view. The limiting magnitude when I was observing was around 5.3. The Orion Nebula M42 was very pretty and showed some nebulosity. The Pleiades also looked very nice, one of the best views I have had of it. It seems to benefit from using two eyes to observe it rather than one eye as we so often do with a telescope. The Andromeda Galaxy M31 seemed to fill most of the 4.5° degree field of view. The Pinwheel Galaxy M33 was easy to see. The open clusters M36, M37, and M38 in Auriga almost fit into the field of view of the binoculars. Saturn had an oblong shape to it, and Jupiter showed as a disk with a couple of moons nearby. Jupiter was near the Beehive Cluster M44 at this time and the combination of Jupiter, its moons, and the cluster in the background was a neat view. A rising a thin crescent moon rose with earthshine was breathtaking. This was another case where the view seemed to be improved by the use of two eyes. On another night the first quarter moon showed very good detail along the lunar terminator, including a number of craters.
I have used the binoculars since then and each time have been impressed by their performance. They offer far more performance than the price may suggest. The coatings seem to really help bring out detail. For example each of the objects I observed on the first night I have observed many times before with my older pair of 9x63mm binoculars before they were broken. In each case the detail shown in the objects I observed showed up much better in the 11x70mm's than the 9x63mm's, much more than one would expect for simply the difference in magnification and aperture. I believe the coating have a lot to do with the better light transmission and contrast in the 11x70mm Oberwerks.
So what pair would work best for you? It depends upon your observing needs and style. Since I use my Oberwerks sometimes during the day without the benefit of a tripod the 11x70mm's were my choice. If you have a heavy duty tripod and or binocular mount and have a smaller pair of binoculars for daytime use than you may prefer the 15x70mm's. Another consideration is that the 11x70mm's have longer eye relief, important if you wear glasses when observing. Either way I don't think you can go wrong with these binoculars. Highly recommended.
Eric Jamison is an experienced astronomer and enjoys doing sketches at the eyepiece. He has an excellent webpage full of articles, drawing and personal reviews at http://home.fiam.net/ericj