CNers have asked about a donation box for Cloudy Nights over the years, so here you go. Donation is not required by any means, so please enjoy your stay.


0
Books & Software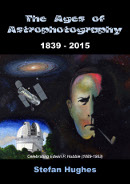 The author, Stefan Hughes, is a historian/ astronomer with a passion for astrophotography and genealogy (family tree research). His interest for ancestral research and the lineage of families gave rise to his first book "Catchers of the Light - The Forgotten Lives of the Men and Women who First Photographed the Heavens" in which he focuses on the background of the first astro photographers and astronomers 19th and 20th centuries. The second book, "The Ages of Astrophotography" is a must-read sequel which fits well on every astronomer's book shelf!
Read story →






Lessons from the Masters: Current Concepts in Astronomical Image Processing (Springer, 2013.) edited by Robert Gendler is an essential addition to library of every serious astrophotographer. Gendler, who edited this 387 page work is himself a Master of the art and science of astrophotography with a rich portfolio of astrophoto accolades and achievements, including 107 NASA APOD selections. Gendler is a physician by profession and therefore technically an "amateur" astronomer. However he routinely teams with the world's leading professional observatories to create masterful images from their exquisite data sets.
Read story →





I love this program. It not only has almost every object I could possibly see with my 16" scope, it has ways to select them and
Read story →






I'm a hard-core observer and love nothing better than a good reference book with information that is relevant to my goals. Since my friend Roger and I started an Observer's Challenge with the
Read story →





My first thought when I picked the book up was that this was going to be some heavy reading. Literally. The book weighs over five pounds and measures 12 inches by 10 inches, weight and proportions combining to make the book somewhat awkward to holding while reading. This is not a book to
Read story →





IRAF, which stands for Image Reduction and Analysis Facility, is a collection of very powerful astrophysical software. It is widely used for image reduction and data analysis for
Read story →





My good friend Dave recently gave me a very large and heavy hardback Astronomy book titled Astronomica. This book is
Read story →





I've found this free software to actually be quite invaluable! It's extremely useful when you want to
Read story →





This large version is about 8 inches in diameter. The text is pretty small. As someone who is new to astronomy and my need to rely on a planisphere to orient myself, I would have
Read story →





Ever wonder where it all came from? Professor Trefil has and he dose a Big, bang up job of explaining it. The book is divided into three parts
Read story →