CNers have asked about a donation box for Cloudy Nights over the years, so here you go. Donation is not required by any means, so please enjoy your stay.


0
Astronomical Sketching
Discuss this article in our forums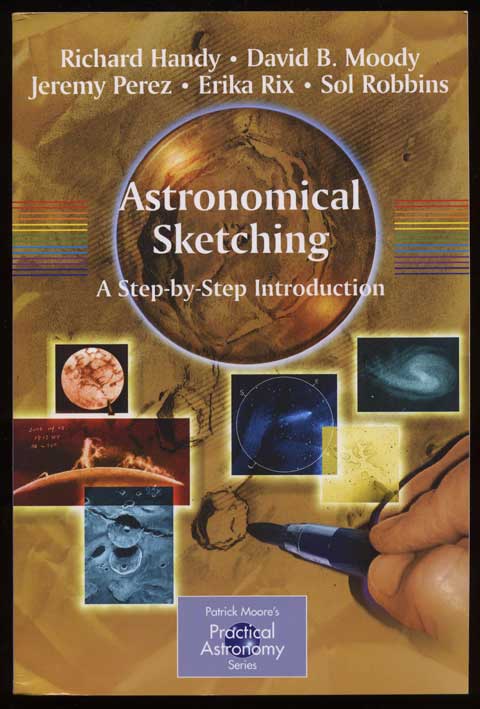 Astronomical Sketching: A Step-by-Step Introduction
by Richard Handy, David B. Moody, Jeremy Perez, Erika Rix, and Sol Robbins
Reviewed by Thomas Watson
When I was very young some kind soul tried to teach me how to draw a duck, using that peculiar method of ovals and squares art teachers find so attractive. What I ended up with looked very little like any sort of waterfowl from this world, which may explain my later infatuation with science fiction. The experience was, to be honest, more than a little embarrassing, and I spent many years afterward looking at the art of sketching the way I viewed algebra or public speaking, with fear and loathing. Realizing that many of our most cherished limitations tend to be self inflicted, when I returned to college after a lengthy delay I studied public speaking, tackled algebra, and took a class that involved sketching what I saw of plant specimens through a microscope. Those sketches were more than good enough to get the job done, which surprised me. So I was less inclined to balk at the sketching requirement for some of the Astronomical League clubs when I took up astronomy a few years later. As I continue to work my way through the Messier Club I find myself with quite acceptable pictures. Acceptable, however, does not mean they are especially pretty, which they certainly are not. But they meet my needs and the AL requirements, and for the most part dress up my log book in a pleasing way. And the act of sketching really does improve my ability to concentrate on an object and see more of its subtle details. So these sketches in my log get the job done.
Visiting the Cloudy Nights sketching forum, however, often leaves me feeling as though I have come up short, back to scrawling mutant ducks while others are depicting swans in flight. Some of the sketches posted on the forum are, in a word, beautiful. They get the job done, but on a different order of magnitude. As I look at these sketches I often wonder, "How in the world do they achieve such effects with mere pencils?" Now, four of these master sketchers have provided us with
Astronomical Sketching: A Step-by-Step Introduction,
a tutorial in book form that reveals these secrets, not the least of which is that they don't
just
use pencils!
The material covered in the book provides instructions for the sketching of a variety of objects that might be observed by amateur astronomers. The first chapter starts this out by teaching how to sketch features on the Moon, employing two of the authors, Richard Handy and Erica Rix, who instruct us on basic pencil and charcoal sketching, as well as more specialized techniques (pens, and white chalk on black paper). These techniques, when mastered, can yield striking and dramatic images of the lunar surface. I must admit that of all the observing I do, the idea of sketching lunar features intimidates me the most, to the point that I just don't bother. I finished reading the first chapter, looked back over the illustrated steps (especially of the pencil and charcoal techniques), and realized that I need to reconsider my position on the matter. The second chapter covers the sketching of comets. Jeremy Perez uses the need for subtlety in sketching such ethereal objects as a means for teaching how to apply graphite to paper with a range of light touches, using ideas and techniques that are echoed in other sections of the book. Here is where I learned what a versatile tool the blending stump can be, and how essential it is to properly render the ghostly glow of objects such as comets. I had wondered what that funky paper stick was in the sketching kit I picked up a while back. (Unfortunately, this kit was put together on the assumption that you knew how to sketch, and no instructions were provided.)
Erika Rix takes over in chapter three with several tutorials on sketching solar observations, covering both white light and hydrogen alpha observing techniques. Whether you use a filter, solar projection, or a PST, you will find a way in this chapter to render what you see into something more permanent than memory. The tutorial for sketching the view through a hydrogen-alpha filter provides especially striking images. The baton is passed then to Sol Robbins, who in chapter four walks the reader through the tools and techniques he employs when sketching planets, notably Jupiter, Saturn, and Mars. It would not have occurred to me to use layers of graphite to depict surface features until I read of it in the chapter on sketching planets. He also provides templates for drawing these planets (in the back of the book) that are sure to simplify the process. Jeremy Perez returns for chapters five and six to cover the sketching of deep sky objects such as star clusters and nebulae, respectively. Ever wonder how sketchers manage to make such nice, round dots with a pencil to represent stars? Or deal with stars plotted in the wrong place? The secrets are here revealed, and the answers are so obvious it is almost embarrassing. Last but not least, David Moody provides in chapter seven a tutorial on the challenges of sketching the most distant objects routinely observed by amateur astronomers, the galaxies. His special emphasis is on practicing before trying your hand at sketching a 'faint fuzzy' in the dark, employing Edwin Hubble's famous 'tuning fork' to help the reader gain familiarity with a variety of galaxy shapes.
For each of these topics the reader is walked through concise, clearly written instructions that are profusely illustrated with photographs of an author's hand holding the pencil, blending stump, charcoal stick, or eraser needed to perform the steps. These tools of the trade are listed and described at the start of each tutorial, and tips are provided regarding their effective use. These tips and tricks are supplied when they are needed to accomplish a specific type of sketch, and are not segregated into a general how-to-sketch chapter. At first I thought this might prove cumbersome, but reading the book through proved that this was the best way to organize the material. You are introduced to these tips and techniques in a context that best illustrates how they are employed, the best possible illustration of the ideas involved. Many of the ideas featured in a given section can also be employed under other circumstances.
This is not a large book, and some might be reluctant to buy it, given the price. A quick look, however, will show you what I mean about the degree to which this book is illustrated. Even ordinary black and white photographs will quickly run up the price of a book, and these photographs are reproduced which exceptionally high quality. Neither text nor photos alone would provide such effective instruction, but the prose combined with those pictures makes it all very clear. So, put the price in perspective. When was the last time you bought a good eyepiece, brand new, for forty bucks? If you have tried to sketch the view in the eyepiece and been frustrated by the result, I believe you will find this book turns out to be an investment that pays you back, in terms of satisfaction, at a rate comparable to the best eyepiece you own.
Reading this book provided me with a series of revelations, and the 'secrets' revealed (having nothing to do with ovals, squares, or ducks) all seem do-able, a tribute to both the writing and editing involved in producing this slim volume. I found myself finishing the book with the thought that I, too, could (with practice) upgrade my own sketches to something like the work I've viewed so enviously on the forum. Put a proper emphasis on the word 'practice.' The authors certainly do. Reading this book will not turn you into an artist. However straightforward the authors manage to make these techniques seem, you will need to set your hand to them yourself to complete the learning experience. This is true of all things, of course, but most things in life don't come with such a handy instruction book to get you started.
Publisher: Springer June, 2007
$39.95
Article: Astronomical Sketching