CNers have asked about a donation box for Cloudy Nights over the years, so here you go. Donation is not required by any means, so please enjoy your stay.


0
Iridium Flares - iPhone/iPod App
Discuss this article in our forums
Price: $0.99

There are a growing number of Astronomy-related applications (apps) for use with the Apple iPhone and iPod Touch. Iridium Flares, created by Dennis van den Berg, has one simple purpose—to let you know when and where to look for iridium flares. (Iridium flares are short-term, very bright reflections caused by sunlight reflecting off the antennas of communication satellites owned by the Iridium Corporation. For more information, check out www.heavens-above.com/iridiumhelp.asp)

Setting up and using the app is very easy to do, but, because it pulls information from the very cool Heavens Above website (www.heavens-above.com), you do need to have a wifi connection.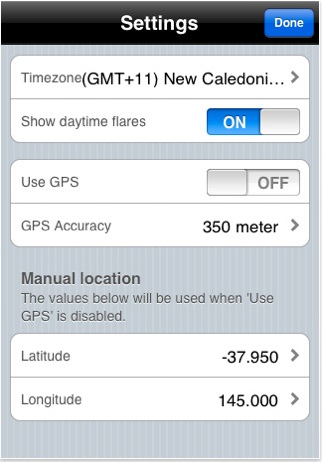 1. Choose your time zone.
2. Set your specific location in one of two ways. Either let the software find you using the iPhone/iPod's built in GPS or manually enter your longitude and latitude.
Once your location is set, the app automatically displays the iridium flares viewable from your location for the next seven days.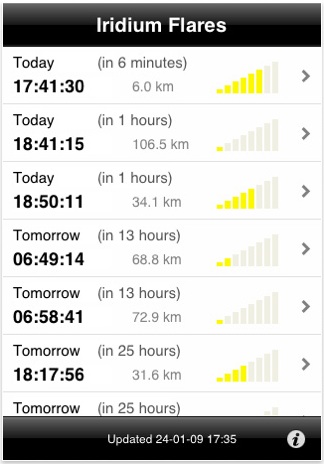 The main screen shows you date, time, and intensity of the flares.
When you select the flare you are interested in seeing, a second screen gives more details including:
Apparent magnitude from when it is first visible and when it's at its brightest

Which direction to face (azimuth)

Its altitude

Your distance from the point on the ground where the satellite would be directly overhead (the closer you are to this point, the more accurate the predicted magnitude)

Its altitude

The name of the satellite
In general, this app has worked very well for me. The direction and altitude are displayed both as numbers and graphically. The direction is represented by a compass-like graphic and the altitude is represented by an angle. These might not be necessary for many night sky enthusiasts, but I found that they made it very easy for me to look in the right place every time.
The application stores the latest search data. This lets you take your iPod outside and still see the results when you are out of wifi range. (This is only an issue with the iPod Touch, since you can always have Internet access with the iPhone.)
I don't find the distance information to be terribly useful. This information on the Heavens Above website is combined with the direction you would need to travel if you wanted to be directly under the satellite's path.
The only real issue I have is that it does not work for me when I try to set my location using GPS. This could be because I have an older iPod (although it did work at one time). Manually entering my longitude and latitude worked fine.

Pros:

• Easy to use/clean interface
• Graphic representations of intensity, direction and altitude
• Stores the latest search data so you can still see the last results when you are not in wifi range.
• Has an option to display information for daytime flares

Cons:
• Requires a wifi connection with the iPod Touch
• Did not work using GPS (might be specific to me)

You could get this same information using a computer accessing the web, but if you have an iPhone or iPod Touch, the convenience of being able to take it outside with you is well worth the 99 cents

Disclaimer: I am not in any way affiliated with Dennis van der Berg, Apple Computers, or the Heavens Above website.
Article: Iridium Flares - iPhone/iPod App