CNers have asked about a donation box for Cloudy Nights over the years, so here you go. Donation is not required by any means, so please enjoy your stay.


0
Objects in the Heavens - Book Review
Discuss this article in our forums
O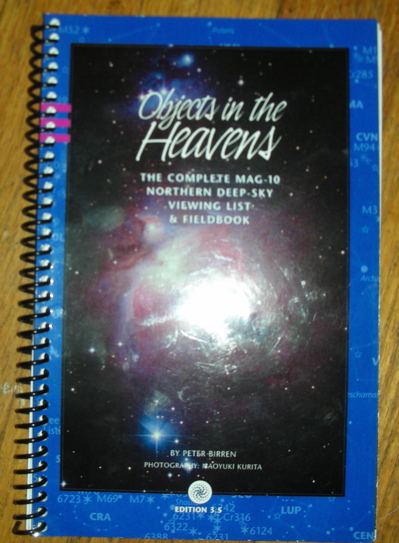 bjects in the Heavens - by Peter Birren
116 pages; black coil; laminated covers; 5.5'' x 8.5''
US $24.95; 116 pages; 1-55369-662-x
I'm an average amateur astronomer. I observe with a smaller scope from an urban or sometimes suburban location. I almost never see skies darker than NELM 4.0. I know something about the night sky, but not enough. I help out others, but am always asking for help, myself.
And I'm always asking, "What do I look at next?"
But most of the time I'm asking that while I'm looking through the eyepiece. If you're anything like me (and I know I am – after all, I'm an average amateur astronomer), then you like the idea of quick and easy set up. You want to spend more time observing than planning. Sometimes (make that most of the time) you haven't planned your observing session to the nth degree. You look outside, see that the sky looks good and you want to go out there and start observing right away. Clouds move around, you sweep the sky, and suddenly you're looking at a different area of the sky than you originally intended. But what do you look at? You just need that gentle nudge in the right direction without a lot of fuss.
Enter Birren's Objects in the Heavens. This is an incredibly handy little book. It works as field book, notebook, reference book and sketchbook. It features:
676 northern hemisphere deep sky objects

153 double/multiple stars

70 maps of the sky

Object ratings

Double star list

Messier Index

NGC Index (with Messier cross reference)

Common Name list (with several asterisms)

Planet info

Major meteor shower dates

Seasonal constellation charts
That's a lot of information packed into such a small book.
This book is geared to observing with smaller telescopes and binoculars. It shows DSOs down to mag 10, so it is also directed towards suburban and city observers. The maps have their own symbology to demonstrate object type and rough magnitude. Looking at the map will tell you immediately what type of object it is and whether it is brighter than mag 7 or not. The author refers to these are "city objects" and suitable for binoculars.
Objects in the Heavens is spiral bound so it lays flat and is designed to be read by red light at night. The pages are laid out so that the list of objects is on the left hand side and the map is on the right. There is no flipping back and forth. All the information you need is in one convenient place. The book is arranged, alphabetically, by constellation.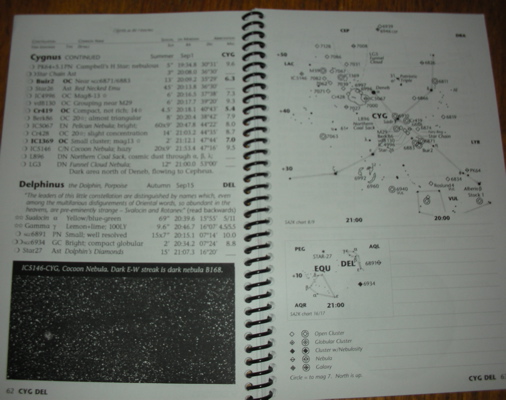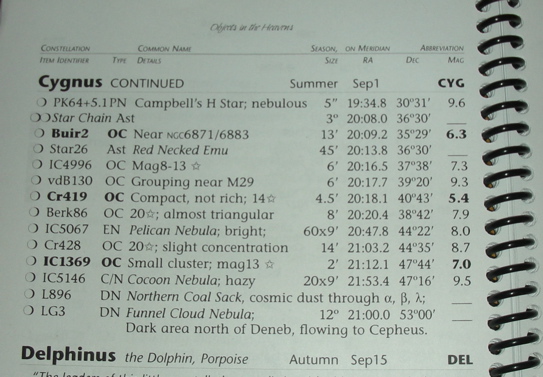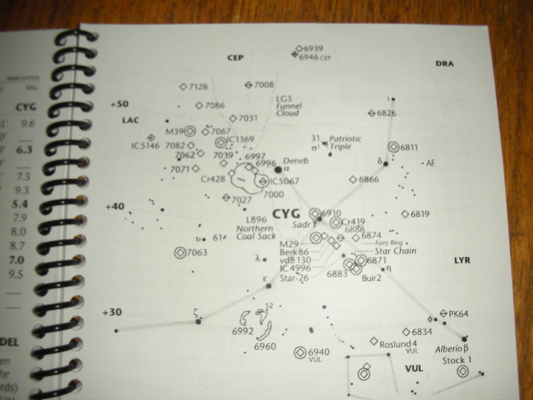 The compact size makes it easy to cart with you wherever you go. It fits easily into any bag or just hangs out in the glove compartment near that spare set of binoculars that you keep in the car "just in case." (See? I am the average amateur astronomer.) It also begs to be used to write in and on. This book isn't a shelf reference. It's a field reference and meant to be used that way.
Objects in the Heavens isn't perfect. It lacks a basic moon map. It would have only added a couple more pages for the map and a similar number for a list of more prominent features.
It claims to be a sketchbook, but the circles provided are too small for my taste – about 2 inches in diameter. There are also too few provided – only 15. And they are at the back of the book which seems to defeat the otherwise fantastic layout of the book in having all of the information on facing pages so you never have to flip back and forth.
The book is printed on standard paper that picks up dew, dirt, whatever pretty easily. This book will become dog eared. But Objects in the Heavens is so good you'll want to replace it when it becomes too worn to be used.
Conclusion
This book is not a replacement for your favorite star atlas. It's not a replacement for your favorite reference material. It's your "quick and dirty" way to sit at the telescope, not have a lot of other reference material around, and have a list of objects to view, brief information about those objects, and have it presented to you in a format where you can easily move from one to the next. There are many nights where this is the only reference I bring to the telescope. Add a better sketch book, a moon map, and you're in business!
Chris Ragaisis (Average Joe Chris, amateur astronomer)
Milwaukee, WI
Article: Objects in the Heavens - Book Review