CNers have asked about a donation box for Cloudy Nights over the years, so here you go. Donation is not required by any means, so please enjoy your stay.


0
The Night Sky Planisphere
Discuss this article in our forums
I got The Night Sky planisphere (large version) to help me orient myself to the stars and constellations. This is a good quality planisphere. It is made of firm plastic material which means it will not be damaged from dew that forms late at night. If it gets dirty, I can easily just wipe it clean. It even comes with a clear plastic cover that you can put the planisphere in to store it in.
This large version is about 8 inches in diameter. The text is pretty small. As someone who is new to astronomy and my need to rely on a planisphere to orient myself, I would have preferred a larger planisphere. Another thing I did not like about this planisphere is that it splits up the north and south views on the front and back. This makes it harder to know where the front ends and the back begins in relation to the sky. I would have liked the whole horizon on one side of the planisphere.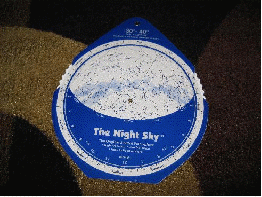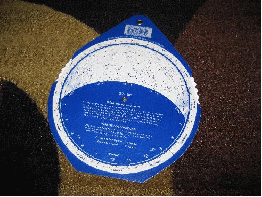 Article: The Night Sky Planisphere