CNers have asked about a donation box for Cloudy Nights over the years, so here you go. Donation is not required by any means, so please enjoy your stay.


0
Celestron Astromaster 130 EQ review
Discuss this article in our forums
Celestron Astromaster 130 EQ review
By Jim Aamot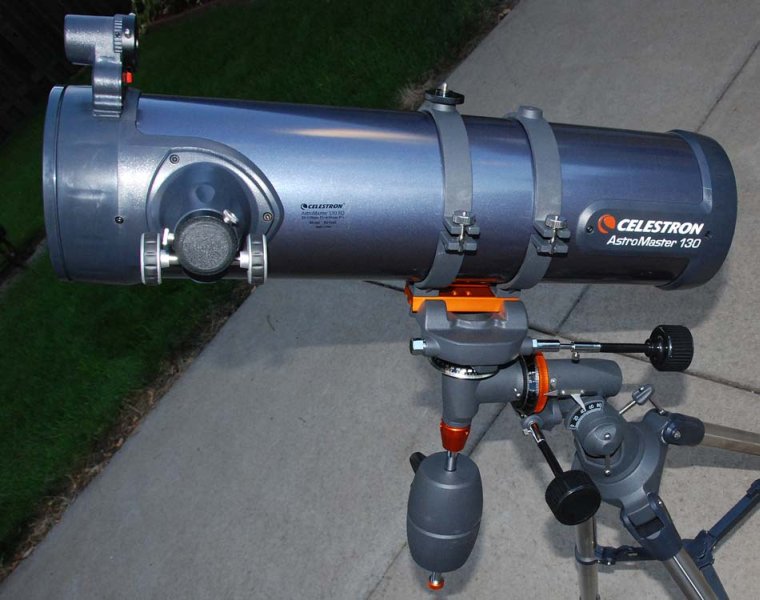 I live in the north central region of the US near the Great Lakes. I have an engineering background and was a surveyor for over 10 years. Also, I'm an accomplished amateur photographer. I spent nearly 6 years just reading about telescopes and trying to find a local star party before I finally bought a telescope. and even then I opted for a very simple, low cost 5.1" Newt. Just FYI the price (with a seasonal Holiday discount and free shipping) was under $250 USD.
The price gets 2 thumbs up.
So let me start off saying that the packaging was adequate, and everything arrived in good shape. The instructions were easy enough for me, and I had the scope up and looking through a window in less than an hour. Since this comes with an EQ mount, most beginner level users will find that scanning with the adjustments and pointing the scope with the locks loose is unnatural and confusing. I got used to it quickly enough, so I think others will too. Surveying instruments use altitude-azimuth mounts. I'm not sure Celestron's choice of an EQ mount is a good one for this scope.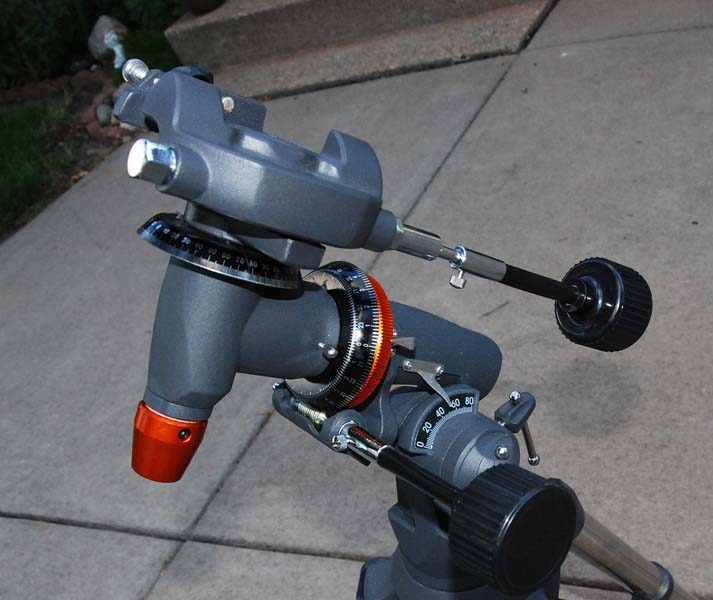 Why not? Well, for one thing, they advertise it as being useful for bird watching and package it with a 20mm erecting eyepiece. Quite frankly, in my opinion, that eye piece is a mistake on many levels. I'm sure the marketing department at Celestron pushed for it and won. It's a plastic eye piece that I was not at all impressed with, however for viewing the moon it wasn't a complete waste of material. When you couple the erecting eyepiece with the EQ mount and attempt to use it for bird watching, you really need to have a fixed spot like a feeder. If you think you'll get good at darting across the park with your scope instantly viewing birds all over the place, forget it.
So the bird watching aspect gets a general thumbs down.
Since I mentioned the eye pieces, I'll go into those now. You get 2 of them. the aforementioned 20mm plastic one and a 10mm metal cased one (I will not guess at the design types). After my initial uses of the scope, I did some research online regarding the optics. The general consensus is that a decent eyepiece can go a long ways with a 5" Newt so I took their advise and I purchased a Meade 32mm Super Plossl wide field and a Celestron 2x Barlow Ultima SV. WOW! I have to say, that the original eye pieces are adequate for a beginner, but they don't do the optics of this Newt justice.
So the included eye pieces get a big shrug. For the price, I am not going to knock them. They work and are useable. My first views of the moon, looking through a window (in winter) were satisfying and showed that the scope came collimated and useable right out of the box.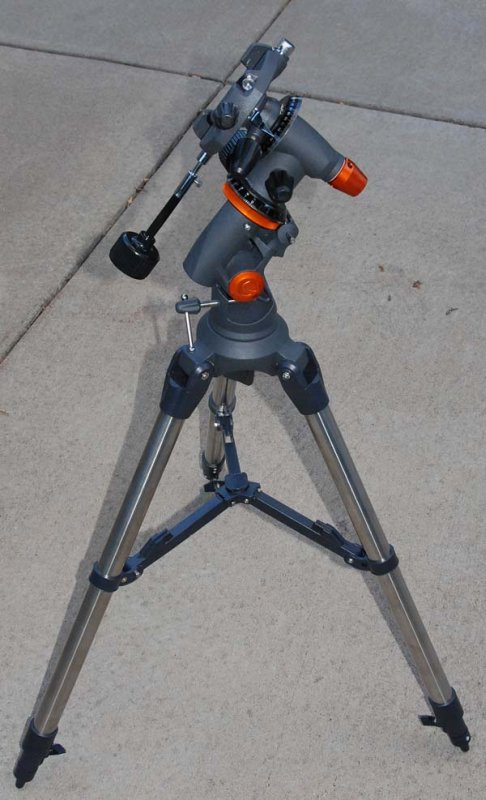 Next we'll talk about the mount. It looks good, it's sturdy enough to hold the OTA (marginal, but it works) and the 2 fine adjustments are smooth. That's everything good I have to say about it. Being an EQ mount I expected to be able to polar align this mount. While I'm sure it's possible, the mount doesn't come with a level bubble on the head so setting the legs is by guessing, or using a framing level (not supplied). I know my latitude is about 43 degrees so I attempted use a combination of the tripod legs and the fine adjustment to get the axis pointed at Polaris. Frankly, I finally decided the functionality was really too lacking. My locking devise for the latitude doesn't lock anything. The weight of the OTA and counter weight hold things in place, so it isn't a worry, just annoying. You have to loosen the main locking screw under the base to rotate the head and then tighten it. a process that I found consistently re-aligned the head when I cranked it down tight. Be careful when viewing that you don't touch the OTA, the shake is significant. Dampening it with slight pressure on the focuser had mixed results. The last thing about this mount is that the protective packaging was a little difficult to remove and a little of it persists in the places when I decided the effort wasn't worth the reward.
Honestly I have no problems with the mount when you consider the price. This scope is meant for a beginner; to introduce someone to the wonders of astronomy. In that, I think the mount completely succeeds. Thumbs up for the mount.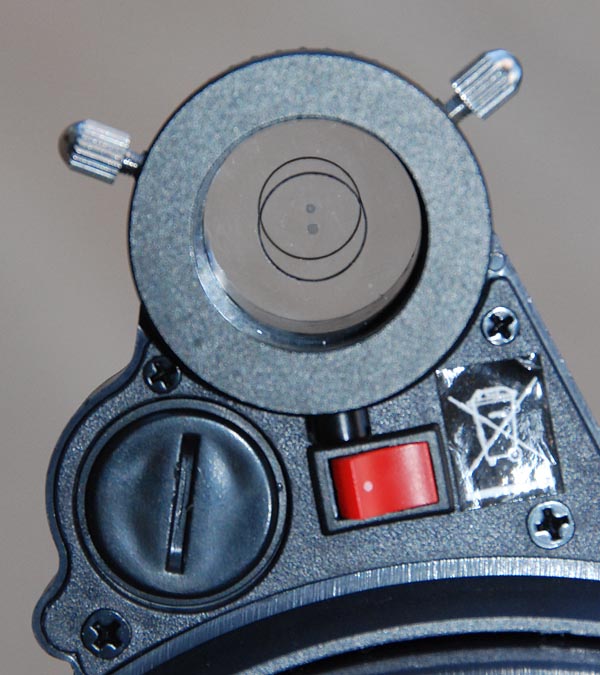 The OTA is basically sound and of very good quality where it counts most; the primary mirror. With a good eyepiece the mirror reveals itself as a finely crafted light collector. The focuser is cheap but it works fine. I've had many combinations of eyepieces and barlows in it. The finderscope is a bit disappointing. I had to max out the adjustment to get it aligned close enough to be useful. In daylight it's reasonable, but at night only the central dot is illuminated and not the 2 outer rings. Having a good low power eyepiece is just plain essential for this scope/finderscope set up. I'm not sure if I can replace the finderscope on this OTA but I would if I could. I particularly disliked trying to use it on anything directly over head. I do not have a spare battery with me either. and that's another item I need to be concerned with.
SO the optical mirror - 2 thumbs up
Focuser - 1 thumb up
Finderscope - thanks, but no thanks.
Overall the Celestron Astromaster 130 EQ is an excellent value, extraordinary in that it's small and light enough for portability but doesn't lack the optical capability to see some DSO's well enough to be certain of what you're viewing.
Article: Celestron Astromaster 130 EQ review