CNers have asked about a donation box for Cloudy Nights over the years, so here you go. Donation is not required by any means, so please enjoy your stay.


0
Celestron Astromaster 90mm review
Discuss this article in our forums
Celestron Astromaster 90mm review
By Mark Scott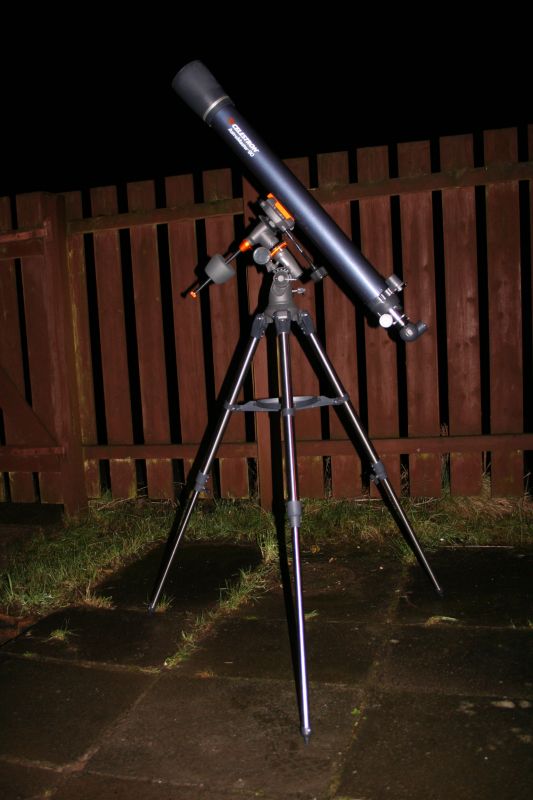 Figure 1. Fully assembled
I've been looking to the heavens for as long as I can remember, but only given my first scope about 6 or 7 years ago (if my wife only knew where it would lead). Since then I've added another three scopes from 80mm Apo to a 6" reflector. I live on the west coast of Scotland not far from the famous Loch Lomond. The place where it seems to rain the most (I'm sure we all have that feeling).
I thought I would put a small write up on the Celestron Astromaster 90mm F11 scope that we bought as a first scope for our son. This scope's big selling point is that no tools are needed for set up. This review is more about the build quality than first light as predicted the weather has been horrific since Christmas only allowing us to view the moon and Jupiter for around 15 minutes.
OTA
On examining the tube itself I have noticed two or three small dings on the scope that were there before painting. The marks look like the kind of impact marks you get on a car bonnet when a small stone is kicked up by the car in front. Other than that the OTA looks every bit the instrument it should.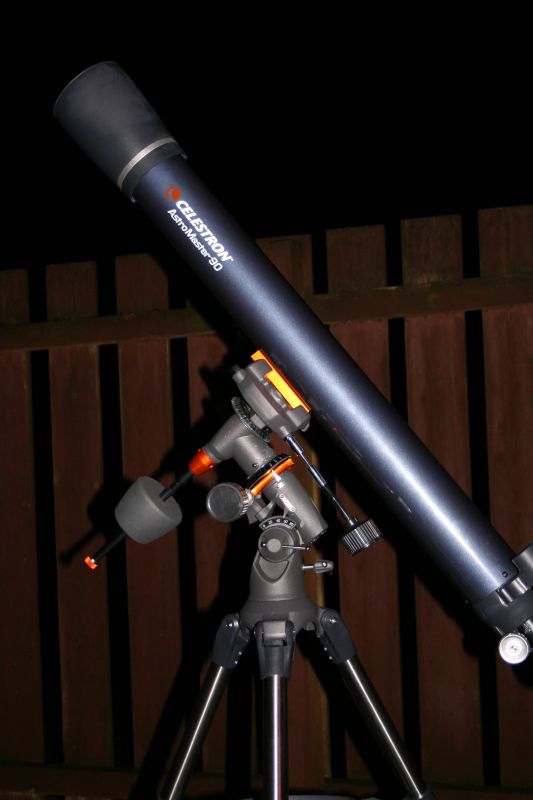 Figure 2.
Counter weights
The counter weights were another issue. The hole in one weight was not wide enough to fit on the tube provided and I had to bore it out to fit. The other weights locking nut did not reach the bar to secure it, on examining the box I found what could only be described as a metal dowel similar to the ones used to hold shelves in flat pack furniture. This I used as an extension to the locking nut resolving this issue. A small note in the box would be a good idea if this was an after thought as I thought it was a piece of junk at first and nearly binned it. On balancing the tube (a first for me) I found I only needed one of the weights. I hope I've done this properly because it's supplied with two weights.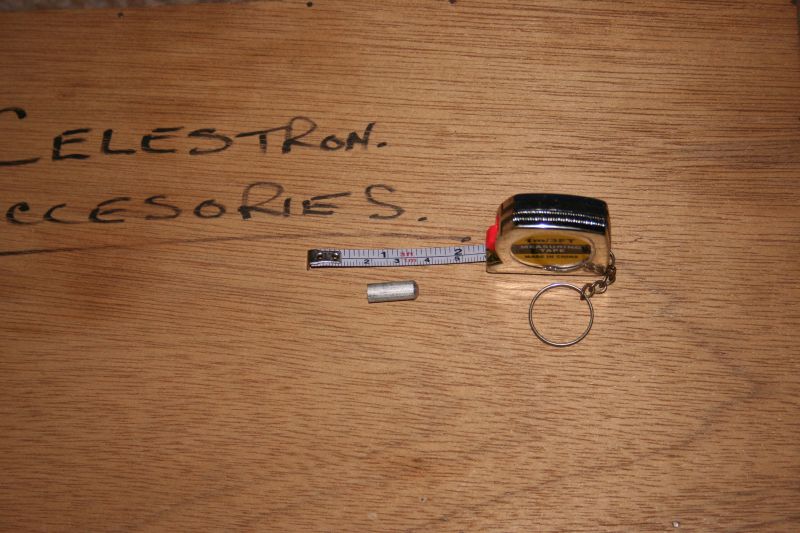 Figure 3. Mystery metal dowel (used for extending the counterweight locking nut)
R.A and Dec locking nuts
The R.A nut is fine, but the Dec nut struggles to grip unless I use what I would say is excessive force to lock it up, maybe another small extension is needed here again. The slow motion controls are very smooth, but as I mentioned above the scope is a no tool set up. Unfortunately this is not strictly true because the slow motion controls need tightening with either the triangular plate supplied or a small flat headed screwdriver. Finger tight was not tight enough for a smooth responsive action.
Red dot finder
I have not really had the use of this for testing, but with the street lights around my garden I predict it will be useless, a 6x30 finder would be better. Fortunately I have a spare one, but there is no obvious way of mounting it without damaging/drilling the OTA, thus voiding all warranties.
Focuser
This feels good in the hand, quite firm not stiff. I don't see any problems holding heavy EP's. Finding the focal point was easy.
Diagonal
This is a right image diagonal, but I find there are reflections from light getting in through the EP's, its side lined for night viewing.
Eyepieces
Supplied with the scope are a 20mm and 10mm.
The 20mm gave nice clear views of the moon; Jupiter was a little harder to pick details out. I did however manage to see two bands this is probably because the scope did not have an adequate cool down time due to weather forcing us to run back inside. The moon view was nice and crisp with little to no colour fringing.
The 10mm supplied was useless, we just could not get a view or bring it to focus. On inspecting the EP in the house it looks like the bonding material for the glass has been smeared over the lens
1.25" stand
This has a good solid feel to it; it's very easy to set up with ample provision for a few EP's on the tray provided. Although a little light for a 90mm scope with a length of 1000mm in medium to strong winds. If this was your only stand I would recommend hanging a small sand bag under the accessory tray to give added stability.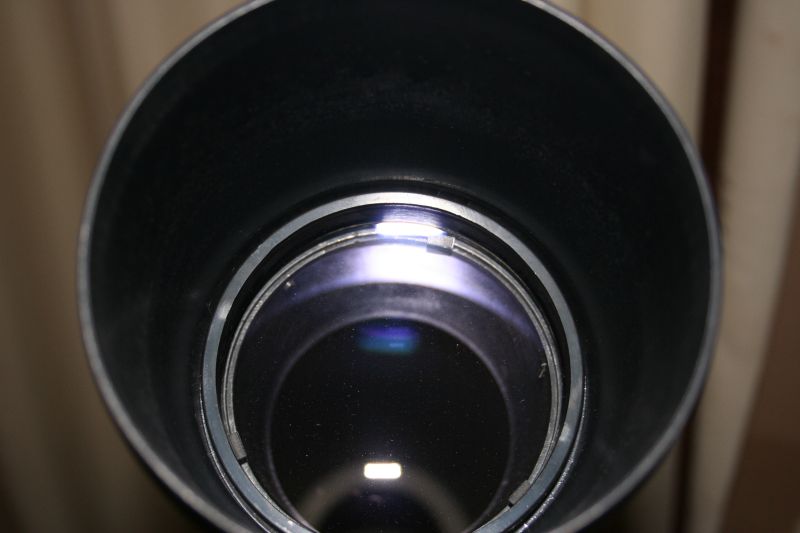 Figure 4.
My overall impression
Would I buy this scope again?????? I think I would!
All the above are small things that can be sorted and I guess I'm nit picking because I see this as a precision instrument so I would expect better quality control. As a first scope for my son I think it will serve him well for years to come.
I'm looking forward to our proper first light with my son when I can put my 80mm Apo alongside this scope and compare because the statistics are very similar. Other than F ratio all stats are within a tenth of a decimal point.
Best regards,
Mark
Article: Celestron Astromaster 90mm review