CNers have asked about a donation box for Cloudy Nights over the years, so here you go. Donation is not required by any means, so please enjoy your stay.


2
Celestron Powerseeker 114 OTA Review
Discuss this article in our forums
Celestron Powerseeker 114 OTA Review
by Terry Nakazono
Introduction
I recently purchased the Celestron Powerseeker 114EQ, a 114mm (4.5") F/8 Newtonian OTA which comes with an EQ1 mount.   Originally I was looking for an EQ1 for my Orion Short Tube 80A refractor - it was cheaper to get this mount as part of the Powerseeker package than buying directly from Orion.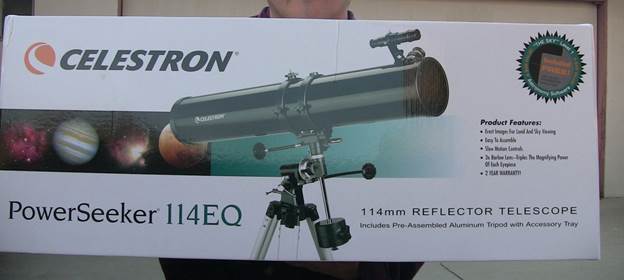 But I was also curious about the nearly three-foot long OTA that came with this mount.  Long-tube, long focal length Newtonians with spherical mirrors in the 3" to 5.1" range have long had a reputation for good optics.  Although the Powerseeker's OTA is identical to that of Orion's Dobsonian SkyQuest XT4.5, the latter sells for $259.99 (as of 6/01/13) not including sales tax, while the Powerseeker package can be obtained for half that price.  How good are the views through this 114/900mm Newtonian, especially one that is only a fraction of the cost of the SkyQuest XT4.5?  Because the Powerseeker 114EQ comes with a mount that is undersized for the scope and supplied with eyepieces that are substandard at best (hence the price), I wanted to test the OTA with a more stable mount and better eyepieces.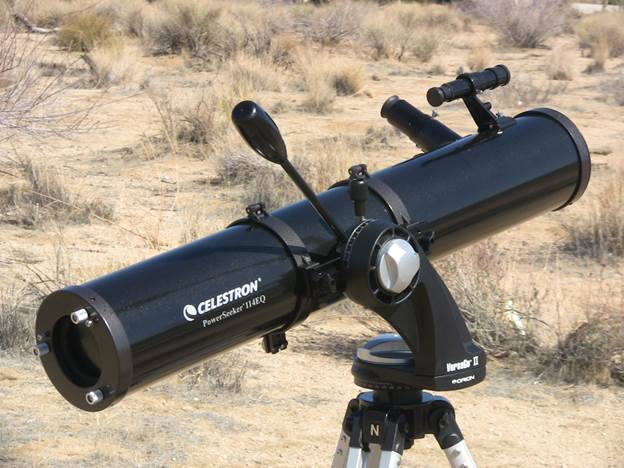 The OTA
When I first took the OTA out of the box, I was immediately struck by the quality of the construction.  Except for the focuser, the outer body is all metal.  The secondary mirror holder is held to the tube by a single stalk, which helps remove some of the diffraction noise that a 3-or 4-stalk spider vane would introduce.  The secondary mirror is held in place to the holder by a plastic sleeve, similar to that used in the SkyQuest XT4.5.  Both the primary and secondary mirrors are collimatable, with the primary mirror being held to the rear of the scope by three rubber clips.  To insure good collimation, I took out the primary mirror, center spotted it, then put a notebook reinforcement ring over the spot.  I loosened the screws holding the mirror clips to alleviate potential astigmatism, but a bit too much, as I later found out.  This caused the mirror to shift whenever I moved the scope up and down, causing miscollimation to occur within the course of each observing session.  I subsequently retightened the screws.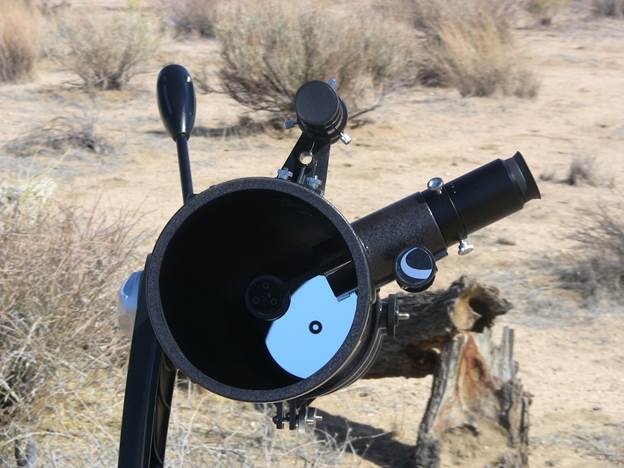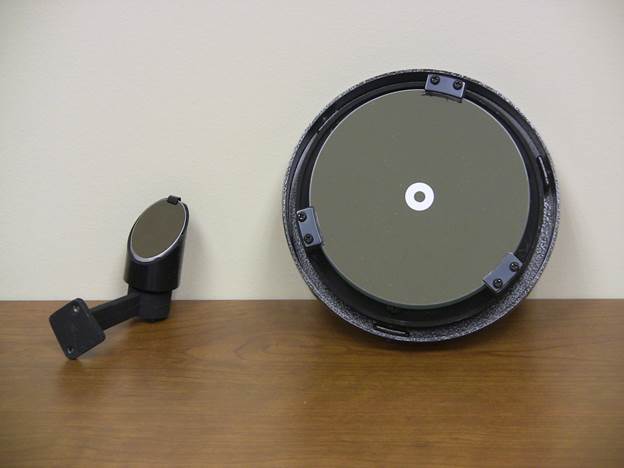 The Powerseeker 114 also comes with two metal tube rings, so unlike the Skyquest XT4.5, it can be attached to a quality equatorial mount with motor drive.  Although the stopped down 5x24 plastic-body finderscope is loosely attached to the scope on a single-ring, three screw bracket, it actually works as a sight finder compared to the difficult to use Star Pointer supplied with Celestron's Astromaster models.  The eyepieces are a 20mm erect-image and a 4mm Ramsden that comes standard with the Powerseeker line of Newtonians.  Last but not least, there is the EQ1 equatorial mount.  Although I currently use a Vixen Mini-Porta altazimuth mount (with two slow-motion controls) on my Short Tube 80A, it would be easier to track objects with just a single turn of the RA knob or better yet, hands-free motorized tracking, when sketching DSO's through the eyepiece.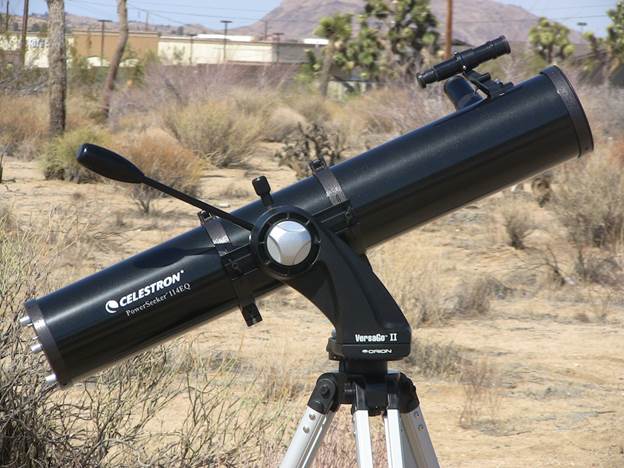 Observations
All planetary and double star observations were made from my light-polluted, white-zone home location.  All deep-sky observations were made from a suburban orange-zone site.  Plossls and wide-field Expanse-type eyepieces were used.     
After attaching a dovetail bar to the rings, the Powerseeker 114 was mounted on an Orion VersaGo II altazimuth mount with a maximum weight load capacity of 15 lbs.
Planets   So far, the only planet I've been able to observe in good seeing conditions is Saturn.    At 100X, Cassini's Division and banding on the planet's disc was clearly visible, along with Titan and one other satellite.  Views got better with increasing magnification, up to about 150X.  At 200X the planet still looked good, if a bit softer; I was able to spot a third satellite near the planet.  Views were sharp up to the edge of the field of view.  
Double Stars  Castor and Algieba (Gamma Leonis) were split well at 120X; at 200X, Algieba showed two sharp Airy-disks.
Deep Sky Objects   In two consecutive observing sessions, my attempts at spotting galaxies yielded a 95% success rate, using magnifications of 53X and 100X.  Overall, I added 19 new galaxies and 1 new open cluster to my database of DSO's observed, logged and sketched (see table below). 
| NGC | Constellation | Type | Visual Mag. | Surface Brightness |
| --- | --- | --- | --- | --- |
| 4138 | Cvn | Glx | 11.2 | 12.7 |
| 4214 | Cvn | Glx | 9.8 | 14 |
| 5248 | Boo | Glx | 10 | 13.5 |
| 5350 | Cvn | Glx | 11.7 | 13.7 |
| 5353 | Cvn | Glx | 11.2 | 12 |
| 5354 | Cvn | Glx | 11.6 | 12.2 |
| 5371 | Cvn | Glx | 10.7 | 13.5 |
| 5532 | Boo | Glx | 11.9 | 12.8 |
| 2742 | UrMa | Glx | 11.7 | 13.2 |
| 3738 | UrMa | Glx | 11.4 | 12.9 |
| 3756 | UrMa | Glx | 11.4 | 13.6 |
| 3769 | UrMa | Glx | 11.7 | 12.7 |
| 3780 | UrMa | Glx | 11.7 | 13.7 |
| 4389 | CVn | Glx | 12.1 | 13.4 |
| 4460 | CVn | Glx | 11.4 | 13.0 |
| 5460 | Cen | OC | 5.6 | - |
| 5557 | Boo | Glx | 11.2 | 12.7 |
| 5660 | Boo | Glx | 11.6 | 13.5 |
| 5676 | Boo | Glx | 11.1 | 13.2 |
| 5982 | Dra | Glx | 11.3 | 13 |
From my location in Southern California, I was able to track Omega Centauri low on the horizon at 100X while I sketched the huge globular drifting across the FOV.  It almost felt as though I could resolve some of the outer stars; pushing the magnification up to 150X might have done so.    
On another night of more average seeing conditions, the scope gave stunning views of the globular clusters M13 and M4 at 150X.  In M13, I could see stars curving out of the nucleus, creating a "whirlpool" effect.  With M4, the bar of stars across the center of the globular was striking.   
Conclusions
My limited observations with the Powerseeker 114 OTA on a more stable mount and better eyepieces have convinced me that this scope is an excellent performer for the price.  I suspect that the views are identical to the more expensive Skyquest XT4.5 when used with the same eyepieces.  I was also pleased with the quality of the construction. 
The Celestron Powerseeker 114EQ almost resembles a department store telescope in appearance and price, but the OTA is probably a good example of a classic 4.5" F/8 Newtonian – well constructed with very good optics.  The EQ1, although mismatched with the Powerseeker, is more suitable for smaller, compact scopes (it comes with the equatorial version of Orion's popular Starblast 4.5).  It will make a nice equatorial mount on my Short-Tube 80.  
Rainguy, BinoGuy, riverrat123 and 2 others like this
Article: Celestron Powerseeker 114 OTA Review