CNers have asked about a donation box for Cloudy Nights over the years, so here you go. Donation is not required by any means, so please enjoy your stay.


2
Celestron PowerSeeker 127EQ
Discuss this article in our forums
Celestron PowerSeeker 127EQ
I recently had a contractor doing some work for us, who, after seeing my 'scope room', mentioned that he too had a scope and maybe I could have a look at it as it didn't seem to be performing……at all.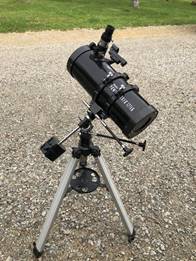 So of course, I said yes, I mean what is better than being able to take apart someone else's scope?
This 127EQ scope sits at the bottom of Celestron's beginner scope range. And with good reason.
It features a 5" primary and a final 1000mm focal length in a 24" long optical tube. This optical sorcery is accomplished by placing a 3X Barlow lens in the focuser tube and shortening the focal length of the primary to F3.5. This is called a Bird-Jones design. In reality, it is a pseudo Bird-Jones design.
The real Bird-Jones design called for a high-quality spherical mirror and a dedicated corrector lens in front of the secondary. It was expensive to make, and a devil to collimate accurately.

The 127EQ uses an F3.5 spherical mirror which is guaranteed to introduce all sorts of spherical aberration to start with. The Barlow lens alone can't address these S.A issues (the Bird Jones design called for a specific corrector – not a Barlow Lens), and because the 127EQ has the 'correctgor' in the moving part of the focuser, it's a constantly moving target. (The original BJ design had the corrector in front of the secondary mirror (ie: not moving)
I suspect that Celestron adopted this approach because it allowed them to drastically reduce the overall size of the OTA from a shipping perspective, and still be able to make extravagant magnification and capability claims. (Which is probably why my contractor bod probably bought one).
By comparison, Celestron's lowly 114mm/F8 straight Newtonian is a stellar performer. (See my review on this site – The Unsung Hero)
Unfortunately, these optical compromises do nothing to help the scope's performance.
So, where do I start?
First off, the scopes optics were filthy. Not Celestron's fault of course, but it certainly didn't help the cause.
Secondly, after a full cleaning and careful re-alignment of the mirrors (you really need to take the corrector/Barlow out of the focuser tube to do a meaningful collimation (how many Newbies will do that?), the scope only puts up wishy washy light flooded images. I even went to the trouble of blackening the inside of the OTA when I had it apart – it made no difference.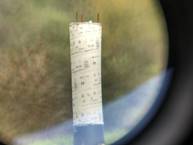 The spherical aberration is brutal. Only the center 1/3 of the FOV could be considered 'sharp'. The supplied cheap eyepieces (15mm and 9mm Plossl) did nothing to detract from this. They only introduced more edge of field fuzziness.
The pic on the left was taken of my telescope pier about 100 yards away using an iPhone looking into the supplied 15mm eyepiece (approx.. 66X) You can see the field curvature in the flared pier sides. )
The supplied 3X Barlow should just be thrown out. The only reason it's there is to make Celestron's extravagant magnification claims a mathematical reality. You could never use it in practice.
The only ray of hope on this scope is that the EQ1 equatorial mount is just serviceable. The axis locks are just thumbscrews, and the movements are jerky and shaky. The short 5" OTA is taxing its limits. Here again, the newbie presented with the un-intuitive movements of an equatorial would probably just give up.
And that's why so many of these scopes are for sale at garage sales or wherever. Poor optical performance and un-intuitive/shaky mounts.
Celestron has 'flooded the zone' with feel-good advertisements, distributor ads and paid influencer plugs to the point where it's hard to find a worthwhile review on these scopes.
Bottom line:
They're worthless – don't buy one. If someone gives you one, put it in the garbage and cut them out of your will.
They put out so much good astro gear. I can only think that this scope and other bargain basement scopes must fall under a different division. But I suppose as long as Walmart, Costco and the rest of the retailers can sell them to an unsuspecting public – it will continue. Celestron should be embarrassed to sell this scope.
I can only wonder how many budding astronomists have been turned off by scopes like these?
I haven't broken the news to my contactor yet. He hasn't finished the job…
rosecityred, Bob Campbell, JMP and 23 others like this
Article: Celestron PowerSeeker 127EQ