CNers have asked about a donation box for Cloudy Nights over the years, so here you go. Donation is not required by any means, so please enjoy your stay.


1
Celestron PowerSeeker 70AZ Telescope ($10 Scope)
Discuss this article in our forums
Celestron PowerSeeker 70AZ Telescope ($10 Scope)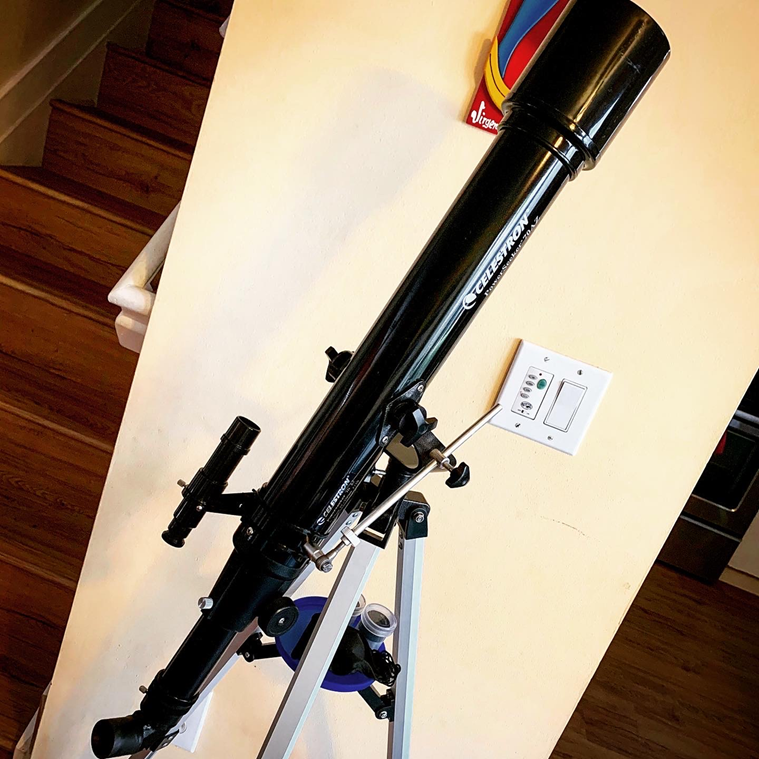 My name is Alejandro Hernandez. I'm 40 years old. I'm a husband and father of three, a full-time editor, a part-time musician, and an avid amateur astronomer.
Here is my review of the Celestron PowerSeeker 70AZ, my first scope.
I got it used at a thrift store for $10. It was missing some parts (diagonal, finder scope, eyepieces, and eyepiece tray), but I got it to work (more info at the bottom of this article).
Now, let's dive in.
Optics
This scope is a 70 mm refractor with a focal length of 700 mm and a focal ratio of f/10. At first, I wasn't sure what all these numbers meant, but as time went on, I started learning and knowing the scope.
I think this telescope has decent optics. Contrast is very good for planets, and with the 700 mm focal length, you can see more than just a dot in the FOV. The moon is also a good target with this scope. Again, contrast is good, and views are clear and crisp.
Aperture is on the small side of things. Being a 70 mm scope there is not much light-gathering power, but it's usable. I used it, a lot.
Hardware
The tube and tripod are very lightweight. Being an alt-azimuth mount, it's easy and intuitive to handle. It's not intimidating, and you can get it going quickly. The bad news is that it's wobbly, but if you're very enthusiastic and patient as I was/still am, it'll be fine.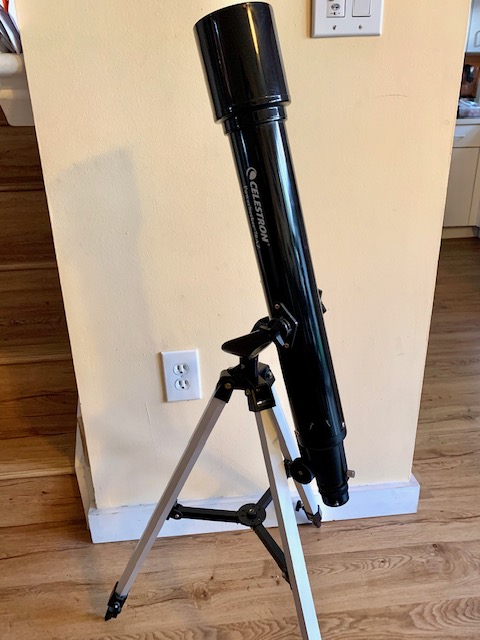 The focuser works. It's not the best but it gets the job done. Once you focus, you'll have to wait a few seconds for the vibrations to stop completely. Depending on the magnification you're using, this can vary between 2–3 seconds to more than 5 seconds.
Comparing this scope with another one of the same family, the Celestron PowerSeeker 80AZS, which I also own (can do a full review of that one, too), I like the views from the 80 mm short tube better, even though the shorter focal length means less magnification. I use the 80 mm more for open clusters and wide views.
Back to this one. This scope showed me and my family (wife and kids) the bands of Jupiter and the rings of Saturn for the first time. It made us go "WOW!" And for that, I will always be grateful.
PROS: Optics are decent. It's lightweight and portable.
CONS: Mount is shaky/wobbly. Not a lot of aperture.
Here is a little background on this scope.
During the pandemic, I saw in the news that a comet was approaching. It was comet NEOWISE. I got a pair of binoculars to try to see it (Celestron's 7x50 binoculars). Of course I didn't, but I got the bug, big time.
As time went by, I found myself learning a lot about the night sky with those binoculars. Then, one day, while searching online, I found a telescope for $10 at a local thrift store. I had to get it, so I did.
It was this scope. It was in good shape with no visible/significant damage; only a small dent in the tube but nothing that affected performance. I took it home and my wife gave it a deep clean. I posted it on a very helpful Facebook group where someone reached out to me telling me what I needed to get it going. The scope was missing a diagonal, finder scope, eyepieces, and eyepiece tray for the tripod. This person was kind enough to send me a homemade star diagonal and an eyepiece of very nice quality, I must say, for which I am very grateful.
I used this telescope a lot. A LOT! I took it out to the backyard every single clear night I could. This telescope showed me the planets (Venus, Mars, Jupiter, and Saturn). It showed me M13, M57, M45 (a closer look than with the binos), M7, M8, M20, and the moon in close detail. It also showed me a power line in great detail; the distant object I used to align the finder scope with the main scope.
I no longer have this scope. I donated it to my astronomy club, hoping it will wow someone else the same way it did with me and my family.
Bottom line is I had fun and learned a lot with this scope. I've read mixed reviews about this line from Celestron, and this was my experience as a total beginner.
That is all for now. I hope this has been helpful.
Clear skies!
Jon Isaacs, Bob Campbell, jgraham and 35 others like this
Article: Celestron PowerSeeker 70AZ Telescope ($10 Scope)