CNers have asked about a donation box for Cloudy Nights over the years, so here you go. Donation is not required by any means, so please enjoy your stay.


1
Cloudy Nights Review: Half-Hitch Free-Turn-X (FTX) Alt-Az Mount
Discuss this article in our forums
Cloudy Nights Review: Half-Hitch Free-Turn-X (FTX) Alt-Az Mount
by Mike Nofi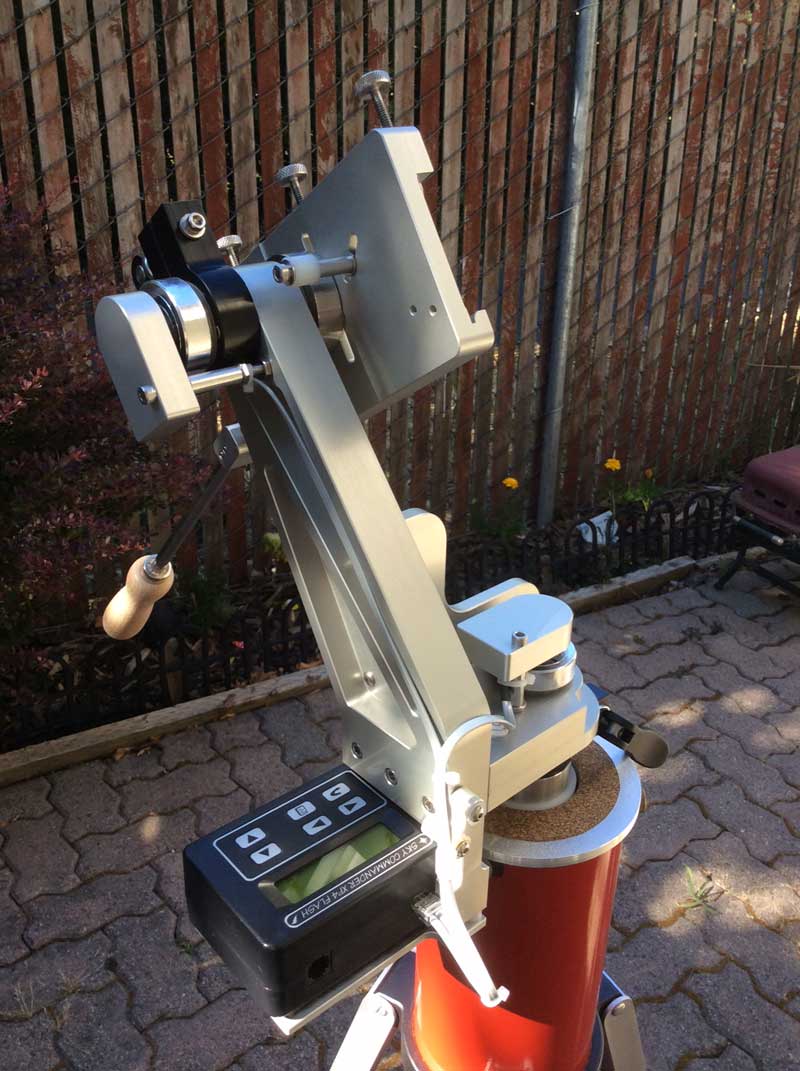 I am an Alt-Az mount aficionado. Having owned several alt-az mounts on the market (Vixen Porta-II, Explore Scientific Twilight II, Tech2000 Giro-cubed, Orion VersaGo II, and iOptron Minitower) I decided to purchase the new Hitch-type FTX for use with my 4 and 5 inch refractors.
I contacted Charles Riddel the designer and owner of Half-Hitch who I found approachable and knowledgeable. I explained my needs and he suggested the FTX. There is also a very enthusiastic user group on Yahoo for these products and I suggest you check it out.
Arrival
The mount arrived via USPS undamaged. Impressive packaging. I felt like a kid at Christmas greedily unwrapping the mount. When I struck pay dirt my jaw dropped open. OMG, this is a work of art. My first thought was this is a custom mount at a price you would pay for a commercial product.
The design is beautifully executed combining functionality with artful flair. Form follows function. All aspects of this design have been well thought out and refined. The grey anodizing finish is stunning, as is the attention to fine detail in the choice of hardware. This is a mount worthy of the finest telescopes. But will it work as good as it looks?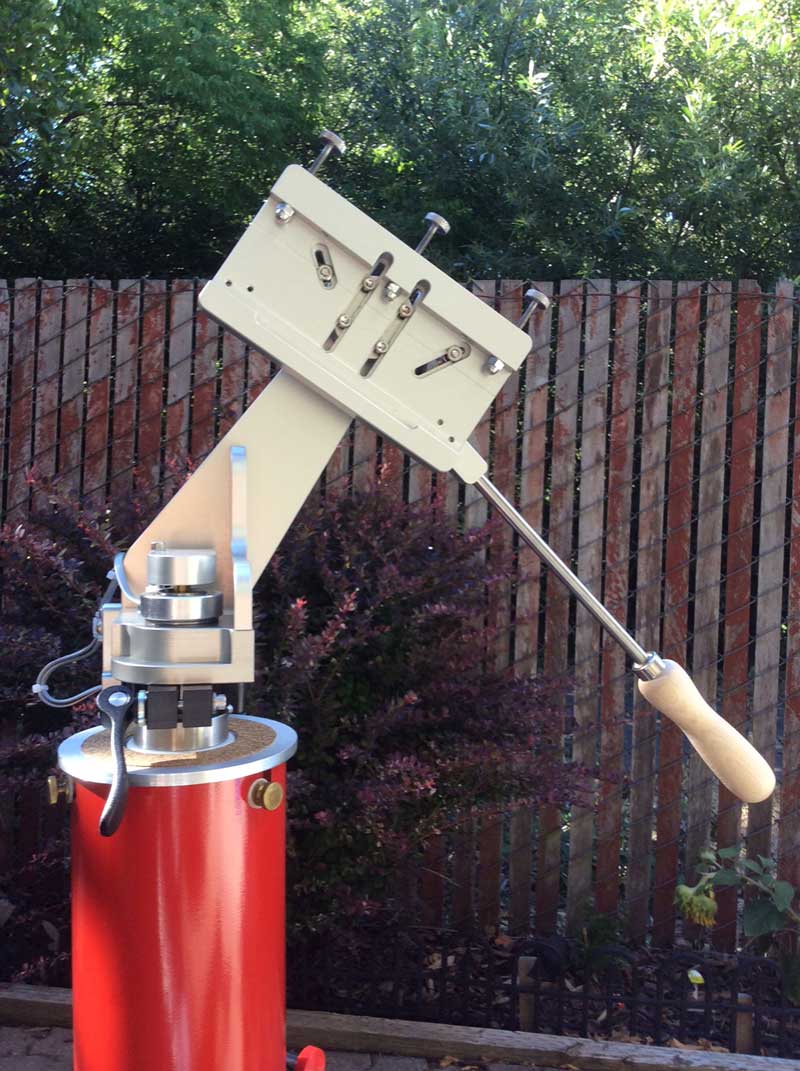 First Light
A nice feature of these mounts is the small base with a 3/8-16 bolt mounting. I can actually attach it to all my tripods. I decided to start with my Promaster HD tripod first.
I mounted my William Optics 80 mm APO and proceeded to balance the scope following Charles' on-line procedure. The procedure is a bit wordy, but the basic concepts are easily digestible especially with the mount in front of you. Too much information is better than not enough.
The two-axis balancing went very well and I was able to move the scope in any direction with minimal force. There is a lot of engineering that went into the telescope mounting system (the custom dove plate and dove). You have to mount your scope to this plate to appreciate how well this system works.
Under the stars the mount basically disappears. It is just you, the telescope, and the stars. This has to be experienced to be appreciated. If you need more stiction you can adjust with the touch of a finger the cam-lever friction controls in azimuth and altitude. There is no heavy handedness required with this mount. All operations require a light touch.
I purchased the mount with the optional Sky Commander XP4 5,000-step encoders which are nicely machined in protective aluminum housings. The system works very well. However, the successful operation of the push-to-go system requires a level mount. There is a built in bubble level provided in the base of the azimuth arm to help in leveling, but I found a small torpedo level worked better.
I have a pier tripod with no built in provision for leveling using the tripod legs (other than shims). While this will work for fiction type mounts (i.e., Giro-cubed, Twilight II, Disc Mounts) it fails with the FTX (because of its free-turn zero stiction capability). To better accommodate leveling the FTX I would recommend a three point leveling system at the base of the mount (similar to the method used by iOptron in their MiniTower mounts). This could be a useful future option for these mounts. You cannot achieve optimum performance with the Sky Commander, unless the mount is accurately leveled. Once done so it is extremely accurate.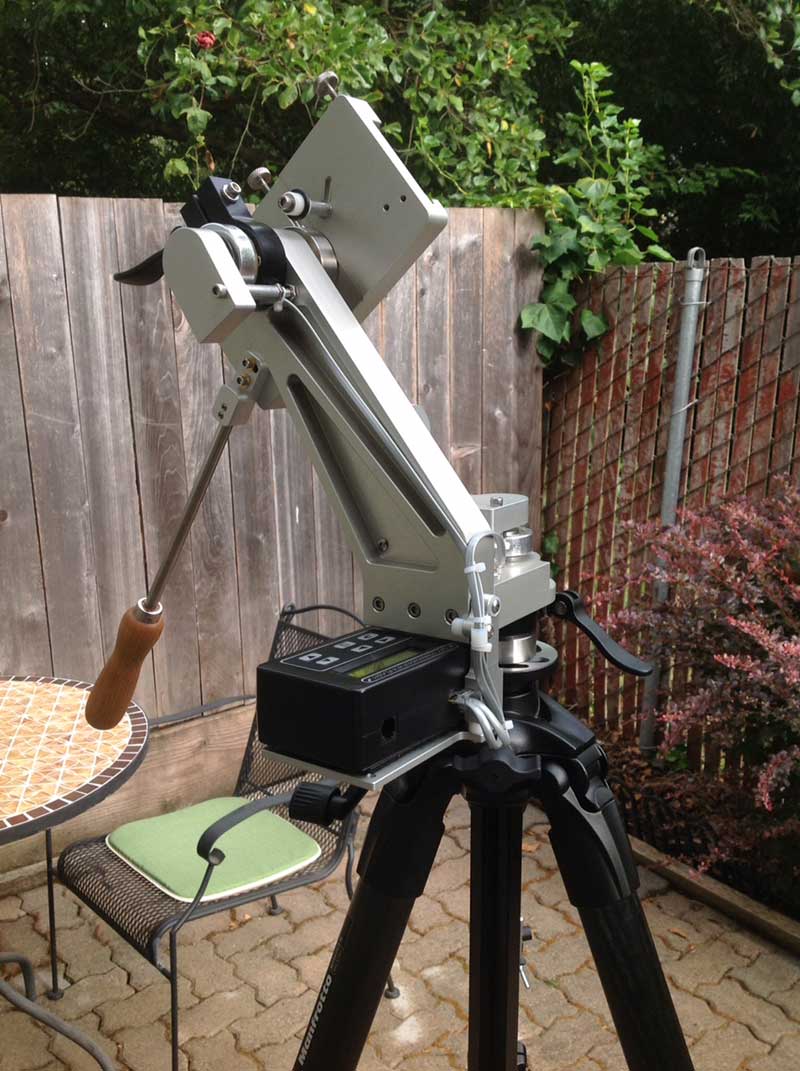 How does it work with larger scopes?
Over the next several nights I progressively tried all my telescopes on the FTX and found that it performed even better with weight (the limiting factor being the tripod). In fact the larger telescopes were easier to balance. The largest scope weighs in at 25 lbs. and the mount had no problem supporting this load. I suspect it would probably max out at about 35 lbs.
In terms of stability at high magnification, I went up to 200x on several double stars without any problem and was able to manually track stars (via the adjustable guide handle). The stiction adjustment is very linear. Of course, it would be nice to have tracking capability, but this would add considerable cost. If tracking is a necessity then a German Equatorial mount is probably what you are looking for.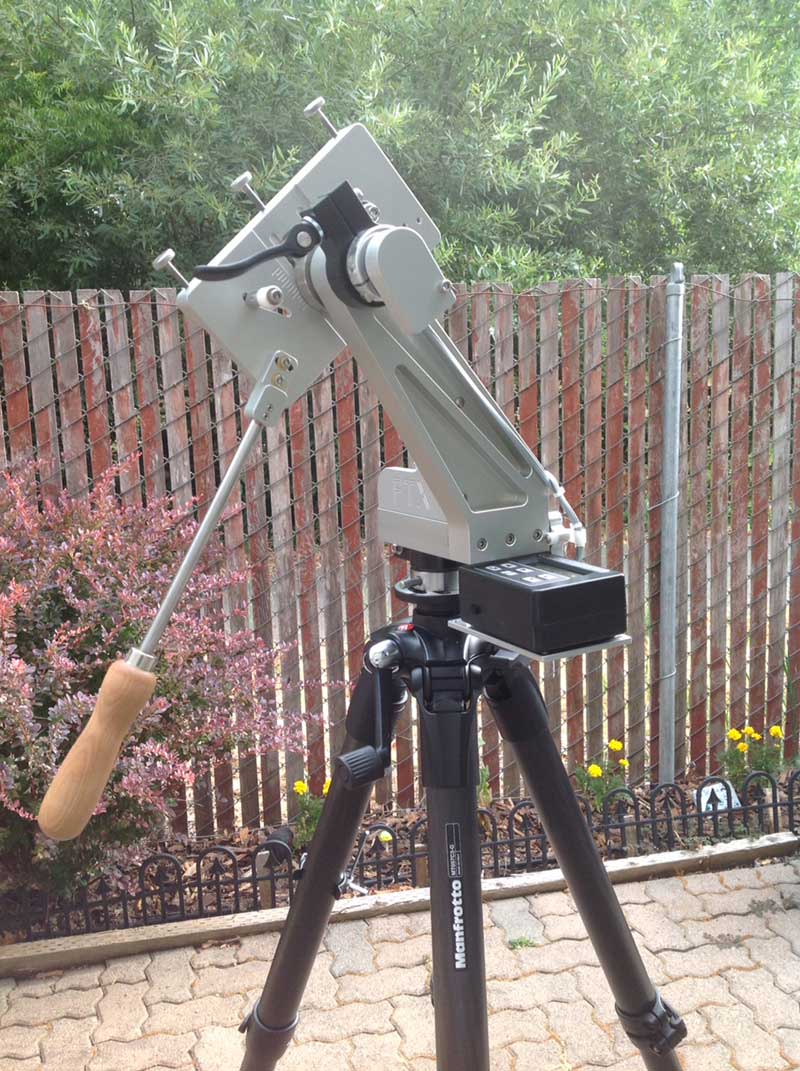 Conclusion
Of all the mounts I have purchased over the years this one is quickly becoming my favorite. My only complaint has to do with the sensitivity of this type of mount to being level for best performance. One can always add more stiction to make it less sensitive to imbalances (as other manufactures do, i.e., Tech2000, Disc Mounts Inc., Explore Scientific, etc.), but this takes away one of its best performance virtues---ease of motion around the sky.
As most of you know the Sky Commander is relatively old technology, but when coupled with the FTX I was in for a real surprise. The push to go system is very intuitive and a pleasure to use. What I like best, is once a two star alignment is performed, you can go to any object. A neighbor came over a few nights ago while I was observing M27 and wanted to see Saturn and the Moon. Without using the Sky Commander I manually slewed to each of these objects which we observed for about 10 minutes. After he left, I then used the Sky Commander to guide me back to M27 and I was back where I left off. This is really fun. You can literally manually slew anywhere in the sky. No whining, whirring, errors, or low batteries. Your neighbors will also appreciate the silence at 2:00 am.
When transporting the mount on the tripod it is important to remember to tension the azimuth bearing, otherwise it will gyrate around. You must also be careful when moving the whole setup that the mount does not break loose from the tripod head. The single 3/8 bolt is all that holds the mount and telescope on the tripod. There is little danger of the mount unscrewing and falling off, but if it breaks loose it can cause your Sky Commander to go wonkers in azimuth. Half Hitch makes a really nice accessory called the TQR which is a machined quick release mechanism that eliminates the problem.
I was so impressed with this mount that I immediately placed an order for the smaller version called the FTQ (sans Sky Commander) for use with smaller scopes, such as my William Optics 80 mm APO. This will be my gab-and-go system.
In my opinion these mounts are a labor of love by the design engineer and fabricator. I frankly don't know how this business can be profitable given the quality of the materials and refined engineering at an affordable price.
It felt good to purchase a made in the USA product in a market that is almost exclusively dominated by foreign competition. You owe it to yourself to check these mounts out. I feel very lucky to have one in my possession and am looking forward to spending more time with it.
Scott in NC, Starman81, Pete-LH and 4 others like this
Article: Cloudy Nights Review: Half-Hitch Free-Turn-X (FTX) Alt-Az Mount