CNers have asked about a donation box for Cloudy Nights over the years, so here you go. Donation is not required by any means, so please enjoy your stay.


0
Denkmeier 2" IVB Star Diagonal: A Review
Discuss this article in our forums
Denkmeier 2" IVB Star Diagonal: A Review
by Kevin R. Vaught
I have been using SCT type scopes for a little over 15 years and one of the very few quirks about them is the way that certain positions of the eye piece (when mounted on a GEM) can make it nearly impossible to view without having to loosen the visual back threads and reposition the diagonal. This can even be dangerous if you change out eye pieces from a relatively lite one to one of the much larger and heavier wide AFOV EP's and then have it swing down toward your face and clonk you in the head. This happened to me one night a while ago when I went from my 11mm T6 Nagler to my 13mm Ethos. Let me tell you, that 13mm can sure pack a punch if you are not expecting it! Well I have found the answer to this problem in the Denkmeier 2" IVB Star Diagonal. I first became aware of this product while perusing the August 2013 issue of Sky and Telescope magazine.  This was not a review of sorts but a mention of the new products that were being shown at the 2013 NEAF show. I read this with great anticipation as it appeared that this product might make my life a little easier in using my C11 mounted on a CGEM DX mount.
A quick search on the internet brought me to the Denkmeier Optical web site. I knew of the quality products that Denkmeier produces as I have viewed many times through friend's Denkmeier binoviewers. When I found the page that contained the product information on the 2" IVB Star Diagonal, I read it with great interest as it explained how it would help to keep your diagonal positioned where you put it, regardless of how heavy your eye piece or any other accessories that may be attached. The way it works is where the diagonal mirror attaches to the visual back there are "teeth" that interlock with those on the mirror side of the diagonal. See attached photos. There are 2 thumbscrews that tighten the 2 pieces together so that when you need to reposition the EP, simply loosen the thumbscrews, pull out about a 1/8", twist the diagonal to the new position, push back in and tighten the thumbscrews. It's very simple and super easy to do.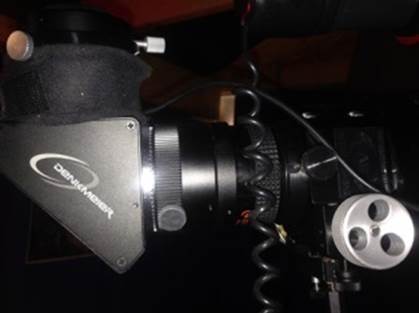 In the photo above the flash glare shows where the interlocking teeth are
located along with one of the thumbscrews that are used to loosen and then
retighten the assembly after the adjustment has been made.
This photo also shows my optical train on the back of my C11. Starting at the right hand part is the telescope rear cell, then a JMI EVH micro focuser, a Celestron F6.3 focal reducer, then the visual back attachment point that comes with the Denkmeier 2" IVB Star Diagonal. Without the EVH or focal reducer the IVB would simply attach to the telescope rear cell just like any other SCT style diagonal. When I first received my IVB Star Diagonal I removed the EVH and focal reducer just to see how it connected. After seeing how easy it was to install I then put everything back on to configure the system the way I like to have it. I mention this only as a reference for those who may be interested in this product but do not use the micro focuser or a focal reducer. I should also mention that once everything was reattached I needed to tighten the set screws on the JMI to more or less make it impossible to rotate around the rear cell. Once all the parts are tightened there is absolutely no way for the diagonal to rotate unless you use the system the way it is intended; loosen the thumbscrews at the IVB portion, de-couple the 2 pieces, rotate to desired position, re-couple and tighten the thumbscrews. It takes all of about 5 to 10 seconds. The following picture was taken with the heaviest optical setup that I use; an Ethos 13mm with an Explore Scientific 2X 2" Barlow. I estimate this to weigh in at 4 pounds or so.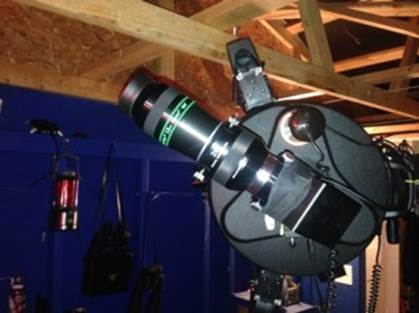 As you can see in the above photo, the EP/Barlow is canted at about a
45 degree angle. Believe me when I tell you, it is rock solid at this position
and will NOT fall off even if you were to initiate a GOTO, or move the scope
by hand to another object.
This product has been in use by me for the last 7 viewing sessions and I have zero complaints about its function or build quality. Speaking of build quality, if you have ever had the opportunity to use or see any Denkmeier products then you already know how well made they are. The fit and finish of all parts are exquisite.  It even uses machined aluminum caps at each end of the diagonal. There are no plastic caps except for the large cover to protect the SCT visual back threads on that supplied connection. The mirror, according to the web site, is 1/10th wave dielectric coated to provide 99% reflectivity. I can tell you from my own experience that the images this diagonal produces are very bright and provide higher contrast compared to my 12 year old Celestron 2" mirror star diagonal.
When I decided to order mine, I was surprised to see that I could also order it with the Power X Switch option. For those of you reading this that are not familiar with the Power X Switch, it is basically a three position switch that allows you to go from standard views at the native focal ratio of the scope in use, to a focal reduced view of about F5.8 (depending on the native focal ratio of your scope), to a 2X barlowed view, all with just the flip of a switch. Due to limited funds at the time of ordering I elected to forego the Power X Switch option and instead just got the star diagonal. The cost for the native 2" IVB Star Diagonal without Power X Switch is $249.00. In talking to Russ at Denkmeier Optical prior to my purchase I was told that the Power X Switch can be user installed at a later time if you so desire. Russ told me to just give him a call to order the Power X Switch and then he would walk me through the installation once I received it. Russ is a very pleasant fellow to talk with and I have no doubt whatsoever that he will be true to his word (I will update this review once I have ordered and received my Power X Switch as I am excited about the functionality this product will give me).The Power X Switch is another $249.00 but it does contain the focal reducer and Barlow already installed. You can also order an aluminum case to house the product in for an additional $49.00, which I chose to do. The case is very well made and contains the diagonal very securely inside.  The case is also designed to hold the star diagonal with the Power X Switch attached. When all is said and done I will have a little over $600.00 invested in this system (including the shipping costs which vary by your location). That may seem like a lot of money; and it is if you think about the fact that you are buying a star diagonal. But you are also getting a focal reducer (Celestron's  focal reducer costs about $125.00) and a Barlow (the Explore Scientific that I have cost $249.00) for a complete system that requires nothing more than a flip of a switch to go from each setting to the next. What price do we put on convenience?  I know for a fact that the price of the IVB star diagonal was worth every penny to me just to not have to worry about my EP's falling over and clonking me on the head! Not even to mention the fact that should the EP rotate over and not be secured enough it may fall out of the diagonal and crash to the ground. I would shudder to think that that could happen with a 17mm Ethos in the scope.
All in all, this is a new and fresh product idea that works very well and is easy and simple to install and use. If you have ever experienced the "falling over" eye piece problem, then I highly recommend that you visit the Denkmeier web site and investigate the 2" IVB Star Diagonal. I think you will be very happy with this product as I am. I guess I should mention that I have no financial stake or claim to anything that Denkmeier Optical sells or produces. This review is strictly based on my own personal use and experience with this product. Your mileage may vary.    
Article: Denkmeier 2" IVB Star Diagonal: A Review