CNers have asked about a donation box for Cloudy Nights over the years, so here you go. Donation is not required by any means, so please enjoy your stay.


0
Discovery 17.5" Split Tube Dobsonian Telescope
Discuss this article in our forums
Review of Discovery 17.5"
Split Tube Dobsonian Telescope
My name is Clay, I live in Memphis Tn, I am originally from Columbus, Ohio, I am 46 years old and I own... my first telescope, a 60mm refractor, a 6 inch reflector that I built through a telescope making class back when I was 15 yrs old, a 12 inch Zhumell, and my most recent purchase, this discovery telescope.
My Experience With Discovery (Bill)..
Bill seems like a really nice guy, throughout the whole experience, which was lengthy, communication never broke down, which was appreciated. Deadlines came and went, projected dates for this and that slid on by, but he always returned my call if he didnt answer the phone, and I only left a total of two messages, the first on my initial inquiry, and one other time at the 4 month point. My call was returned promptly by the next day. My scope was 4 months past due from the "typical" 3 month delivery time. Bill really needs to give a 6 month "typical" delivery time. If it werent for the thread here on Cloudy Nights, I would not have already prepared myself for a probability of a 6 month wait, so 7 months was not so bad. Bill at one point let me know that quartz took more time because of it being so hard, and I would be rewarded with a virtually set up and observe scope with almost no cooling time (more on that later)....sounded good to me. The scope did ship the day he said that he shipped it, and I was glad about that, seeming how I had become suspect of everything he had to say at that point.
Shipping/Packing...
The scope came quick, packed well in 4 boxes. There was no expanding foam which I was weary of, remembering what another reviewer had said, that it took him 2 hours to get the scope out of that and what a mess it made. I was pleased with the sheets of styrofoam that packed the scope well.
First out was the primary...a thing of beauty, with one exception, my centering circle was not in the center, it had slid to the side or something, it was obvious, and I could see some sticky residue from whence it came, not a big deal, I took care of it. Each piece I brought into the house, my wife kept looking at me not saying a word, just shaking her head, this scope is enormous! It is definitely a man's scope!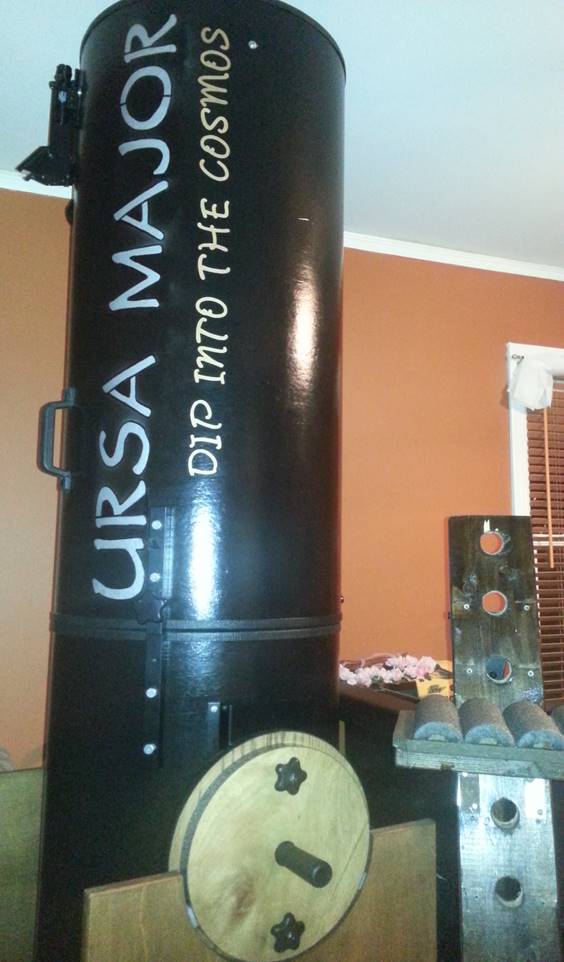 Assembly..
This scope goes together very quickly once you get used to it, I mean really quick. Once the bottom is in the base,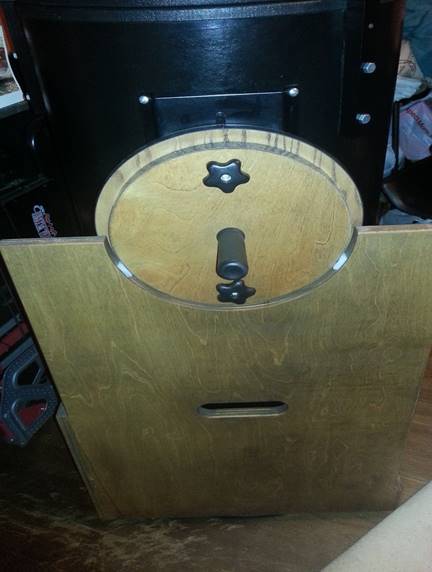 you just line up these three post on the bottom..
to three of these on the top, and tighten down the three screws, making sure the two tubes are flush.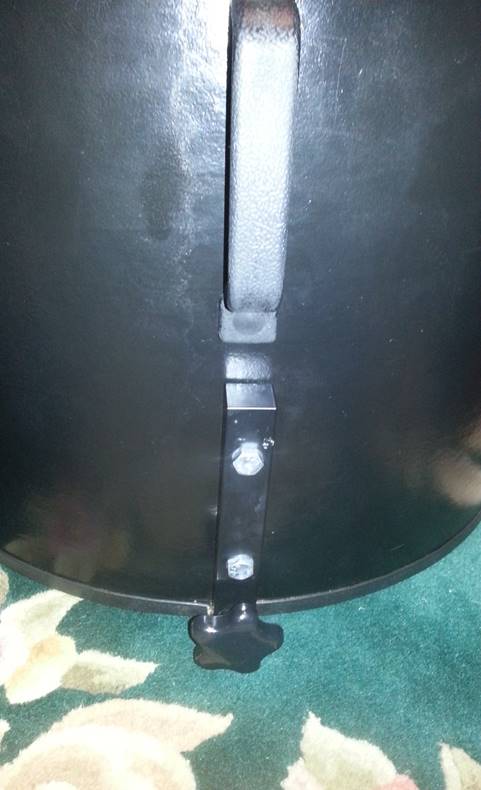 I am so proficient at it 2 weeks in, it is a breeze, and it is not as heavy as I was afraid of it being, the heaviest is the lower half with the mirror, it is stated to be 96lbs, the base is 62lbs, and the top half is 36lbs. I am 5 ft 9 180lbs and I handle set up take down loading and unloading with ease...careful ease that is.
This fold up dolly from Lowes is rated for 150lb, and it makes moving the base with bottom half of the scope a breeze.
I thought It was going to be a while before taking it out to a dark site, but I have been out to my green zone (1hour away) twice already. Surprisingly....pleasantly, this scope holds collimation extremely well. I collimated the scope at my dark site, broke it down at the end of 4 hours, drove home, left in my wifes suv because it was 3am. The next day I procrastinated until the evening, when I just so happened to notice it was clear, I should be so lucky, headed right back out to my green zone, unloaded, set it up, and it was off by a smidge, one slight turn of one wing nut, and I was off into the Cosmos for another 4 hours. This was the night when I got a perfect star test, because the scope does have to cool, (even with the quartz) and because it was in the garage all night and the next day it was just right.
Images...
images are a real treat, I could see spiral structure in m77 in cetus, Stephan's quintet was there! Couldn't miss it, the only thing I regret about looking at the quintet, was the drive-by of ngc7331 and 3 other galaxies in the field of view that I didn't take the time to enjoy because I was in such a hurry to see the quintet! But there will be plenty of time for everything. Let me tell you that the Andromeda galaxy looked pretty close to 3d! For the first time I felt I was looking across a galaxy instead of at a galaxy, it filled the 30mm es, two dark lanes, and a bunch of background stars....wow! And if Andromeda was almost 3d, the great Orion nebula WAS 3d, 6 stars with plenty of separation in the trapezoid, nebulosity every which away, with texture depth and green color, and bright as all get out. The pinpoint star field is really something I enjoy, some bit of flaring on the extreme outsides, but I noticed it changes with the rotation of my head so it may be from the 100deg fov, but those 100 degree explore scientifics are magnificent!
Scope Handling....
Outstanding, this is truly my kind of scope. Rotation is smooth, axis movement smooth, and it stops and stays where you put it. The movement on my zhumell was buttery smooth, but so smooth that when I exchanged eyepieces, the scope would move and that caused a problem when viewing at higher powers it actually made it a bit frustrating because of the reduced field of view, not this beast! I can bump it climbing up my home made observing seat, I can prop my foot on the top of the base when I am at the highest post, i can have one hand on the top handle, and the other clinching the top of the tube (that has become normal), and it is steady, a really solid telescope!
Issues!!!!!!.......
First light was a nightmare!! I already mentioned about the setting circle being off. The first collimation was dreadful my beam from the collimator was barely on the primary (extreme lower left) What the heck?!! there is no way this scope was just star tested a few days ago. Collimation was so far out whack I couldn't adjust it to save my life, three hours of frustration before I decided to compare things with my 12 zhumell ( a small bit of irony, it being mass made and all...) when I finally figured out, the beam was not in the center of the secondary, it was at the very tip at the bottom, how could this be? To get the beam centered in the secondary I had to shimmy spacers, actually it ended up being a nut, and a spacer on one side to compensate for the secondary having an issue. But I got it there, and I was able to achieve perfect collimation. I called Bill at discovery, and he offered to do whatever was necessary to rectify the problem, he said the secondary was the problem, offered to reimburse my shipping cost for me to send it back, he would get right on it, and overnight it back to me. Well........seeming how I had just waited 7 months, shipping the secondary back was going to be an absolute last resort. He assured me what I did to correct the problem would in no way degrade the images the telescope would produce, and based on the star test he was right.
Next issue, my es20mm100 would not focus, but the 30 did. My focuser was racked almost all the way in on the 30, and there wasn't enough room to focus the 20, I didn't even try the 14 or the 9 since they were all 100deg eyepieces I assumed the others wouldn't focus either. I found out the next night that the 14 and 9 would focus, it was just the 20, so I had to move the primary up 1 inch to give the focuser more room, and it worked great.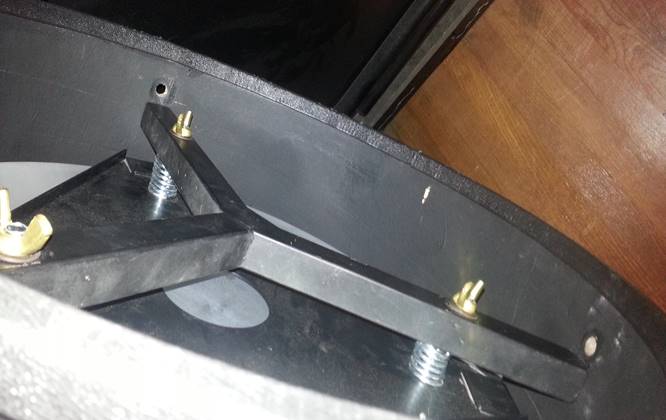 Moved the primary up an inch, not too big of a deal. That green laser makes locating objects effortless
My observing seat that gives me the 88" I need at zenith, which has gotten a real work out these last two weeks.
Conclusion...
I love this scope, I knew it was what I wanted the moment I saw it. Not a bunch of poles to put together, collimation holds, no stray light in the optical path, dew is not an issue, and it is just a base and two pieces, 3 minutes and I'm together, another 2 minutes tops and Im collimated. The weight for me is not an issue at all. The price at 3000.00 was an absolute steal of a deal, I got free shipping and a quartz primary and secondary! This is one solid piece of equipment, and at the same time a pristine optical instrument, and in my opinion a solid investment if you want to get into the BIG DOB arena...this is the way to go! As long as you prepare yourself for the wait time, again mine was 7 months, you wont regret it!
Clay
Relativist, Rollo, Galicapernistein and 11 others like this
Article: Discovery 17.5" Split Tube Dobsonian Telescope