CNers have asked about a donation box for Cloudy Nights over the years, so here you go. Donation is not required by any means, so please enjoy your stay.


0
Edmund 4.25" Deluxe Space Conqueror
Discuss this article in our forums
Edmund 4.25" Deluxe Space Conqueror
By Tom Duncan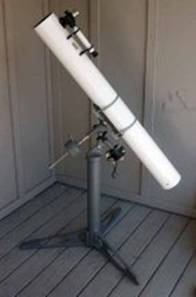 A mini-review of a 1968 4.25" Edmund "Deluxe Space Conqueror" Newtonian reflector on a GEM mount, 45" focal length (1143mm) f10.6 (advertised in Edmund's 1968 catalog as f10). Also a follow-on to Malcolm Birds "The Unsung Hero" about current 114mm (4.25") Newtonians.
I found this scope at a local flea market and decided to rescue it. The primary mirror looked very dusty (no tube caps) but it had no black spots on it, the diagonal mirror looked the same, both plastic setting circle discs were intact, the 6X finder scope crosshairs were intact, it had the AC clock drive accessory and cosmetically it wasn't too bad looking. No EP's, unfortunately.
I sure am glad I picked it up…what a great scope! After cleaning it all up, center spotting the mirror and aligning it I dug out some contemporary EP's from my astro closet (18mm and 25mm Kellners and a 12.5mm Ortho) and trained the scope on the Moon. Outstanding contrast and sharpness. I was so stoked by the quality of the image I stayed up past 2am to view Jupiter and Orion with it and was equally impressed. Jupiter could handle about 100X before it got mushy but under that it was quite sharp and contrasty with clear cloud belts (Red Spot was not in view at the time). The 4 main stars of Orion's Trapezium were quite easily discernable and the overall effect of Orion was definitely delivered (in my opinion the measure of any low-end/small telescope).
The next night I viewed the Double Double with the 12.5mm Ortho and it split them both easily.
I found using standard anti-vibration pads under the feet reduced the vibration time from about 20 seconds (!) to about 4, quite acceptable. The AC clock drive worked perfectly, didn't growl and the micro-adjustment lever was very handy to make minor changes if your north alignment wasn't perfect (which mine wasn't as I can't see Polaris from my viewing position). One downside to the scope was the slip-fit EP retention system. It required holding the tube to remove those EP's that fit snugly and in other cases the EP's fit too loosely. Not a big deal but notable. I did try some modern wide angle EP's in it (Pentax 10mm XW, 12mm Nagler T4 and Orion Superwide Lanthanums) but found the expected mushiness towards the edges in most cases. Not a fair effort really, the scope has a spherical mirror and such EP's were hardly even envisioned when this scope was made. With Kellners, Orthos and Plossl's the scope works great. The square secondary mirror is a bit odd, I can't imagine those 4 right angle corners are helping the image much.
Point of all this is the Edmund 4.25" Deluxe Space Conqueror is a great scope, and not just for its day. If you would like to visit the (quality) roots of amateur astronomy keep an eye out for one of these.
By the way the list price as shown in the 1968 Edmund catalog (link below) was $84.50, equal to $885 in today's money! I had figured on fixing this scope up, checking it out and then selling it off but I have my reservations about letting it go for now.
Tom Duncan
Amateur astronomer of 5 years experience at 2100' in the California Gold Country, where we can see the Milky Way almost every clear night. I have gone through 40 or 50 scopes in the search for the ultimate view. >
Link to a 1968 Edmund catalog page, see page 3 of the PDF (123 of the catalog): http://geogdata.csun.edu/~voltaire/classics/edmund/EdmundAstro1968.pdf
Article: Edmund 4.25" Deluxe Space Conqueror