CNers have asked about a donation box for Cloudy Nights over the years, so here you go. Donation is not required by any means, so please enjoy your stay.


0
Meade Series 4000 Eyepiece & Filter Set
Discuss this article in our forums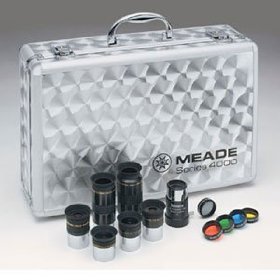 I have owned this set of eyepieces for a year and a half now. I live in Arizona, and I am fairly new to stargazing, but I know a good view when I see one. I love astronomy and I own an 8" LX-90GPS and have had that scope for the same amount of time as these eyepieces. The telescope originally came with the 26mm Series 4000 eyepiece, which produced really good views in my opinion with little eyestrain, so I decided to purchase this set of eyepieces. I would have liked to get the UW or SW eyepieces, but they are a little too much on the pricey side for me right now.
It is hard to compare these eyepieces to anything else, since I have only owned this set of eyepieces. With that said, I couldn't be happier with my purchase. For the price, you simply cannot beat this set. For the most part, these eyepieces are great with my telescope. The higher magnification lenses are a little obsolete and cause a little more eyestrain than I like. But I usually use the 32mm, 15mm and 12.4mm eyepieces for my viewing needs and I get great views. I have seen spectacular views (with the naked eye) of globular clusters, a few galaxies, the moon, Saturn, Jupiter, and a few other sights. The field of view is relatively good on these eyepieces, providing some great views. I don't hardly use the filters at all, but I have tested them and they work good, from what I have seen. The only filter I have really used is the moon filter, which produced some great views of the moon. In fact, I hardly look at the moon without using the moon filter, mainly due to the brightness of the moon. The Barlow is decent, but again, one has to be wise in the magnification being used. I mainly used the Barlow for views of Saturn and Jupiter, and it worked great for both planets.
With all of that said, I can highly recommend this eyepiece and filter set. The case is sturdy and looks great. It holds the eyepieces firmly in its foam setting. I have seen some amazing views using my telescope and these eyepieces. I really have nothing to complain about. If you're on a tight budget (like I am) and want a great set of eyepieces and filters, then give this set a try. You won't regret it.
Article: Meade Series 4000 Eyepiece & Filter Set