CNers have asked about a donation box for Cloudy Nights over the years, so here you go. Donation is not required by any means, so please enjoy your stay.


0
Baader Hyperion and Vixen LV 8-24mm Zoom Eyepieces
Discuss this article in our forums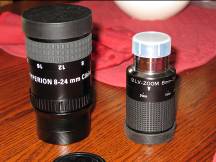 I live in the light polluted urban/suburban outskirts of Charlotte, North Carolina in the small town of Lowell, about a block away from local the "motor mile" stretch of car dealerships. When I'm observing from home, I look at planets, the Moon, bright clusters, and double stars. When I haul out my 10" Dobsonian, it's usually to load up and haul to our club's dark sky sight. I've been gazing at the heavens and playing with telescopes since back in the 1965 when I was in the 5th grade and my parents gave me a 30 power, 30mm spyglass from the Sears and Roebuck catalog for Christmas. Since then, I've owned scopes from 60mm to 10 inches and have had a blast using all of them.
There's one thing I've learned over the years; everything come with at least some degree of compromise. Large aperture gives better light grasp and resolution, but is harder to handle and more subject to the whims of atmospheric seeing. Sometimes a better price will trump exceptionally high quality. There is always some trade off.
This brings us to the subject of zoom eyepieces. The general consensus is that zoom eyepieces are a compromise, at best. Well, that's pretty much true of all eyepieces. Whether it's a $45 GSO Plossel or an $800 Ethos, the designer had to balance field of view, eye relief, field curvature, astigmatism, coatings, size and cost into a compromise that he believed was commercially viable.
With a zoom eyepiece, you get the convenience of many different focal lengths in one eyepiece. This allows you to dial in the best magnification for any object without loosing it while changing eyepieces. It also really supports the grab-n-go concept of having a scope ready to set up and view with at a moments notice, or to carry along with you while traveling.
Test conditions
The scopes that I used for evaluating these eyepieces were:
TeleVue Genesis f5 refractor
AstroTelescopes 80mm f7 ED
Celestron/Vixen C102 f10 refractor
Orion Argonaut 6inch f12 Maksutov
I also compared these at the extreme of their ranges with a couple of fixwd focal length eyepieces to see how well the images held up. The fixed eyepieces were:
TeleVue 22mm Panoptic
TeleVue 7mm Nagler
The Vixen LV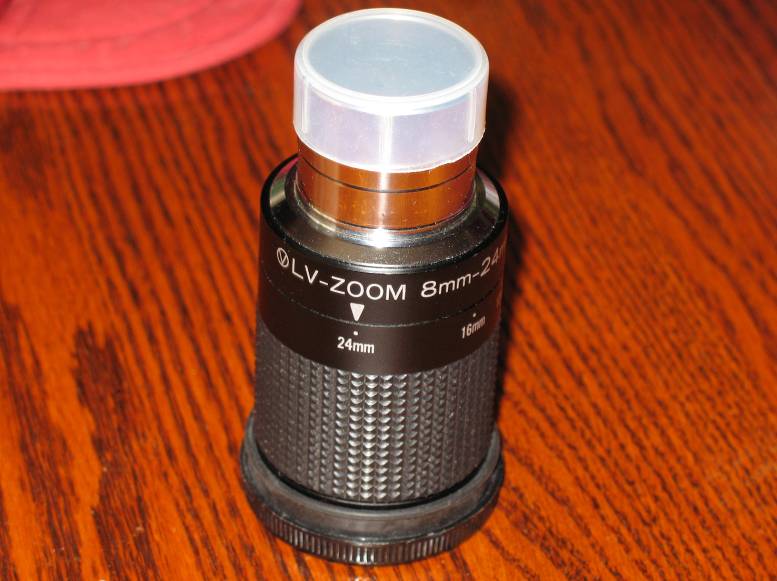 The Vixen LV Zoom eyepiece hails from an excellent lineage of fixed focal length eyepieces. The Vixen Lanthanum series eyepieces use a rare earth mix in one of the field lenses to help eliminate aberrations. The specs for the LV zoom state that the eye relief is about 15mm to 19mm and the AFOV is 40 degrees at 24mm and 60 degrees at 8mm. The eyepiece is 3.75 inches tall and about 1.8 inches across with a fold down rubber eyecup and nice rubber armored barrel. The lenses are fully multicoated to minimize reflections and ghosting and enhance image brightness. The zoom adjustment is smooth and has a nice feel.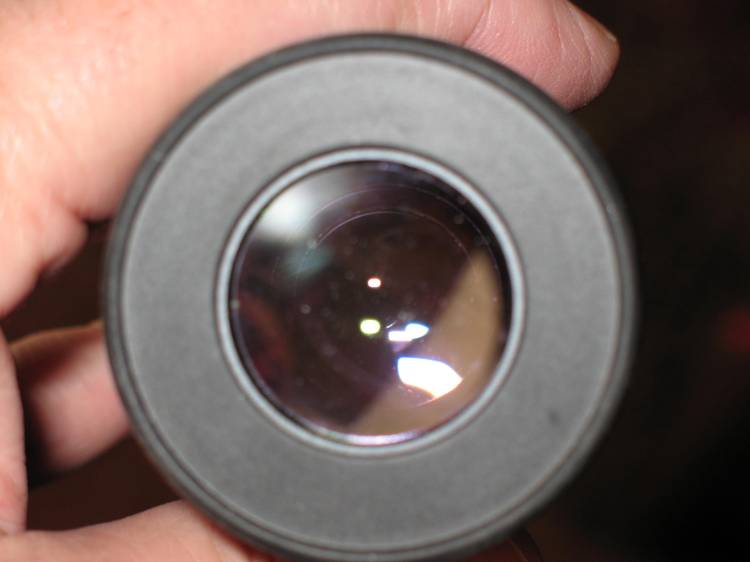 Format for this eyepiece is 1.25 inches, so if you have a 2 inch diagonal, you'll need a 1.25 adapter.
Images appear sharp and crisp across the range of magnification. Even at 24mm in the f5 Genesis, there was no noticeable edge distortion. In the f12 Maksutov, the seeing seldom permitted 225X but images still held up well at the shorter focal lengths. How did the Vixen Zoom compare to the TeleVue eyepieces? The Panoptic and the Nagler have greater FOV and are razor sharp to the edge, but the $189.00 Vixen Zoom held up very well. No ghosting or distortion through the range of magnifications.
The Baader Hyperion Clickstop Zoom
This is a big eyepiece. It has a similar heft and feel as my TeleVue Panoptic – kind of like a hand grenade. It's also a versatile eyepiece. It comes with both 1 ¼ and 2 inch screw on barrels. And additionally, it can screw onto several types of Zeiss and Celestron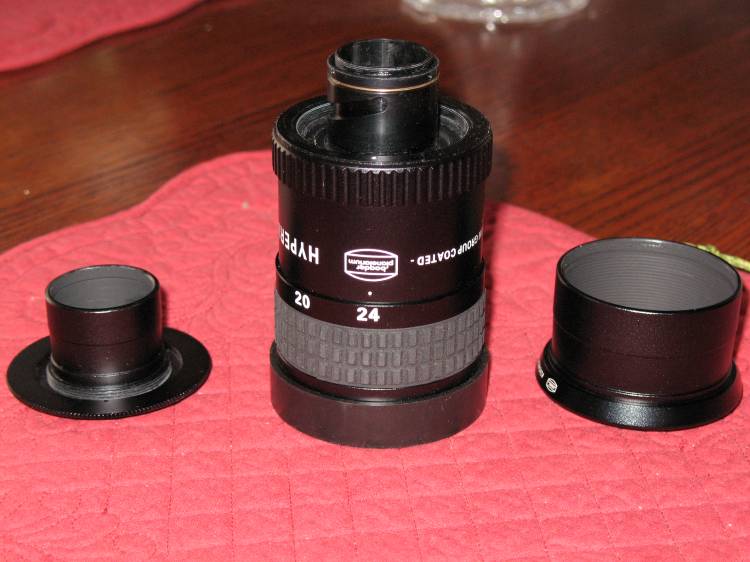 spotting scopes. Its optical design consists of seven elements and has an eye relief of 12 to 15 mm depending on setting. It has a smooth zoom action with definite clicks at 8, 12, 16, 20, and 24mm, but can be set between stops for any length you choose. It has a twist up lens shade and a removable rubber eye guard which exposes T-2 threads for attaching T adaptors for afocal photography. AFOV at 24mm is 50 degrees and 68 degrees at 8mm.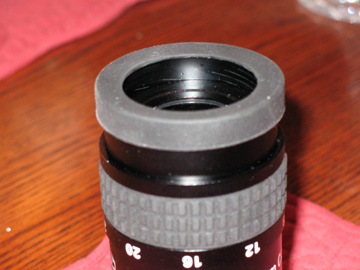 How well did it hold up against the Panoptic and Nagler? Not bad at all. The TeleVue eyepieces were a touch sharper and had a wider field of view, but to be a $215.00 zoom eyepiece, the Baader did very well.
Summary
How would I rate these eyepieces? As you would expect, compared to the TeleVue Eyepieces, these zooms are not as high quality. The Panoptic and Nagler have that spaceship porthole effect and are pinpoint sharp to the edge.
However, both of these Zoom eyepieces threw up some respectable images. If I rated the TeleVues a 10, I'd give the Vixen a 6 and the Baader a 7.
These are subjective ratings and your mileage may vary. But if you're looking for a good quality Zoom eyepiece to combine convenience with good performance, either of these zooms will deliver the goods.
Rainguy, aeajr, tomecz and 1 other like this
Article: Baader Hyperion and Vixen LV 8-24mm Zoom Eyepieces