CNers have asked about a donation box for Cloudy Nights over the years, so here you go. Donation is not required by any means, so please enjoy your stay.


0
Explore Scientific 14MM 100 Degree Eyepiece
Discuss this article in our forums
I have been an active observer off and on for approximately twenty five years. I first started observing in my home state of Ohio and have lived in various states and countries over that time period. I currently reside in Georgia.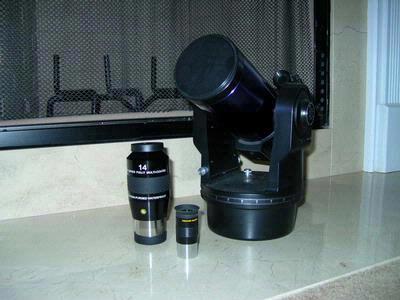 ES14 next to Meade Series 4000 26mm Plossl and ETX-90
I have now owned and have been using this eyepiece for about four months. My first use of this eyepiece occurred on August 12th. That night was supposed to be cloudy per the local meteorologists, but luck smiled on me as the skies cleared for a short period of time as it was getting dark. That evening, while the sky was far from fully dark, I setup my Celestron CR150HD, 6" F8 Refractor for a first light with this wonderful eyepiece. As I had looked at satellite images prior to going out and was aware that clouds would be moving in fast I had only a short period of time for first light. My first impressions were that this eyepiece was truly a winner. As the first stars appeared in the sky I started looking for some DSO's to test how good the contrast was in this eyepiece. Lyra would be the target for this first light. The Sky was still very bright with the whole constellation only visible in Binoculars due to the sky brightness. Splitting the Double double was, as expected, easy. I then moved over to look for the Ring Nebula. I did not believe that I would see this as it was still way to bright even for this bright planetary. As I turned the telescope towards where it should be I heard thunder in the background. The curse was coming… I took a quick look in the eyepiece and there, very easily seen, was the Ring Nebula, swimming in a field of faint stars. Contrast must have been very good for me to see the ring so plainly in such a bright sky. To give you an idea how bright the sky was, I could just make out the whole constellation with my naked eyes at this time. Taking in the whole field was all most impossible for me on this first night. I had to pack up right away though as rain was coming fast.
Now, let's fast forward to the present day, after many nights of use. This eyepiece still impresses me. I am able to see the whole field when I make an effort. I generally will not make this effort though as I just allow myself to just fall into the view. I find it very relaxing to just observe the object I am trying to observe and completely forget that the field is limited in any way. I will often observe an object for a while as it moves across the field and suddenly realize it is getting close to the field stop. No distortion seems to occur until you put a bright star right on the field stop at which point a small amount of astigmatism appears. Until that point there is no differences I can see in the object from one end of the field to the other. Everything is tack sharp and contrast is amazing. Globular and open clusters seem to explode in this eyepiece. Looking at Jupiter gives very high contrast views and details on the disk seem to jump out at you. Overall, I would say the views through this eyepiece are superb.
I have used this eyepiece at public star parties and the reactions have been very good. People have asked why it seems like they are seeing stars everywhere in my scope while in other scopes they see only a small area of stars. Using this with my Dobsonian (12.5" F6) at public events is much easier than using narrower field eyepieces. Objects I am showing stay in the field for a decently long time and when it comes time to adjust the scope I can often nudge it without even looking in the eyepiece and move the object back into the field to allow it to drift through again. People never seem to have a problem looking through this eyepiece. They may not see the whole field but they have no problems finding a sweet spot for viewing and moving their eyes around to see what is there to see. When Sagittarius is up I have simply pointed the scope in the general area of the Milkyway and then had the person look into the eyepiece and move the scope around, watching them get excited as they come across numerous deep sky treasures completely on their own. I imagine this is going to be an exceptional way to treat members of the public when the Virgo cluster comes back around. Watching people as they discover things on their own is among the best times I have had at public events.
People considering this eyepiece should keep in mind that this is a very big eyepiece. This is a 2" only eyepiece that is both large and heavy at nearly two pounds. Using this eyepiece with your scope will likely require you to make a provision for adjusting balance. It's build quality seems to be excellent. The eyepiece is waterproof though many people do not feel this is a necessary feature in an eyepiece. I believe that it gives you some added piece of mind for this product.
In the time that I have owned this eyepiece I have found it to be amazing in so many ways. It has brought new life to the sky and seems like the ultimate star party eyepiece. It works fine as a finder eyepiece by itself though I often use it with my 40mm Russel Optics Konig which has about twice the true field of view. With these two eyepieces I really do not feel any need for any eyepiece between these two. I have heard people talk about choosing an eyepiece to frame an object in the field of view. I do not feel the need to do so with this eyepiece. I really cannot think of a better frame for an object in a telescope than to be surrounded by the majesty of the sky it lives in. With this eyepiece, that is what you seem to see, the object surrounded by the stars around it. It is truly an amazing eyepiece.
Article: Explore Scientific 14MM 100 Degree Eyepiece