CNers have asked about a donation box for Cloudy Nights over the years, so here you go. Donation is not required by any means, so please enjoy your stay.


0
Meade 5000 UW 25mm Eyepiece
Discuss this article in our forums
This is an eyepiece from Meade's Premium line. It is in the 2 inch format and has a focal length of 25mm. This is a wide angle lens and has an apparent field of view of 82 degrees. The eye relief at 17mm is long enough to wear eye glasses during viewing. This is a very large lens and weighs just over 2 pounds. The amount of weight at the front of the scope might require some weight to be added to the rear.
This lens provides incredibly wide views and you must move your head around to take it all in. The image is sharp through most of the field, with the edges showing some distortion. This is one of my go to lens for faint objects, as it has enough power to resolve, but not too much as to dim the object. I can see much more detail in Andromeda with this lens than my 17mm Nagler. The views are just as clear between these lenses, but I think the Meade lens lets in a bit more light as it should with the longer focal length. This is a great eyepiece for a Barlow and gives me quite a bit of versatility with just the one lens.
This is a fantastic lens and I would like to purchase more in this line. The quality and views are great and the price is not too bad. You get spoiled quick with the wide angle views and it makes it hard to go back to a lens with a small field of view.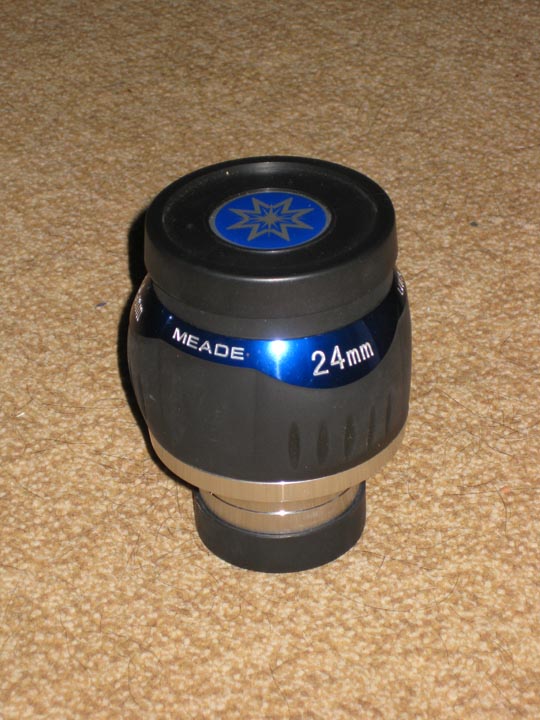 Article: Meade 5000 UW 25mm Eyepiece