CNers have asked about a donation box for Cloudy Nights over the years, so here you go. Donation is not required by any means, so please enjoy your stay.


0
Orion Q70 2" Eyepiece
Discuss this article in our forums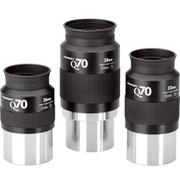 I've been a member of the Buffalo Astronomical Association for 11 years now and am currently in my second term as a Board of Directors Member at Large. I am currently observing with a 130mm Vixen Reflector on the Port-mount alt-az tripod and 10" Orion Itelliscope. I was hooked on this hobby over 35 years ago when my grandfather gave me his 60mm Selsi Telescope, which I still have in its original packaging.
I purchased the complete set of the Orion Q70 2" eyepieces, 26mm, 32mm & 38mm, about 6-8 months ago. So I have had ample time to put them through many observations. Here's some background on them. Each unit is a 5 element multi-coated eyepiece, with a nice wide 70° field of view and 20mm, 24mm and 28 eye reliefs'. They are also parfocal, so little or no refocusing will be needed switching between these eyepieces. They have a nice rubber grip around the barrel and fold down rubber eye guard. They also come with 2 end caps each to help keep out the dust when not in use. My first night out with them, I was out at our observatory with a handful of other club members. They were very impressed with the quality of them visually. We did many side by side tests comparing them against so of the top dollar Naglers and Ethos. The images were just as crisp as these others and stars were sharp right to the edge of the field of view in all 3 eyepieces. One member said "how can I justify spending over $600 on one eyepiece, when all 3 of these are under $300 for the set. They perform just as well as the others." I have to agree with him. I have since also added the 14mm 100° to my collection and the Q70's get used just as much if not more than this one. I would definitely recommend these to all, especially those on a tighter budget and want to move up to the 2" eyepiece experience. They are definitely worth it.
Article: Orion Q70 2" Eyepiece