CNers have asked about a donation box for Cloudy Nights over the years, so here you go. Donation is not required by any means, so please enjoy your stay.


0
Rini 30mm 1.25" Eyepiece
Discuss this article in our forums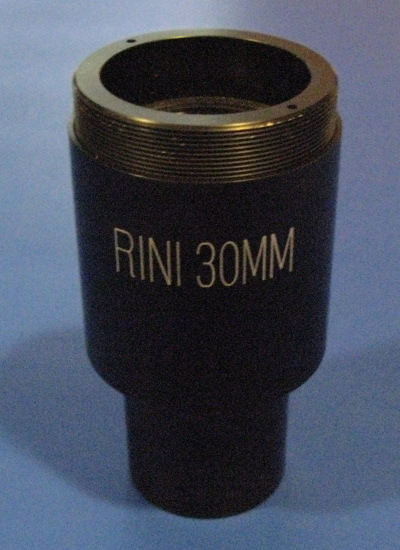 I am in Central Texas, and am still very much a beginner, with about 1.5 years of experience. I have three fast dobs: homemade F/4 8", Coulter F/4.5 8" and Coulter F/4.5 13.1", and a fast homemade achro, F/5.3 68mm, which tends to be the finder of the 13.1".
Paul Rini made his eyepieces at home, in the 90s, as a labor of love and sold them for extremely low prices. Telescope Warehouse (
http://shop.telescope-warehouse.com/category.sc?categoryId=2
) continues to sell some Rini eyepieces. The 30mm 1.25" Rini is advertised as having a 60 degree AFOV and 15mm eye-relief, and sells for $25.42, with free shipping in the U.S. Comes with bottom and top caps, and is threaded for filters (apparently some earlier Rinis weren't).
When I got it, this was a gigantic eyepiece to me, weighing in at a whopping 7 ounces. But it doesn't look big beside my Hyperion 13mm.
There is no eyecup. Instead the top of the eyepiece has a T-thread. I had a front light-shield from an old dead camcorder that fits over the thread very nicely, and makes a very nice eyecup. Without that, it would be hard to position the eye. I think I'd make a cardboard eyecup for it if I didn't have the shield. The barrel is nice, black and smooth, and there is a clear "RINI 30MM" stamped on it.
The eye-lens is not edge-blackened, and I assume the other lenses aren't either. Both the eye-lens and the field lenses are coated.
In daytime, I would have to move my eyes a little to see the edges of the field of view, and there was an odd distortion in the last five percent by diameter--as if suddenly there was a boundary between glass surfaces, with a visible and sharp bend. The field stop is out of focus. At night, none of this bothers me. However, in my F/4.5 scopes, the outer 20% or so (by diameter) of the field of view has stars distorted into little lines, and a little more in my F/4 scope.
I carefully measured the true field of view on my F/4.5 8" to be 1.65 degrees, by finding two stars near assiopeia that distance apart. With the advertised 60 degree AFOV, I would have expected 2 degrees, so something's off. That basically corresponds to what one would expect from an ordinary 52 degree AFOV 30mm Plossl. But the AFOV of the Rini is definitely wider than a Plossl's--it is much more pleasant to look through--though it looks narrower than the 60 degrees advertised. I would estimate it somewhere half way, maybe around 56 degrees. That means that the eyepiece isn't actually a 30mm, but closer to 27mm.
The eyelens is very large and, once one manufactures an eyecup, the eyepiece is very comfortable to use.
When I got it, I was disappointed by the TFOV being lower than I expected, but I decided it was a keeper when I looked at the Double Cluster from my backyard with my F/4.5 8", and saw lovely pinpoint stars, some of them sparkling red. I had not seen color in the Double Cluster before and was sold. Though, to be honest, I haven't seen color in the Double Cluster since, so I guess it was just a lucky night. But it was a very nice view.
On Jupiter, I do get false color, but this is an eyepiece for wide views. Pieces of the Veil look great in it through my 13".
The Rini 30mm continues to be my finder eyepiece for all my reflectors, and at $25 seems quite a good, slightly wider alternative to a cheap 30mm Plossl, and a step up in quality from the 27mm Kellner that my Coulter 8" came with.
Article: Rini 30mm 1.25" Eyepiece