CNers have asked about a donation box for Cloudy Nights over the years, so here you go. Donation is not required by any means, so please enjoy your stay.


0
Televue Nagler 17mm Eyepiece
Discuss this article in our forums
This lens is from the classic Televue Nagler series. It is in the 2 inch format and has a focal length of 17mm. It has an 82 degree apparent field of view that gives incredibly wide views. The lens has a decent eye relief at 17mm and I have no problem using it with glasses on. This is quite a heavy lens weighing in at 2 pounds. This lens and especially if used with a Barlow might require some counterbalancing of the telescope. The lens also is equipped with a "instadjust eyeguad." This feature makes it a bit easier to maintain the correct eye placement. I really have never used it, but I can see how it would be nice for younger viewers.
The views through this lens are spectacular, but there is a bit of distortion around the outside edges. It's generally not a problem as most of the time there is just a central object that is of interest. Sometimes when looking at star fields that take up the whole view it can be distracting. Planetary and lunar views are amazing. The image is very crisp and provides a lot of detail. The lens also excels at picking up the distant "faint fuzzies." Andromeda galaxy is breath taking in this lens. The arms are easily discernable and it takes up the whole field of view. The amount of resolution of globular clusters is also incredible. I am able to pick up many individual stars in M13 and many of them near the dense center.
Over all this is a great lens, even with the distortions around the edge. Besides this the views are really clean and have great detail. The field of view is very wide and many times you find yourself moving your head around to take it all in. This is a very expensive lens and there are probably lenses that perform just as well, but for less money.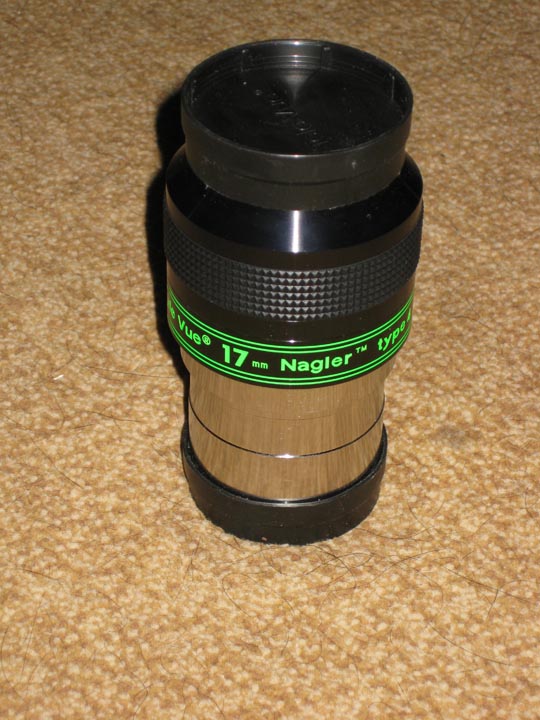 Article: Televue Nagler 17mm Eyepiece