CNers have asked about a donation box for Cloudy Nights over the years, so here you go. Donation is not required by any means, so please enjoy your stay.


0
Burgess/TMB 4mm Planetary Eyepiece
Discuss this article in our forums
Burgess/TMB 4mm Planetary Series Eyepiece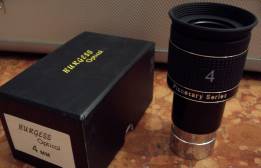 Setting the Stage...

As is the case with many of you, I often read these reviews, and at the same time wonder to myself of the competency and experience of the reviewer, not to mention biases driven by professional strategy or personal motive. This fact is sometimes difficult to assess even when reading between the lines. For this reason, please allow me to digress and speak a few words on my own experience. Sit back and enjoy the read...

First off, I have no vested stake in Burgess Optical or TMB Optical. The actual eyepiece being reviewed was purchased directly from Burgess. At that time there was no mention of the fact that I planned to conduct and publish a review, so it is my assumption that the unit I received represents a mean sample regarding construction and quality control.

My interest in the astro-thing and space sciences began way back in the late 60s and early 70s as I watched with wonder the conquests of the United States space program. I'm not ashamed to admit that I played with Matt Mason action figures, built Estes and Centuri model rockets, and drank a lot of Tang. I was a regular to request astro-information from NASA's Public Relations Office in Houston, Texas and looked forward to my adult years during which time I would, no doubt, be living and working on space stations and moon bases. Well, I'm now 43 years old, have a family, a mortgage, and live in the burbs. Life is good, however, like many of you, I'm still waiting for those E-tickets to the moon!

In 1975 I received my first telescope, a Criterion RV-6, as a Christmas present from my parents. How lucky was I that my folks had the wisdom to seek out the advice and recommendations of our local planetarium staff before making that purchase. That old RV-6 which, incidentally, I still have in my procession this day, grew to become a dear traveling companion. Together we journeyed the solar system and beyond with amazement and wonder. I once posted a discourse regarding the scent of the interior of it's OTA to the Yahoo Dynascope Group site. Perhaps you RV-6 owners out there can relate...

Its aroma was, and remains to this day, quite unique. The redolence of flat black paint atop bakelite, while not captivating, seemed to possess a tangible quality, an emotional attribute...a stargazing aphrodisiac, if you will...

Over the years I have owned and/or used many of the telescopes and eyepieces available to the serious amateur and consider myself to be a worthy candidate to conduct an unbiased product review.

Enter Burgess Optical...

I, like many of you, have followed, with interest, the evolving story of Bill Burgess and his Burgess Optical over the past few years. His mission statement, "Making awesome affordable" is well-known and debated amongst members of the various net groups and forums. His recent teaming strategy with Thomas Back of TMB Optical generated a lot of interest amongst the astro-community and has resulted in a few new offerings, one of which I recently had the opportunity to take for a test drive. The subject offering...the BO/TMB 4mm Planetary Eyepiece. Please forgive me as I don't possess a methodic novelist writing style. I don't like building the story piece by piece, ultimately dropping the bomb on the reader in the last paragraph. So please permit me to cut to the chase at the onset and satisfy your curiosity by proclaiming that this is one nice eyepiece!

On With the Show...

As noted above, I live in the suburbs...specifically, the suburbs of St. Louis, Missouri. I am fortunate, in that, my backyard has a wonderful view of the eastern and southern skies. Transparency is about what you would expect for a locale such as mine. At this time of year summer haze has been replaced with crisp, although most times boiling, autumn skies. I am fortunate in that I have courteous neighbors who tolerate my stargazing addiction and adjust their respective light pollution output accordingly. In fact, one of my neighbors went as far as to replace his window screens with solar screen material in an effort to cut down late night light coming from within his residence. How lucky am I?! All in all, it's a nice place to observe from.

On the morning of Friday, October 21, 2005, while taking my morning surf, I came across a post from Thomas Back on the Burgess Refractor Yahoo Groups site indicating that Bill Burgess had an allotment of his new 4mm Planetary Eyepieces in house and was ready to ship. I immediately phoned Tammy and placed my order...$99 plus $5 shipping via FedEx Ground. The eyepiece arrived the following Tuesday afternoon and, believe it or not, the skies were clear. In fact, not only were they clear, they showed promise for being extremely steady and transparent later that evening.

Sure enough, when I arrived home from the office later that day, I found the skies to be very nice and went ahead and set up my gear, which includes a superb AP 130 f/8 StarED / Lumicon 1.25" enhanced diagonal combination, mounted on a Losmandy GM-8. Time to go inside and unpack the 4mm. Burgess did a wonderful packing job. No need to worry about mishaps from the boys at FedEx. Upon working through the bubble-wrap and opening the inner box, the first thing that struck me was the size of the eyepiece. Man, this is one beefy 4mm...much larger than I anticipated. The second thing that hit me was the smell. Yep...just as with my RV-6, this eyepiece has a distinctive aroma. One of the features of this eyepiece is a twist-up eyecup, not to be confused with the flexible eyecup (which likewise, is a feature of the eyepiece). As a result of this "twist-up" configuration, there is a need for lubrication to the structural threads...hence, a petroleum aroma. Don't read me wrong here, the smell is not bad, just unexpected.

Upon initial inspection, the eyepiece appeared to be very nice. Solid with no loose lens elements...Pristine optics...No interior or exterior dust...No visible coating imperfections. So far, so good. As has been noted by others on the various net groups and forums, the barrels possess a cutout for safety in the event that you use a locking screw configuration with your visual back, diagonal, etc. I am not a big fan of this feature, but my bias is personal.

Under the Night Skies...

As a control and standard to judge this new Burgess/Back creation, I pulled my trusty University Optics 4mm Abbe Orthoscopic from the case. You must know up front that I'm a

huge UO fan. Over the years my most memorable planetary encounters were, without a doubt, experienced while positioned at the business end of UO Abbe Orthos. Having said that, my first target was Mars. First impression using the BO/TMB...Comfort. Seriously, for a 4mm, this thing is very easy on the eye. The BO/TMB touts a 60 degree field of view along with 16mm of eye relief. Let me stop here and take a moment to address the "twist-up" eyecup feature. To quote Tony the Tiger by saying it's GRRRRREAT, in my opinion, is an understatement. This truly is a fabulous feature. The advertised advantage is to allow for adjustments to eye relief from the top of the eyepiece. To the eyeglass wearer this is an obvious plus. Not wearing glasses, this was not so much of an issue for me.
However, I discovered a huge personal advantage in that this configuration allows for separation between eyelash and glass. Being primarily a planetary observer these days, I find myself periodically cleaning my short eye relief eyepieces from those occasions where my eyelashes brush up against the glass and leave a residue. Believe it or not, I've even had occasions where, during mid-winter observing sessions, my eyelashes have frozen to the glass. Not fun. With the BO/TMB I found that I could adjust the twist-up eyecup to allow for adequate separation between eyelashes and glass without impacting the FOV. In my particular case, I found that I could retract the top glass approx 50% into the barrel body before it began to impact the FOV. Your mileage may vary. A quick note about the flexible eyecup...Bill and Tom got it right...not too flexible...not too stiff. I used it for the duration of the review session.

On to Mars...

Due to very steady skies and acclimated optics, both eyepieces put up sharp, high-contrast images of the Martian orb. Light scatter was, for the most part, similar in both and difficult to discern. However, upon careful comparison, it is my impression that the BO/TMB showed slightly less scatter. Surface detail was noticeably more pronounced using the BO/TMB. Geologic boundaries were sharper. Variations in surface shading was more evident. I'm not sure if this was a result of optics, coatings, or perhaps the fact that the UO, being a volcano top, did not have an eyecup to block stray sky glow from creeping into the light path. Needless to say, despite the culprit, the fact remains that the BO/TMB put up a nicer planetary image. Suffice it to say, after spending a few hours bouncing back-and-forth between eyepieces, I ultimately stowed the UO in favor of the BO/TMB for use on Mars.

To the Stars...

Both the BO/TMB and the UO put up nice stellar images. As viewed through the AP, both eyepieces produced small points of light with nicely defined Airy discs which, by many a seasoned veteran, would be considered text book. Upon careful scrutiny, it was my impression that the BO/TMP put up a cleaner Airy disc with slightly more definition. A close call, but the nod goes to the BO/TMB. I also found that the stellar images of the BO/TMB remained sharp and tight throughout the entire FOV, edge to edge. The UO softened slightly somewhere between the 95% and 99% mark. Not a big deal for planetary applications, as you rarely view at the edge of the FOV. Nonetheless, the BO/TMB wins that race.

Back to the Moon...

The review session concluded with a peek at Luna, and with that encounter, an issue was recognized. Internal reflections are a problem with some eyepiece configurations despite price or manufacturer. In the case of the BO/TMB 4mm, this phenomenon rears it's head when a bright object is placed just outside the FOV. During a phone conversation with Bill Burgess, Bill acknowledged, and my review session confirmed, that a bright object placed just outside the FOV will result in an internal reflection. The culprit...a gloss black anodized retainer ring. Apparently, a similar problem has already been documented with both the 6mm and 9mm Planetary versions as well, whose housings also contain this ring. The difference, however, in the case of both the 6mm and 9mm, is that reflections are generated when candidate objects are within the FOV, or resting just at the boundary. In the case of the 4mm, candidate objects are well outside of the FOV at the time the reflection is observed. The resolution...Bill is working to replace the gloss black anodized retainer ring with a flat black, threaded (micro-baffled) ring. The new ring will be incorporated into future production runs as well as provided at no charge to all current 9mm, 6mm, and 4mm owners for easy replacement.

Bottom Line...

I really like the BO/TMB 4mm Planetary Eyepiece and highly recommend it. It's very comfortable to use, adds a significant chunk of space to the FOV when compared to other 4mm focal length options out there, incorporates a welcome "twist-up" feature that benefits both eyeglass-wearer and non-wearer alike, and puts up an image that bests my beloved UO 4mm. The reflection issue has been acknowledged and understood with a resolution in the works. Bill also tells me that more focal lengths are coming. This is a hard act to top for only $99.
Article: Burgess/TMB 4mm Planetary Eyepiece